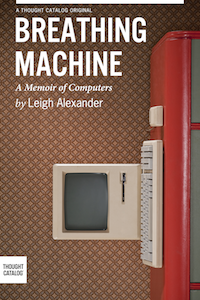 Breathing Machine
A Memoir of Computers
What if there were a world bigger than the one you can touch? Leigh Alexander recounts a stormy adolescence alongside the mysterious early internet. From the surrealism of early video games to raw connections made over primitive newsgroups, from sex bots to Sailor Moon, Alexander intimately captures a dark frontier age.
About Thought Catalog Books
Thought Catalog introduces long reads and digital books for your tablet, eReader or mobile device. All titles are available through Amazon, Apple, and Barnes & Noble. New titles are released biweekly. Questions? Email hello@thoughtcatalog.com.
Retail inquiries: publisher@thoughtcatalog.com