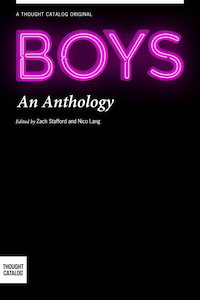 As hilarious as it is honest, as heartbreaking as it is empowering, Boys is an anthology unlike any you've read, a collection of essays showcasing the voices, stories, and lives of gay, queer, and trans* men from around the world. Through these true stories, readers are offered a glimpse into intimate moments rarely shared: the moment one boy accidentally came out as gay on MySpace; the time one was kidnapped by his mother who wished to "pray the gay away;" the first time a boy went to a leather bar after transitioning to male, before he became a famous porn artist and performer. The confessions in Boys will stay with you, as will the point they make: there isn't one type of boy in the world, but lots of boys, each with their own story, if only we'd listen.
About Thought Catalog Books
Thought Catalog introduces long reads and digital books for your tablet, eReader or mobile device. All titles are available through Amazon, Apple, and Barnes & Noble. New titles are released biweekly. Questions? Email hello@thoughtcatalog.com.
Retail inquiries: publisher@thoughtcatalog.com