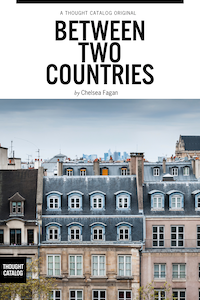 The lure of living abroad is one that nearly everyone has felt, at one time or another, whether or not we give into it. And while traveling for a week or two at a time to a new country can be a thrilling experience, it doesn't quite satisfy the same desire as spending years getting to know a place. Chelsea Fagan had always been in love with France, and after a two-week vacation in Paris, decided that she would live there. Five months later, she was all moved in. In Between Two Countries, a collection of her essays on travel, she shares what it means to immigrate intelligently, learn from your host culture, and make it work on a budget. And yes, you can do it, too.
About Thought Catalog Books
Thought Catalog introduces long reads and digital books for your tablet, eReader or mobile device. All titles are available through Amazon, Apple, and Barnes & Noble. New titles are released biweekly. Questions? Email hello@thoughtcatalog.com.
Retail inquiries: publisher@thoughtcatalog.com