Disney appears to try really hard to break the mould of the gender stereotypes that they have often perpetuated by placing strong females in the lead role in recent films, but they have ultimately failed. There have been many Disney princesses who have seemingly wanted to forge their own paths and save the day on their own, but this never truly happens. Instead, the films teach us some great misogynist lessons.
Mulan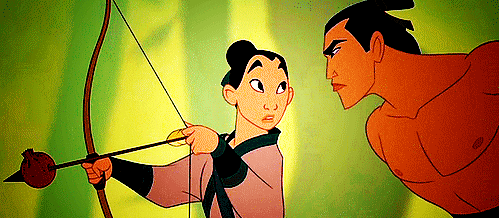 The earliest Disney film with a strong female main character that comes to mind is, of course, Mulan. This film brings to life a character from an ancient Chinese poem: a young girl who impersonates her father to save him from being killed in a war, and ends up saving all of China. Mulan cross-dresses in the film, which is radical for Disney at the time, but then she must seduce men in order to get into the palace and save the day… and now we're right back to using a woman's body to get things done.
Disney also tells us time and time again that every woman needs a man to survive. The movie could have left off with Mulan saving her country, but instead, it has turned into a love story between Mulan and Shang.
Frozen
In Disney's recent and hugely successful film, Frozen, sisterly-love saves the day rather than romantic love. This is supposedly a welcome change from the often gender stereotyped tales of the prince that saves the princess…good try Disney. Even as Anna saves Elsa through the love of a sister, rather than the love of a man, the film still tell us that women need men to survive.
At the start of the movie, Anna's song about her freedom ends up being about her need for a man, she makes it clear to her young audience that getting married is the only way that a girl can be happy.
To Anna's credit, she is willing to go off on her own in order to save her sister, no matter the cost, however, it is Kristoff who has to save her from her doom.
Tangled
Another of Disney's recent films, Tangled, starts off with the female lead, Rapuzel, ready to go against her mother and find a place for herself in the world. The only way she ends up leaving though, is with a male to show her the way.
And in the end, Tangled too, becomes just another love story.
Although efforts are being made, where is the Disney movie that has a female lead who goes out on her own, saves the day without the help of a man, and lets that be the whole story without needing a love story to go with it?