The transplant New Yorker can relate to bouncing around from borough to borough throughout the years, in search of just the right neighborhood. It's a daunting task that ever-ambitious New Yorkers take in stride. Sometimes things work out right away; other times we're not so lucky and the process of finding a place to call "home" can be a nightmare. If one thing's for sure, it's that New Yorkers love New York and will make it work.
In fact, people will never seize to amaze you in their ways of making life work in the craziest of cities. When you've found that the place is right (and the price is right), you plant yourself. Success! I've landed in a particularly charming neighborhood tucked away in Brooklyn, known as Clinton Hill. Fans of all things Brooklyn will appreciate its quiet corners, brownstones, unique dining spots, characters about, and (for animal lovers like me) pets!
The story goes like this: One afternoon, I happened on a beast of a dog patiently waiting for his owner outside the neighborhood wine store. If you're in Clinton Hill, chances are you've met him, as he's hard to miss. He's a 102-pound American bulldog who is all love and smiles! I stopped to meet him (and maybe his owner too), but was in a hurry and had to run. As fate would have it, that night I grabbed a late bite at Locanda Vini e Olii, and unknowingly sat down right next to her. Fancy that! The best part is that you would never imagine a dog of his size to have such a petite owner. To me it was fate. I had to do something about it.
Meet the real Beauty and the Beast: Haley Montemayor and Zeus (a very special companionship)!
Thought Catalog: What breed is Zeus?
Haley Montemayor: Zeus is a purebred American Bulldog.
TC: When did you find each other?
HM: Zeus and I found each other when he was seven months old. He was 65 lbs. at seven months. He was with a family that just didn't have the time or energy for such a big puppy. When he came home, he jumped out of the truck, put his paws on my shoulder, and gave me a hug. It was love at first sight.
TC: How old is he?
HM: Zeus is nine years young.
TC: What is the average life span of his breed?
HM: 8-12 years, but I know many that have lived longer… 14 years.
TC: How much does he weigh?
HM: About 102 lbs.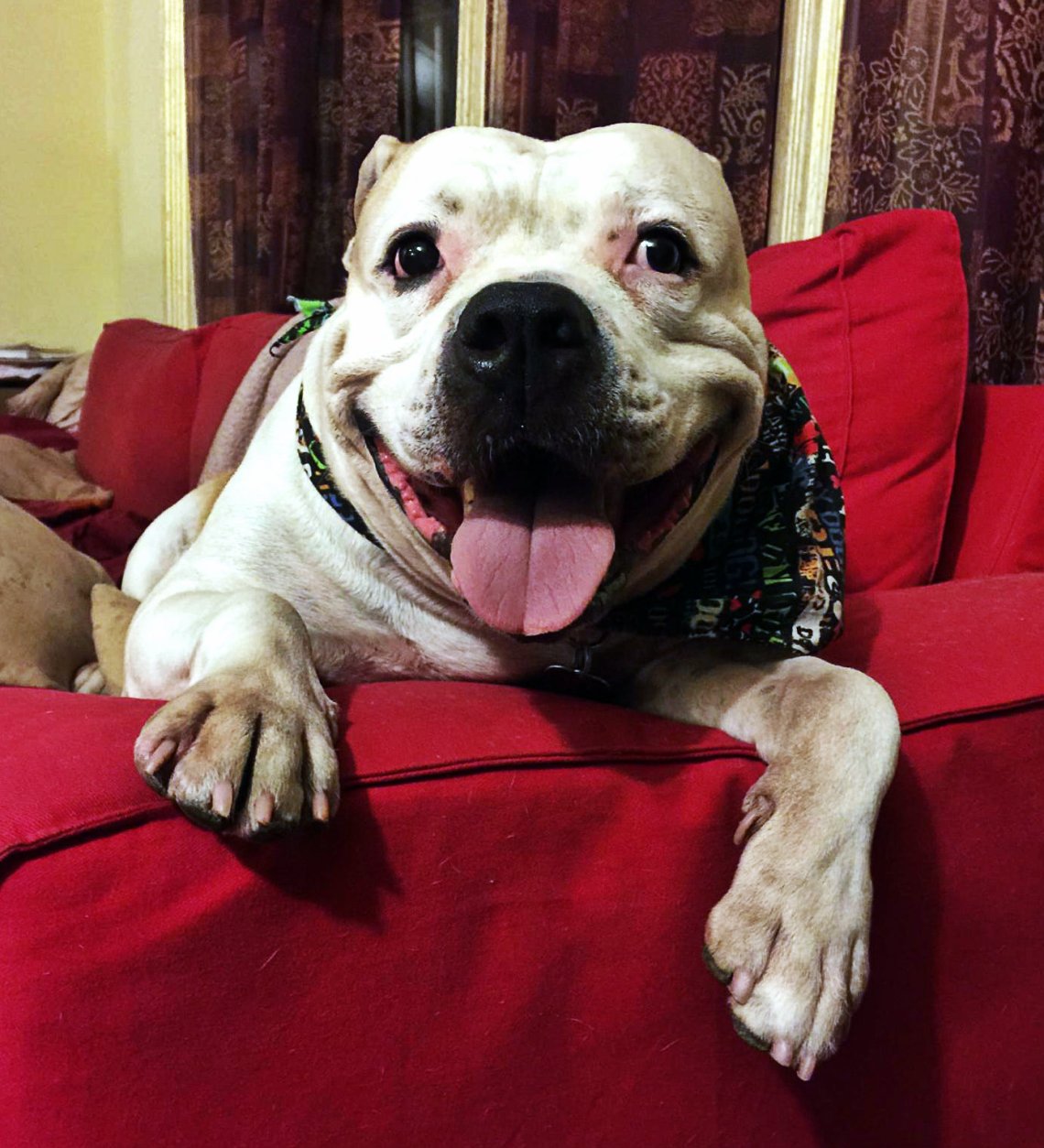 TC: Have you always been a dog lover?
HM: Not always actually. In fact my close friends at the time were quite surprised when we got him (Zeus became part of the family when I was with a now ex-boyfriend).
TC: Are there any specific personality traits that Zeus' breed is known to have?
HM: Yes, they're known to be full of energy, a little stubborn, very loyal, protective, friendly, happy, and gentle.
TC: Describe his personality
HM: Zeus is Mr. Personality! He loves to make friends. He is super smart and friendly. All of the above. He loves to play, as much as he loves to make friends. He's definitely a Mama's Boy.
TC: Does he have friends?
HM: Yes he has friends in the neighborhood. Well he will be friends with anyone who will be his friend, some that he knows better than others dog-wise. He has a lot of people friends too. Pretty sure he considers himself a person too.
TC: Is he known in the neighborhood?
HM: Yes, many people know Zeus. We have lived in this neighborhood for over 5 years. Sometimes I walk down the street and there are people who know him and I don't even know them.
TC: What line of work are you in?
HM: I'm a Holistic Therapist.
TC: What would life without Zeus be like?
HM: Hmmm…. I can't really imagine life without having him. He's always there for a hug. Always happy to see me! Always there to give me energy and contribute when it's required of him. He is an amazing companion.
TC: Are there any quirks about him?
HM: Yes, he's a big boy and in many ways, a big baby. If I've been out of town, or if I leave him in front of a store while we've been walking, he'll start to cry because I'm gone. He'll do it sometimes as well if I take him out to dine and go inside for some reason. He also has to find the perfect place to poop (it isn't easy I guess). He will spin around and around in 10 different places before he decides.
TC: How has your companionship with Zeus enhanced your life most?
HM: I would say, that his companionship is a reminder of unconditional love and reminds me how amazing life is, how delicate it is, yet how simple life can be, and at the end of the day no matter what, it is all ok.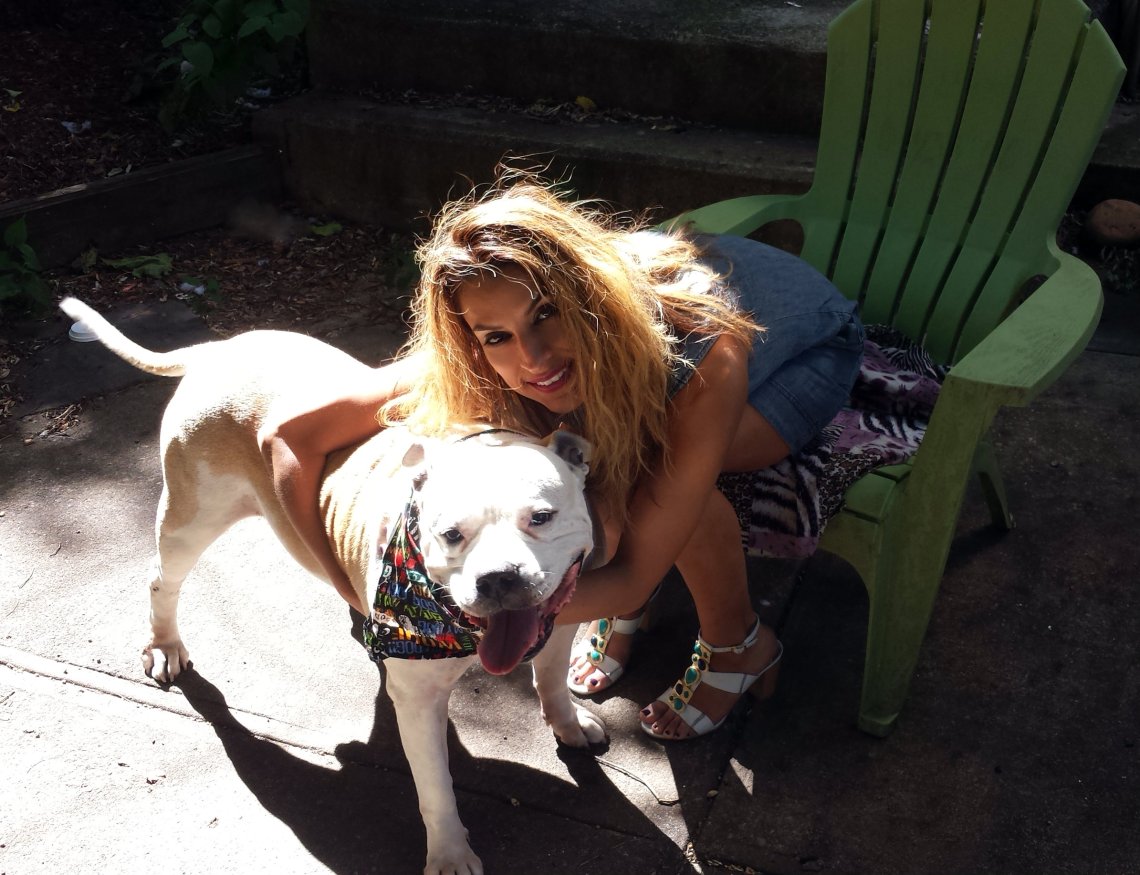 TC: What are some of your favorite things to do together?
HM: We do yoga together. We exercise together. So when I'm working out or doing yoga, he does his thing and plays. We like to cuddle together and go to the wine store. Zeus likes to dine out with me too, that can be fun but sometimes stressful for me.
TC: What does Zeus love?
HM: Anything fun! Zeus would like to party 24/7. He loves to play, meet people, meat, pig ears, Kong dog balls (the squeaky one's), stuffed animals, hanging with his Mom, and ripping cardboard boxes!!!
TC: What does Zeus hate?
HM: Zeus hates to be alone, hates when I'm not around, or out of town. Zeus also hates the rain, hates to walk in the rain, yet he loves to get a bath!
TC: Does he have any nicknames?
HM: Yes! Everyone has nicknames for him. One guy calls us "Talk Stoop." Zeus is kind of like a big kitten. He rubs your leg like a cat. I call him "kitty cat" sometimes. When I first got him, it was "Sugar Ray." I used to always call him "sugar." I call him "Bug" these days because he's a good cuddler (short for "cuddle bug"). "Zeuster," "Ray Ray," my friend from South America called him "monster munch." I actually call him "doll" a lot, like "babydoll," and he is always my baby.
TC: What makes you and Zeus so compatible?
HM: Well we both have a lot of energy! We're both Taurus's. We're both pretty easy going.
TC: Does Zeus' opinion/reaction to men affect yours?
HM: Yes, if he really didn't like somebody I would probably think twice.
TC: Do you recommend dogs like Zeus for other Brooklynites?
HM: Yes, they're great companions and always there for a hug and support.
TC: What's the best thing about life with Zeus?
HM: Happiness! It's just amazing to look at him and see not a care in the world. He's always cared for, he always has treats, and toys and fun. Life is good.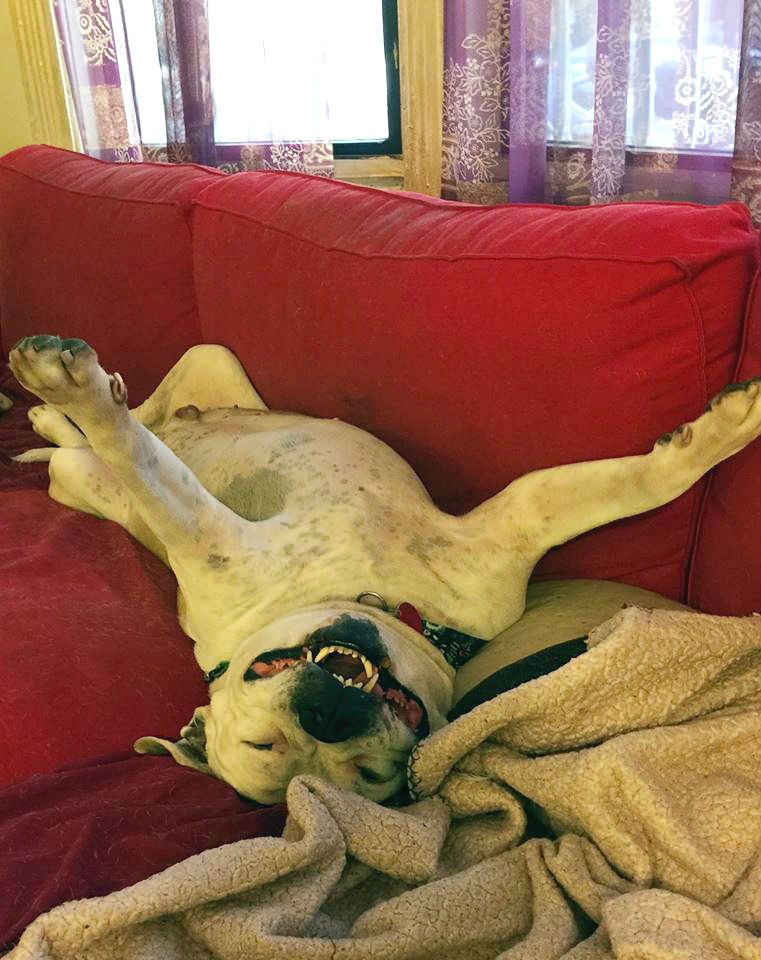 TC: Does Zeus have a sense of humor?
HM: I would say so. He smiles a lot! He throws his toys and can play by himself. Definitely likes to be the center of attention and is a camera ham!
TC: Precious memory about Zeus?
HM: When Zeus was about 2 years old, we were still in Florida. The backyard of our house was on an ocean access canal and sat on a very quiet cul-de-sac.
One Saturday morning, I am in the kitchen baking and Zeus wanted to go in the backyard, one of his favorite activities at the time was to chase the iguanas out of the yard. After a while, I realize I don't hear him or see him. I walk through the yard, which is not huge, there's an underground pool, and it landscaped with Bromelia's a little palm and very tall bushes that align the canal. My heart stopped, as I did not see him anywhere. He doesn't jump fences. I walk into the front yard and call his name just in case. I even looked in the canal and did not see him.
Still panicking, I walked back to the canal, and there along the sea wall at the next house over is Zeus, clinging for dear life. I was happy just to see him alive and even happier it was low tide. He's a great swimmer and luckily figured it out how to make it the wall and hold on. He looked in shock. He would not swim to me, over to the wall, nothing. I called his (at the time) co-owner to come as swiftly as possible. I had to get in the water and get the dog. Oh my goodness, there were barnacles everywhere, and at the time if you lived in Florida, you owned a pair of Croc's. I got ready to submerse myself in the water, phone on the doc. Luckily it's still summer and the water was not too cold, I headed over to get Zeus and he clung to me still in shock, almost taking me under a few times. He calms down enough that I got him over to the dock. The tide was rising and it was a good 45 minutes that we were in the water together, awaiting assistance out of the water. Assistance arrived, Zeus got out of the water, happy and forever grateful!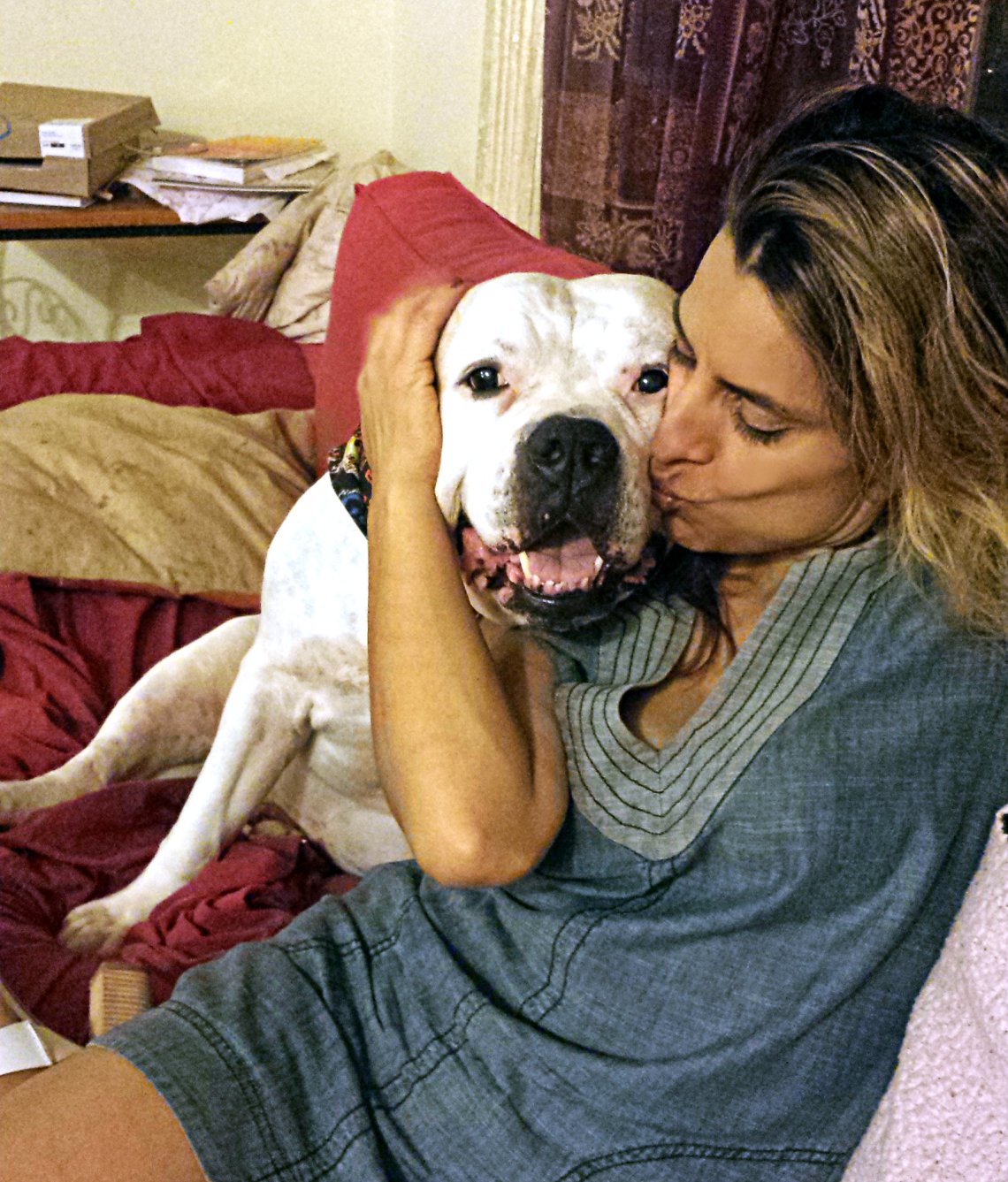 If you run into Haley and Zeus in Clinton Hill, be sure to say hello.
Our animals may not live forever, but our love for them does.
To the memories we make with our best friends.