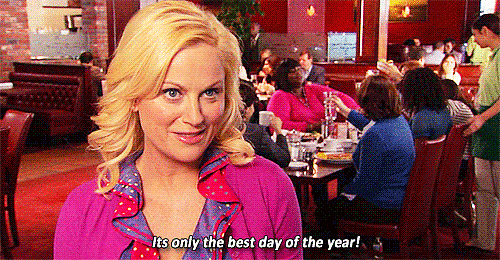 First off, for those of you who don't know what Galentine's Day is (wtf??) it is February 13th, the day before Valentine's Day, originally made a thing by the badass Leslie Knope herself during the 16th episode of season 2 of Parks and Recreation and it's all about celebrating your gal pals!
1. Go to happy hour and drink way more than you wanted to on a Monday. Cheers ladies!
2. Take the morning off of work to go out to brunch with your besties and drink bottomless mimosas (which will more than likely resulting in you probably just taking the whole day off – whoops).
3. Order way too much pizza to your apartment, invite all your friends that you can think of over to stuff your faces with pizza's in the shape of hearts that you paid extra for because it's worth it.
4. Use this day as an excuse to get all your favorite gals together and celebrate how awesome women are by dressing up as your favorite female influences.
5. Round up the squad and head to the movies to watch the new 50 Shades movie then group Tinder afterwards.
6. Get super personal and tell embarrassing stories of hook ups, dating horrors and hilarious stories of your exes.
7. Have a movie marathon with everyone's favorite chick flicks and lots of chocolate and popcorn.
8. Have a sex-party! Find a Pure Romance rep in your area or any other company near you and have a night full of laughs, sex jokes and get even closer than you imagined to your girl friends.
9. Have a Galentine's Day secret santa. Organize a secret santa or white elephant gift exchange for all your girls. Set a money limit and see who can come up with the most creative gift.
10. Go out to a see some live music in your city. Check the calendar and make plans to hit up a local venu or bar.
11. Treat yo'selves to a spa day or afterwork mani and pedis. There's no reason you shouldn't spoil yourself a little bit on the day to celebrate you and your fellow girls.
12. Do a paint and sip night, or create your own craft night at home using ideas you've found on Pinterest.
13. Have a game night with your besties, you can start off playing charades before you dive into the more juicy stuff like Never Have I Ever, while having wine, of course.

Another fun Valentine's Day activity? Thought Catalog's first coloring book, Relax Already & Get Sexy! Get your copy here (NSFW).