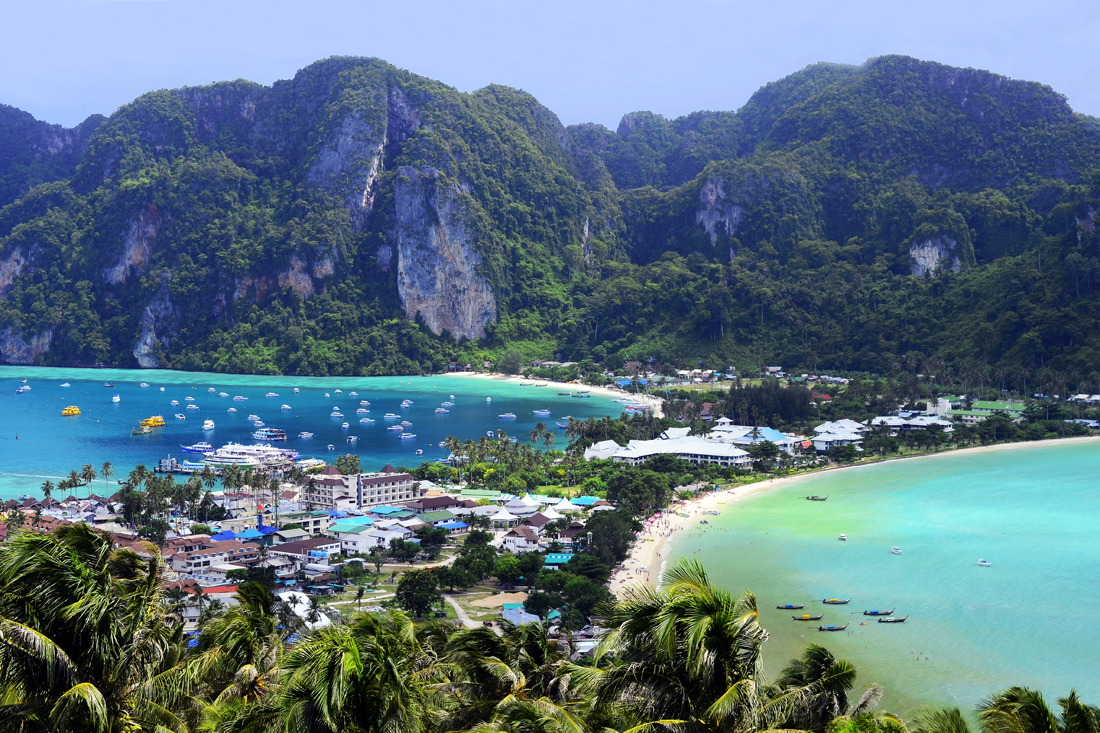 Thailand is a must-see destination for travelers. There are so many unique aspects of this luscious country that makes it like no other, starting with its beautiful beaches and cheap food, accommodation and drinks!
As for the best time to visit – April is the hottest month of the year and rainy season normally starts around June and lasts until November. The busiest tourist time is from November until about April. If you're thinking about visiting Thailand (I highly suggest you do!) the best time to go is in November, in my opinion. October is said to be the most beautiful month in Thailand, but it still tends to rain quite frequently and traveling with a backpack that's soaked is no fun. November is when it starts to dry up, but this also leads to price increases with the tourist season beginning. The weather around the end of the year is the nicest, little rain and perfect temperatures.
To start thinking about heading to Thailand you'll first need to think about a couple of things.
What To Do Before You Pack
Vaccines – Check with your doctor to see if you need any shots or vaccines before your trip. I personally didn't get any shots, but that's mostly because I was living in Australia prior to my trip and didn't get any vaccines before going there. I also didn't have health insurance there to get any vaccines. Some of my friends had malaria pills prescribed to them. You might also want to consider a tetanus shot, Hepatitis, or even rabies.
Travel insurance – While I felt totally safe traveling throughout Thailand, you never know what could happen and it's better to be safe than sorry. I used World Nomad insurance and lucky I never had to actually use it while traveling, but I do know some people who have had to. Make sure you have medical insurance covered with your plan because you never know if you'll end up in an accident or suffer an injury.
Passport – You'll obviously need a passport to get into Thailand and you'll need to it leave, so make sure you keep it in a safe spot at all times.
International license (optional) – I was in Chiang Mai and one of my friends got pulled over for riding a motorbike without her license. I'm not sure if it would have made a difference if she had an international license or her actual license on her, but since she had neither she got a ticket. I got my International license at AAA.
Debit/credit cards – Although you won't be able to really use your cards anywhere it will be nice to have them to take money out of an ATM. With money I DON'T recommend you bringing a wad of your home countries currency and bringing it to exchange counters all the time. It's good to have like $100 USD on you, just incase, but I never needed it in Thailand. And always have money in multiple locations, don't stick 5,000 Bhat in the front of your wallet, even though it's unlikely anyone would steal it.
Visas – Being American I was granted a 30 day visa on arrival, all I had to do was show up to Immigration and they stamped my passport and I was granted 30 days. If you're not carrying an American passport I would recommend looking up the correct information for your country.
Now for packing. Assuming you'll be living out of a backpack here is the most effective and efficient way to travel:
Clothing
4 shirts/tank tops – You'll want these for all purpose use, but most of the time you'll just be walking around and they'll get sweaty. I had one shirt just specifically for sleeping.
3 shorts – You'll most likely be wearing shorts if you're in the south on an island or just walking around Chiang Mai in the north. It's hot basically all day and night so leave the jeans at home. Seriously, don't even bother packing a pair you won't wear them.
2 dresses/rompers – Dresses or rompers are usually a lot cooler than wearing shorts or pants. They come in handy too because then you don't have to worry about dirtying two items which can be great for laundry purposes.
Bras/underwear – These are more a personal preference. Some people wear underwear, some don't. Use your best judgement. All I'm saying is it does get really hot there and you will sweat, a lot. But laundry is also very easy to find.
1 rain jacket – Rain jackets are nice to have, especially if you are visiting during rainy season. You'll rarely, if ever, need it because it's cold but because it's wet.
2 swim suits – It will be good to have a rotation going, especially if you're spending a lot of time in the south.
1 towel – Most hostels have towels, which is HUGE. I packed a quick dry towel, which was handy, until I lost it half way through my trip. In the north I never needed a towel I just used the hostel towels and in the south I bought a sarong and used that as a beach cover/towel. It is also very light and easy to fit in your backpack.
1 pair of slip on shoes  – You have to take your shoes off basically everywhere in Thailand, even in most shops and stores. I bought a good pair of supportive Birkenstock flip flops because I basically lived in them.
1 pair of sneakers – I brought a pair of sneakers, but only wore them twice. If you plan on doing a lot of hiking and trekking I definitely suggest a pair of sneakers.
Toiletries
To be honest, you don't need to come with that much because you'll most likely not even end up using them. You can buy all your basics at 7-11 (they are EVERYWHERE) and it will most likely be cheaper than buying it in your home country. But incase you don't want to risk showing up without any shampoo here is a list of the basics you'll need:
Deodorant – ICYMI you'll be sweating, a lot.
Travel sized shampoo, conditioner, soap – Some hostels actually supply shampoo and soap in the showers, which is really nice.
Bug spray – Do yourself a favor and come prepared with bug spray, it will make it easier when you wind up somewhere and wish you had it.
Sunscreen – Buy a bottle before you go because when you see that it's 500 Bhat you'll feel like it's extremely overpriced, even though that equals out to around $14 USD.
Tampons – These are something you might actually want to bring with you. Tampons are harder to find in Thailand for some reason, I mostly just saw pads around stores, but I'm sure you can find some if you look hard enough.
Toilet paper and hand sanitizer – Toilet paper is hard to come by in Thailand, especially in public bathrooms. You'll want to carry some in your bag or even a pack of tissues. Along with the lack of toilet paper, there is also a lack of soap in public bathrooms so I would recommend bringing your own hand sanitizer along!
Razors, tooth brush, tooth paste, pain relievers, diarrhea treatment, hydration tablets etc. 
Final Tips
The only other random tips I have is to check out if you need a power outlet converter for Thailand. They have the same type of outlets we use in the States, if that's any help. You can't go wrong with bringing your own water bottle, especially if you want to refill it often with bottled water because you can't drink the tap water. Also, make sure you bring an unlocked phone! Thai SIM cards are very, very cheap so you'll definitely be able to find a SIM card anywhere you are. Just have the people help you activate it and you can buy top-ups at almost every 7-11.
Thailand is a beautiful, amazing, unique country. I want to got back, like now. It is a life changing experience to say the least. Enjoy your trip!