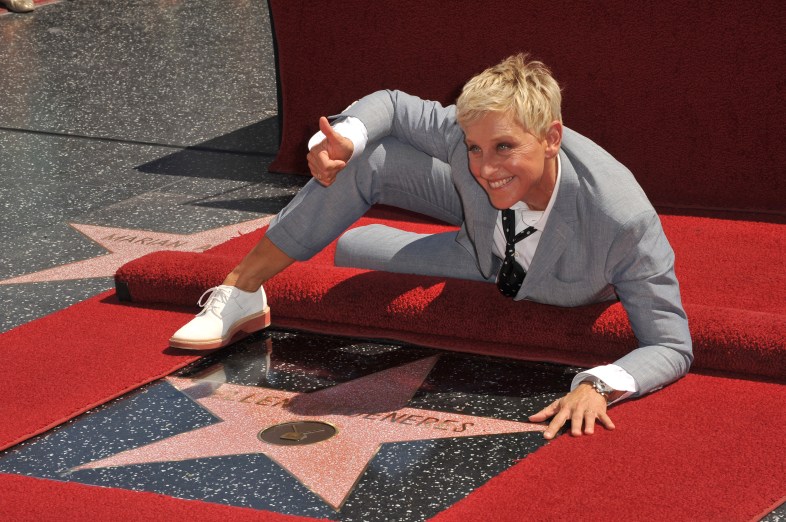 Ellen DeGeneres is one of the most hilarious, kind-hearted, well-spirited, inspirational and dedicated people in the world. She recently received the 'Favorite Humanitarian' award at the People's Choice Awards. During her speech she said one of the most inspirational and sincerest line I've probably ever heard said during an award show speech.
She said, "It's a little strange to actually get an award for being nice and generous and kind, which is what were all suppose to do with one another. That's the point of being a human."
Ellen has spent her career continuously giving to others and being as selfless as possible. She uses her talk show to inspire others to do the same and share her own journey through life. We all know how funny she is (and if you don't it's time to crawl out of the box you're under and turn on her show), but she is also insanely inspirational.


"Sometimes you can't see yourself clearly until you see yourself through the eyes of others."


"We use 10 percent of our brains. Imagine how much we could accomplish if we used the other 60 percent."


"If we're destroying our trees and destroying our environment and hurting animals and hurting one another and all that stuff, there's got to be a very powerful energy to fight that. I think we need more love in the world. We need more kindness, more compassion, more joy, more laughter. I definitely want to contribute to that."


"Here are the values that I stand for: honesty, equality, kindness, compassion, treating people the way you want to be treated and helping those in need. To me, those are traditional values."


"We focus so much on our differences, and that is creating, I think, a lot of chaos and negativity and bullying in the world. And I think if everybody focused on what we all have in common – which is – we all want to be happy."


"I'm not an activist; I don't look for controversy. I'm not a political person, but I'm a person with compassion. I care passionately about equal rights. I care about human rights. I care about animal rights."


"Follow your passion. Stay true to yourself. Never follow someone else's path unless you're in the woods and you're lost and you see a path. By all means, you should follow that."


"I would love for the world to be happier."


"The only thing I really recommend, if you're starting out in stand-up is to not try to copy anybody else. You can be influenced by people. I was influenced by Steve Martin and Bob Newhart and Woody Allen, but I never tried to be someone else. I always tried to be myself. And the reason people are successful is they're unique."


"The world is full of a lot of fear and a lot of negativity, and a lot of judgment. I just think people need to start shifting into joy and happiness. As corny as it sounds, we need to make a shift."


"I work really hard at trying to see the big picture and not getting stuck in ego. I believe we're all put on this planet for a purpose, and we all have a different purpose… When you connect with that love and that compassion, that's when everything unfolds."


"I became vegan because I saw footage of what really goes on in the slaughterhouses and on the dairy farms."


"I hate having to do small talk. I'd rather talk about deep subjects. I'd rather talk about meditation, or the world, or the trees or animals, than small, inane, you know, banter."


"So be who you really are. Embrace who you are. Literally. Hug yourself. Accept who you are. Unless you're a serial killer."


"So many people prefer to live in drama because it's comfortable. It's like someone staying in a bad marriage or relationship – it's actually easier to stay because they know what to expect every day, versus leaving and not knowing what to expect."


"Find out who you are and be that person. That's what your soul was put on this Earth to be. Find that truth, live that truth and everything else will come."


"I am saddened by how people treat one another and how we are so shut off from one another and how we judge one another, when the truth is, we are all one connected thing. We are all from the same exact molecules."


"I had everything I'd hoped for, but I wasn't being myself. So I decided to be honest about who I was. It was strange: The people who loved me for being funny suddenly didn't like me for being… me."


"Most comedy is based on getting a laugh at somebody else's expense. And I find that that's just a form of bullying in a major way. So I want to be an example that you can be funny and be kind, and make people laugh without hurting somebody else's feelings."


"People love their animals so much so that they put little clothes on them and necklaces and booties and things like that. And if you love your animal, then you should feed them something that's not dangerous for them. There's a lot of poisonous stuff that they're putting in a lot of that food, those by-products."


"We need more kindness, more compassion, more joy, more laughter. I definitely want to contribute to that."


"People give me such a hard time because I don't wear dresses. What's that got to do with anything?"


"I learned compassion from being discriminated against. Everything bad that's ever happened to me has taught me compassion."


"I used to beat myself up about weight and working out, and no matter what I did I never felt good about myself. I decided to accept myself and know that I am good."


"I'm a comedian, and I definitely see the humor in a lot of things. I am also sad a lot. I cry often and easily. I think you're supposed to feel all kinds of things."


"I just feel like every kid is growing up too fast and they're seeing too much. Everything is about sex, and that's fine for me. I'm not saying I don't like it. But I don't think it should be everywhere, where kids are exposed to everything sexual. Because they have to have some innocence; there's just no innocence left."


"I think anybody who wants to be president has to be a politician, but I would like to find somebody who's coming from a loving place instead of a political place."


"I hope I make people feel better. I hope I take people out of their situations a little bit and make them happier. That's really why I do what I do."


"When we were growing up our parents somehow made it clear that being famous was good. And I mistakenly thought that if I was famous then everyone would love me."


"For some reason, we can't just enjoy somebody else's success. Somehow, that's going to affect us. If they have more, then I have less – and I don't know why."


"True beauty is not related to what color your hair is or what color your eyes are. True beauty is about who you are as a human being, your principles, your moral compass."