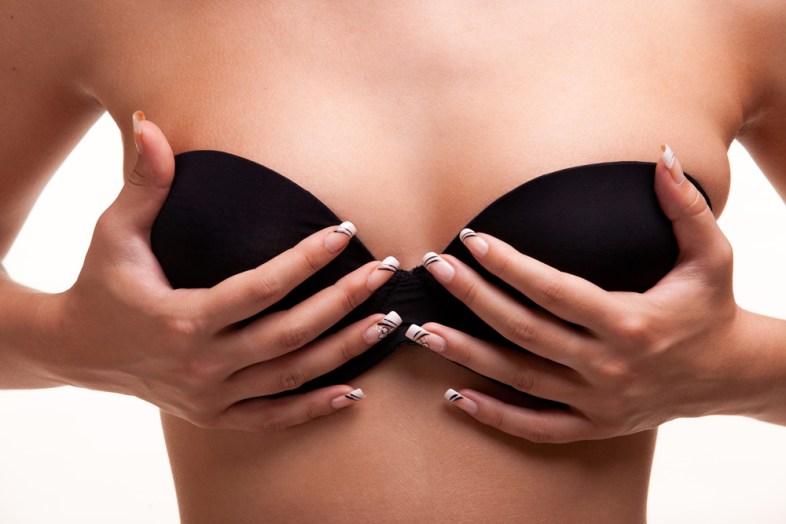 I have small breasts.
Not those really tiny breasts – the kind that hurtle girls into minimum-wage jobs straight out of school so that one glorious day, after they've saved all their pennies, they can get a boob job.
No, my kind of small breasts are more insidious than that. They're the kind that is deceptively average enough to never drive one to extreme measures. Instead, they incur the sort of slow-burn disappointment that lasts a lifetime.
I've tried not to care about my small boobs – really, I have. I know it's shallow and superficial. I know that Emma Watson would not approve. I know that I should love my body. And I do. It's just that I hate my boobs.
And just to prove that I'm not down with body shaming, let me tell you this: I have a great ass. When god was handing out asses – I was in the 'haves.' Men tell me all the time that I have a great ass. In fact, just tonight, I was awarded the complement of having a "nice, apple-shaped hood booty". And while we are on the subject of my good features, this same man also told me I have a "very beautiful face".
Of course, he never mentioned my rack. Guys never mention that.
But back to my ass. I'm very proud of my great ass. Give me a pair of skin-tight leggings and I'll rock them. Give me a set of stairs and I'll climb them. Give me something to look at and I'll bend over it.
But having a great ass is just not the same as having great boobs. Big boobs are timeless. They never go out of style. Not like the small boobs craze – which honestly seems confined to the short-lived heroin chic era and Keira Knightly. And while big booty is all the rage now – the problem is that I can't see my ass. I really would prefer if my best assets were right in front of me.
Like my best friend, Jayde. Let me tell you about her boobs. She has some of the best boobs I've ever seen. Her mother and her sister all have wonderful, wonderful breasts. They're the kind of women that if they put on weight – it all goes into their breasts and fills in the creases of their eyes and makes them look even more wonderful. Imagine that. Once they all went on a holiday to Hawaii together. They did nothing but inhale fried desserts and coconut-milk cocktails, and they stepped off the plane looking like they'd spent the past 2 weeks in the company of the world's finest plastic surgeons.
They're the kind of women for whom buying bras is something of a competitive sport. They took me bra shopping at Victoria's Secret once, convinced that the wonders of structural engineering would succeed in making me appear to have cleavage. The only thing it succeeded in was making me look like was a transvestite. I was just pulling at skin, really.
I see the way men look at Jayde differently to me. Senior men wearing expensive suits in work situations will lean in and talk to her breasts as though giving their undivided attention to her nipples was the very height of non-verbal communication. I stand there incensed, and she doesn't even seem to notice. And neither do they. It's like a non-satisfying three-way: she looking at he, he looking at her chest, me looking at him looking at her chest.
When we walk down the street, men spot her from blocks away and don't break their stare until they are well behind her. At our diner, the waiters give her bigger slices of pie, and regard me as if I was a steaming hot plate of chopped doggy do. At our taco joint, the cooks stop what they are doing to ask her about the weather, as if they hadn't stepped outside in days and the weather app hadn't yet been developed.
I would like to clarify one thing. I don't want big boobs so more guys will like me. Just as god created women's chests in two categories: the 'haves' and 'have not's', he also created 'tits men' and 'ass men'. Guys are one of either, but never both. This works out rather well – because it means that no matter what your body type – there's always someone who'll chase it. And in a city like New York – where I live – small boobs girls could date ass guys every night until the 2050 climate change apocalypse, and still never even scrape the surface of potential.
The reason I want bigger boobs, is because I know that I'm missing out on all the fun. I want to console upset people in my heaving bosom. I want to use my boobs to exploit situations to my own personal advantage. I want to use them to store phones, $20 bills and other items for easy-access, and I want them so that I don't have to spend 30 hours of my life every summer trying to find a padded bikini, and I want them so that I get bigger slices of pie and no-one ever forgets to re-fill my coffee cup.
I should also add at this point – that it wasn't always like this: there was once a time when I had good boobs too. I know this because there is a photo of me, taken in the late summer of 2009, where my breasts look truly great.
I am no longer in possession of this photo – but I am certain of its existence, because I had it framed and installed onto my then-boyfriend's bedroom wall. Sometimes I think about calling up my ex-boyfriend to enquire about this photo and it's whereabouts. However, he has since moved on.
But I haven't.
It is at these introspective moments – where I feel a sense of loss and anatomical injustice – that I tell myself that I need to reframe my story into one of positivity and empowerment.
For many years now, I've been quite skilled in the art of self-delusional narrative, and so lately, I've been trying to leverage this skill to convince myself that I am, in actual fact, very blessed to not be burdened by large boobs.
When I go for jogs with my mum (from whom I received this genetic blessing – thanks mum!) I always make a point to tell her that it's "so great" to have a running buddy who is not encumbered by the weight of her own heaving bosom. "Yes," I say, "I have to slow down for Jayde, because it hurts her to jog so fast… because of her big boobs."
"Yes," replies mum.
"We are lucky," I say, as we pick up the pace, demonstrating to ourselves the gift of our own light-footedness.
It's this same kind of cognitive dissonance that compels me to tell Jayde things like: "it's okay for me to wear low-cut tops like this – on you it would just look slutty, but on me it looks cute."
But of course – we all know the truth. I don't give a shit about having more wardrobe options. And I certainly don't give a shit about jogging. I would trade it all in for boobs so ample that a paper bag would make me look slutty. Boobs so plentiful I could only ever do light cardio until the day I died.
But alas, I will never have big boobs. And while most men don't stare at me as I walk towards them on the street – some of them must surely enjoy watching me walk away.
*This essay is inspired by the late and great writer, Nora Ephron, who famously wrote about her small breasts in her 1972 Esquire column, A Few Words About Breasts.