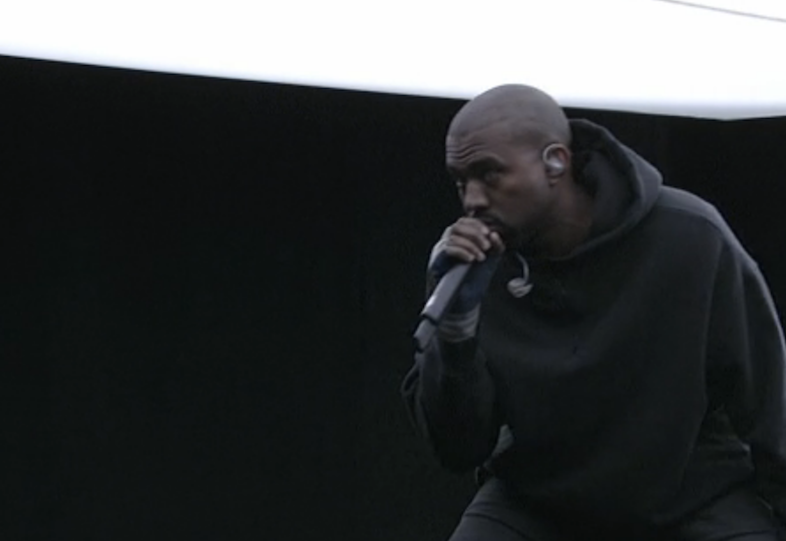 On Sunday night, during Saturday Night Live's 40th Anniversary Special, Kanye West performed. It was … you know, weird. Perfectly 'Ye.
He's lying on his back, just beneath a roof of stage light. It's very claustrophobic. And intense. And creepy. But also funny, because it's Kanye West, and he's horizontal, staring upside-down into the camera, at an otherwise goofy reunion of funny people.
Kanye begins by singing a classic, "Jesus Walks," before moving onto recent releases, "Only One" and "Wolves." Eventually he parts with his supine position to slouch around the stage. Then he kneels and drags his fingerless gloved hands along the ground. Sia shows up. Throughout it all, West is sick. Like, flu sick. He barely has a voice. At times he sounds pretty terrible. But it's Kanye and it's SNL and the songs are great and the staging is cool so it works and I loved it, blah blah blah. Enough.
I'm sick of analyzing Kanye West. It's the same story every time. The dude's crazy. He's polarizing, he's a genius, he's an asshole, he doesn't respect the music industry, he respects the music industry too much; if you love him you defend him, if you don't you don't. It never changes. So here's the new angle: 'Ye does whatever he feels like doing, so I will too. Which means I'm going to perform at SNL's 50th Anniversary Special, and it's going to top West's performance. By a lot. Oh my god it's gonna be so good.
I have ten years to prepare, so this is quite unpolished, but here's what I have so far.
 ***
I will sing three songs: (1) T-Pain's "Buy You A Drank," (2) JoJo's "Leave (Get Out)," and (3) something from Drake's seventh album which will be released in 2023.
I will wear simple tan desert boots and Urban Outfitters' quirkiest seasonal sock, with high-waisted brown corduroys, Spanx (not visible), a white crewneck undershirt, an extra-large unbuttoned Nomar Garciaparra home jersey, a blue Neff beanie, and fully fingered gloves.
I will be standing. Completely straight up. No where near that stupid ground.
I will have bronchitis, and will thusly forgo the entire second verse of the Drake piece.
Sia will be absent, but the dancing girl from all her videos will be with me. So will Shia LaBeouf. There will be no cage. (We'll be free by then.)
During "Buy You A Drank," I will serenade a greying Tina Fey on stage. During "Leave (Get Out)" I will dramatically kick her out of 30 Rockefeller Center.
At the five minute mark of my performance, everything will stop, and I'll stare uncomfortably into the audience at Kenan Thompson, who, yes, will still be a cast member. This will go on for 35 excruciating seconds. Audience members will think something's gone wrong. Jerry Seinfeld and Larry David will make scrunched up faces at one another. Kenan will look around spasmodically, thinking he's being pranked. He isn't. I'm just staring him down. In silence. Then my performance continues.
I will dedicate the whole thing to my mom.
I will cry when it's over. I will cry during. I'll be crying the whole time. I'm crying right now.
This is gonna be fun. I can't wait.