Am I broken?? Am I defective?? Why am I single??
Have you ever thought about it? For years, I thought I was single because I wanted to be. For some, that's a foreign concept, and for others, like me, you can relate. And lately, I thought I was single because I enjoy doing things alone, and my career is a full-time love.
But after talking to 732 guys on Tinder, I started to think that I was single because all these guys are assholes, and that it wasn't me. I mean, the stuff they would say, it would make me question if their parents taught them respect.
(All screenshots are my own personal conversations on Tinder)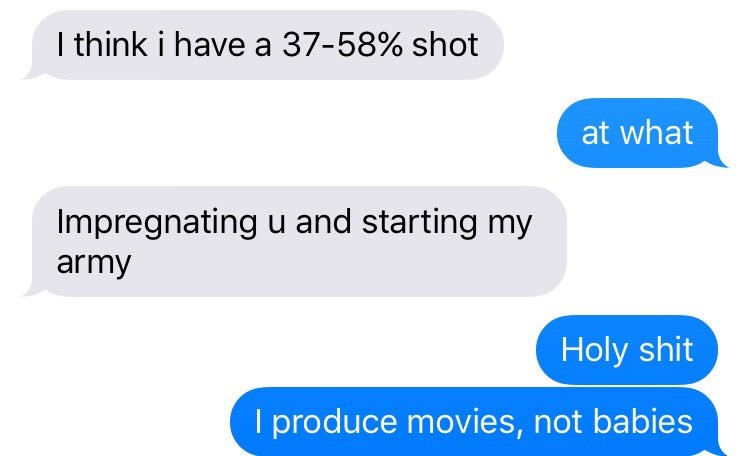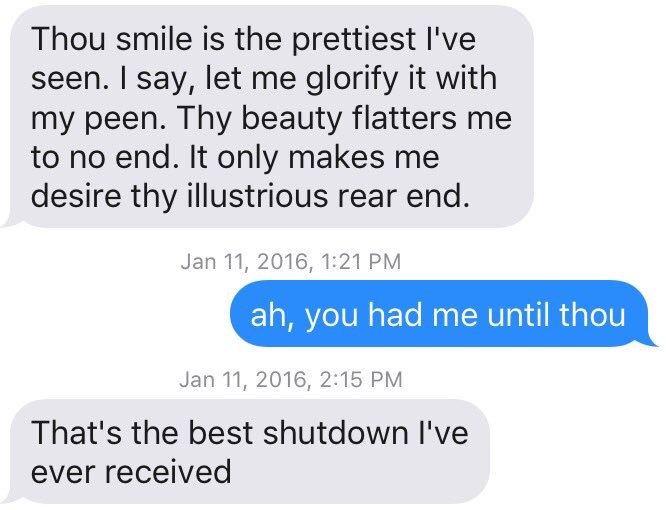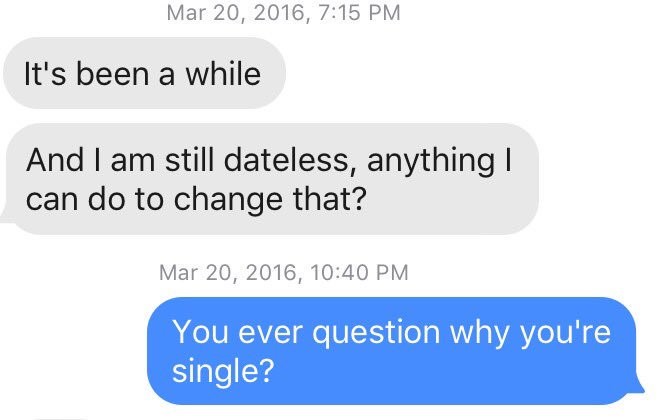 I never really found the allure of dating. I loved my independence too much to share it with someone else. I didn't need someone to hold my hand, I didn't need someone to sit next to me at the movies, and then, suddenly, one day, out of nowhere, I wanted just that.
And I had it. For a few weeks. We held hands walking up Lexington Avenue and we went to see Finding Dory together. It was great. Then, I caught feelings. At this point, we had determined the relationship (pardon, I got dating advice from Jersey Shore), and we called this phase "dating." So, like I said, I caught feelings! I wanted to help when he was upset and I would smile when he laughed. We went on a handful of dates, he even came to my apartment. And a few days later, he didn't answer my text. And this is where I got embarrassing, because I sent a single text three days in a row, with no response.
So, that was that. It was fun while it lasted.
But wait a minute, in good ol' millennial fashion, he Snapchatted me two weeks later.
And after going back and forth at 1am trying to figure out what made him lose interest in me, he said it was because I "got attached." And there it was. The reason why I am single: I get attached.
I've spoken to 732 guys on Tinder, and I even went on a date with an attempted rapist (this is a long story, but to shorten it, he sent me his mugshot after the date and I reverse Google Image Searched him and found the articles).
But to be completely honest, I'm glad he said it was because I got attached. I can't apologize for caring or for being passionate. If "attached" is the worst thing I'm called in life, I lived one heck of a good life. You know, the cashier at Chipotle doesn't call me attached. I have like 4 Chipotle bowls a week and they never say things like this guy did.