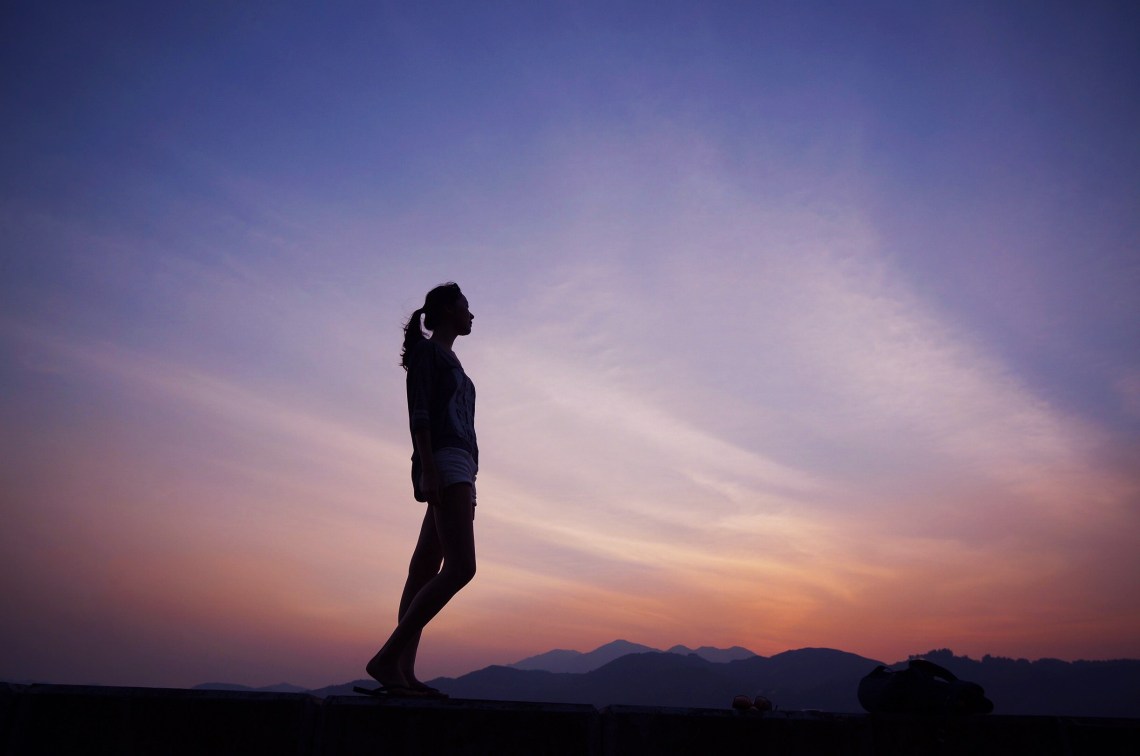 I'm walking outside on a beautiful fall day. The sky is clear, and the clouds are cotton balls, and I inhale the crisp air into my lungs. I am at the height of my youth, attending an amazing university for one final year. Life is good.
Then I see him sitting on my shoulder. He is all too familiar — small and unassuming at first. Present but not assertive. He is simply there. He seems at ease, like a bird on a branch. I brush him away, move on.
He begins to grow bigger. I notice him while waiting in line for coffee or watching TV on my couch. He's a little more presumptuous, a little more pressing now. He wants me to pay attention. I will not. I direct my focus elsewhere: on my best friends who stand beside me, on the beautiful view of the Blue Ridge Mountains, on a looming assignment deadline. If I focus elsewhere, he will go away.
But as time passes he grows larger and stronger, more boisterous. He is no longer sitting silently on my shoulder but hanging on my back, waiting for his presence to be acknowledged. He has seeped into my eyes, twisting my world to fit his dark colored lens. He has seeped into my ears, and the bustling world becomes background noise. He has seeped into tongue, and I can no longer taste the food on my mouth. He has seeped into my mind, and my attention is no longer in the present world but on him.
But my senses were not enough, he decided; he's on a warpath. Why stop now?
My body comes next. His legs become my legs, and his arms become my arms. Small tasks have become marathons. My movements are no longer one fluid act but separate and robotic motions. I lie down and can no longer stand back up.
I open my mouth to speak because I must tell someone, but I can't string together the right words in the right order to make describe what I am feeling. I go silent.
I look in the mirror and my face is gone. The small, silent, shadow figure that once sat on my shoulder is staring back at me. We are one entity.
I am in an empty room, and my hands grope at each corner, desperately searching for a logical way out. There is not one. I am trapped.
Alarm bells ring distantly in my head. I need to shed this heavy skin. I need this pain to stop.
I get in my car, drive. My favorite artist is playing in the background. Windows open, fall air seeping in. "Life is good," I repeat to myself, voice monotone. If I keep saying it I'll start to believe it.
Each day I park in this same parking deck with 700 other cars and their respective students, running to class with a coffee in hand. Now, at 9:30 p.m., it is empty. I get out of my car and stare down at the pavement beneath me. It's rather peaceful up here, watching the world bustling with life below. I am watching them, but they don't see me, don't see my pain, my anguish. I am surrounded by life but very much alone.
I inhale deeply, stare down one more time. Then I climb back into my car. Soft music on, windows cracked. I drive back to my apartment, no feeling in my limbs. Smiling roommates. I avoid eye contact and go straight to my room, ashamed.
I go to my therapist. Two years in this room filled with plants and inspiring quotes, trying to work through my demons. You've been through this before, she reminds me. You got through it. You are strong.
"Strong," I repeat.
I start with the small things, the little details. Screaming the lyrics to my favorite songs as I drive. Turning off my phone. Lighting a candle, drinking coffee. Cooking my favorite foods. Scrawling my darkest thoughts onto a piece of paper. Taking my vitamins. I even reach out to a friend. I try to explain how I'm feeling. The weight eases up slightly.
I keep going. I nap even when I have homework, listening to my tired body's signals. I get out of bed when I can and don't leave my bed when I can't. I continue to cook, jump, eat, sing, write, meditate, rest. I cry when it feels right and feel no shame at the warm tears that flow over my skin. If I accept this pain for what it is, I can move past it more quickly. No denial, I let the bad thoughts flow like a river through my head. Keep pushing.
I look in the mirror and see parts of my human skin again. The shadow figure is still there, but faded, like an old college sweatshirt run through the wash one too many times.
Cook.
Jump.
Eat.
Sing.
Write.
Meditate.
Rest.
Reach out to friend. Repeat.
Repeat.
Repeat.
Repeat.
I come back to my apartment after a particularly good day and find that the lemon chia crackers sitting on my pantry shelf have a taste again. Each breath flows more easily through my lungs. The fog consuming my brain has lifted, like putting in a new pair of contact lenses.
I run to the mirror. Could it be?
The shadow is gone — for the moment. But the tint is still on my skin: it will always be there.
Two years ago I sat at the bottom of a deep well, staring this shadow figure in the eye. I began to see a light at the top of the well: hope.
I started to climb up this well. This narrow, dark pit with no rungs on its walls: no easy way out. I dug my hands deep into the earth, creating my own rungs. Therapy. Music. Driving. Friends. Acceptance. Mindfulness. I was determined.
I reached the top, placed my calloused hands onto the soft grass, a nice change from the hard rocks and mud. I saw blue skies and my mind drifted to happier places.
And then I felt a gentle tug at my foot.
He noticed I was escaping, forgetting him. He didn't want me to leave. Misery enjoys company, and he desperately wanted mine.
I dig my hands harder into the ground, hanging onto dear life. I pay attention to the present moment and engage in the world around me. But he is always somewhere at the back of my mind, waiting for a moment to pounce. If I become careless, I will slip back in and never recover.



This story was published on The Mighty, a platform for people facing health challenges to share their stories and connect.