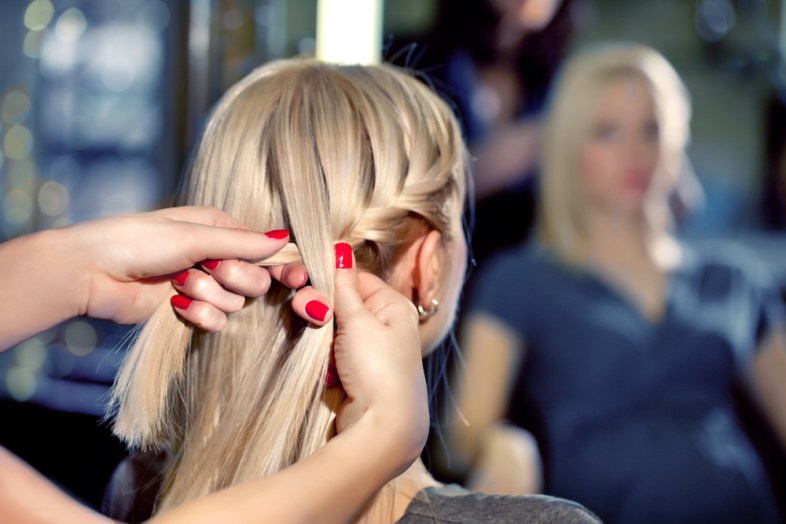 We have all heard of the phrase "there is plenty of fish in the sea" but there are a lot of different breeds and types of fish out there. Hairstylists are their own class of fish. Dating a hairdresser takes patience, adaptation, and probably a bottle of wine. I compiled a short list of some insider facts to help you understand the heart and brain of a hair artist.
1. WE ARENT VAMPIRES.
We choose to wear $5.99 FOREVER 21 shirts and some basic black pants that haven't been washed in 3 months to work EVERYDAY because we would rather not get bleach on our "nice" clothes. Let's not forget about the crocs that we try and disguise like some sort of comfortable yet cute flat-shoe thingamabob. Oh and if you are wondering "well, what about getting bleach on your black clothes?" ….. That's where Sharpies come in to play. They are god sent!
2. WE DIDNT KILL THAT CHICK WE SAW YOU LOOKING AT.
Yes, we come home with loads of what looks like red blood on our hands mixed with dark brown "mud." But NO, I wasn't out murdering that girl I caught you eyeing. I was simply coloring client's hair. Yeah, surprise! I actually do work….
3. WE CHANGE OUR CAREERS…A LOT.
Expect us to come home SEVERAL times crying, wanting to pull our hair out, and basically telling you we are moving to a far off island due to frustration with clients and basically dealing with bullshit all day, every day. We will in fact tell you that life would be better filing papers and being someone's bitch rather than deal with these suburbians who expect us to be some sort of hair wizard and mind reader. And we will also ask you to help us plan our next career venture so that we never have to deal with a head of hair again. Trust me; it lasts all of 30 minutes until we see a cool photo of some rad hair we would like to re-create.
4. WE ARE THE SIMON COWELLS OF HAIR.
We love going Target and not just for the shopping but because we get to walk around and see all the "bad hair" and talk about how we could make it SOOOO much better. Yes, you probably want to shoot yourself while we blab on and on but just nod your head and pretend you care.
5. WE CHANGE OUR HAIR EVEN MORE THAN OUR "CAREERS."
We will come home one day with black hair and a shaved side and the next day we will have tried to put extensions in that shave side all while trying to have gone platinum blonde. It's something in our blood. So you better buckle up for some seriously crazy hair styles.
6. SUNDAYS ARE THE HOLYIEST OF DAYS.
Yes, they may be holy because they are the day some people attend their church but for hairdressers they go beyond that. They are the day of sweatpants, Saturday's leftover makeup, catching up on the juiciest TV shows, gorging down on some incredibly unhealthy food, reflecting on the "cray crays" we had that past week, and restoring our bodies so we can mentally and physically handle more "cray crays" that upcoming week.
7. LAST BUT NOT LEAST, WE MAY SEEM LIKE A ROLLERCOASTER AT TIMES BUT…
We are the biggest lovers and always want to please people no matter what. We are our own worst critics and we sometimes never think we are good enough. But at the end of the day we want to cuddle, turn our brains off, and cook dinner……or if you really get the clue we want YOU to go get us those tacos down the street that we love so much and bring them home so we can tend to our throbbing feet.