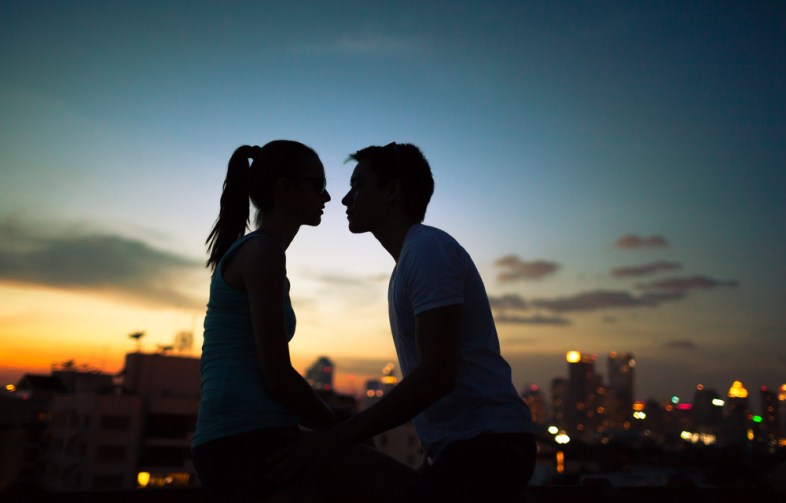 The first time he asked me out. We went for a movie and though it was already midnight, we didn't feel like leaving each other's company. We took a stroll along the riverbed and there wasn't a moment of silence. There just didn't seem to be a dearth of things to talk about. I felt tired after a while so he suggested that we sit down on the grass, facing the river.
I was hesitant at first as I didn't want to get my dress dirty. But he took my hand and pulled me down beside him. I fell against him with a laugh. Our arms rubbed against each other. It was the first physical contact we'd had all night. My hand tingled from the roughness of the hair on his arm and I felt goose bumps creeping up along my skin. I knew he felt it too as his breath hitched when his arm touched mine. Conversation ceased and the tension was palpable.
I could feel his gaze on me as I stared at the ground, not wanting to meet his eyes. He called my name, huskily. I shivered at the tone of his voice. I turned my head towards him and found his lips inches away from mine. I licked my lips subconsciously and his breathing labored. He tilted his head and started coming closer. A thousand thoughts were running through my head as my eyes fluttered shut. His lips touched mine softly, and then with a little more pressure.
The sensations were incredible. I felt his kiss in places that shouldn't be talked about. It got a little too overwhelming and I broke away. I opened my eyes to see him staring intently at me.
"What are we doing,          ?" I whispered, seeking reassurance.
"Shh, it's okay. Just trust me," he replied as he lifted his hand to cup my cheek, his fingers stroking my skin.
His words were strangely comforting and I nodded my consent. He captured my mouth again, this time with a little more force. His tongue traced my lower lip, prompting me to open my mouth. I complied and our tongues touched for the first time. We both drew a sharp intake of breath at the foreign sensation. His hand slid down to my lower back and his grip tightened as our tongues massaged each other. I could feel the warmth of his hand through the thin material of my dress. I realized I wanted to touch him too.
I reached up and started stroking his jawline. He made a sound at the back of his throat and I felt him tense up. He broke away and started kissing my neck.
"You taste so good," he whispered while his teeth scraped the sensitive skin at the base of my neck.
I couldn't stop a moan from escaping my lips.
"And that's why we should stop," he said, breathing heavily.
I looked into his eyes and saw my own lust reflected back in them. I realized that both of us would lose control if we continued any further. He was right.
I rested my head on his shoulder and he put his arms around me. I could feel his heart racing and I was pretty sure he could hear the loud heartbeats of mine. He kissed the top of my head and I smiled contentedly. It was the start of plenty more moments to come.