Okay, I'll admit I'm biased.
Julia was an incredibly kind human and once posted my poetry on her Instagram page and I'm not sure I've ever fully recovered. I feel like we're going to become great friends and I say that in the #coolest #chillest way ever.
I had been a fan since I heard "Issues" on Spotify back in January 2017. I thought, as I'm sure millions of others did, WOW WAY TO SING ABOUT MY DATING STYLE. I GOT ISSUES. YOU GOT 'EM TOO!! Same, babe. Her voice was engaging, vulnerable. I was into it. Had that baby on replay.
But short of loving that one song, I didn't know much about Michaels.
After she shouted out my work, I started creeping researching.
Turns out, we've all been her fan longer than any of us realize.
At 23, she's got a resume that would put some music industry veterans to shame. I mean, SERIOUSLY. GIRL'S GOT GAME. To name a few, she's written hits for Britney Spears, Gwen Stefani, Selena Gomez, and Nick Jonas. Oh, and a lil' song you might have heard of — "Sorry" by Justin Bieber. Yeah, that one. CASUAL.
(Her sister is great too. Hi, Jaden!)
It feels like we're all finally in on a secret the singer-songwriter community has had for years. Julia. Is. God. Damn. Talented.
From being nominated for Best New Artist at the 2017 MTV VMAs to her newly released "mini-album" Nervous System, this year is coming up Julia.
And I'm here for. every. second.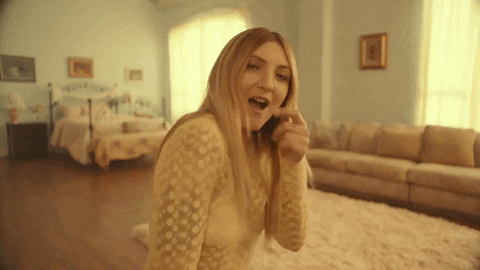 Shine on, Julia, shine on.