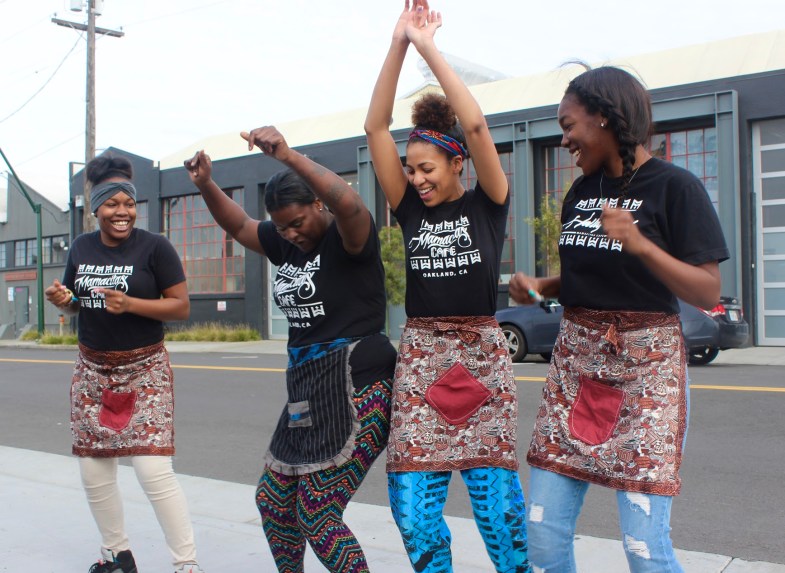 At a time when every other news story is enough to make you want to permanently hibernate, a glimpse of something truly beautiful is emerging in California's Bay Area.
Allow me to introduce you to Mamacitas Cafe.
Mamacitas Cafe is a mission-driven foods business with the goal of creating fair wage jobs and leadership opportunities for young women of color in Oakland, and to specifically expand employment for youth in transition from the child welfare and juvenile justice system. 
It was formally launched in 2015 after founders Shana Lancaster, Renee Geesler, and Simone Obidah had tested the model as a pop-up.
"We started building this social enterprise because we were frustrated at how few businesses were hiring local black and brown youth," said Geesler. "We recognize it can be expensive for a small business to hire and train inexperienced workers, but the real cost is to the community when we allow our youth to become economically marginalized."
Lancaster, a third generation Oakland resident, noted that "Oakland's youth are extremely capable and creative."
"We started Mamacitas Cafe so that young women of color, who are facing significant barriers to employment, have a restorative space to stabilize, heal, and step into their full potential as leaders."
The team is gearing up to open a new café that will be home to the Mamacitas Employee (ME) Training Program. "By offering robust training to our workers during their employment, we hope to create pathways to upward mobility. As we grow, we are committed to promote from within. We want staff to understand how the business works, and we want to make sure they have the necessary tools," explained Obidah.
Lancaster described the group's plan to, eventually, evolve into a cooperative or offer equity to workers so they have a real stake in the company. "We don't want to funnel our youth into the food service industry, necessarily. But if they are committed to this vision, we want to grow and share the profit with them. And we are confident that with time, our workers will come up with ideas to create their own businesses, which we will proudly support them to launch."
The company is slated to begin renovations of its new location in Oakland this summer. The cafe will be open for breakfast and lunch and will exclusively serve Red Bay Coffee. This black-owned specialty coffee roaster in Oakland has been a long-time supporter of the Mamacitas team.
Mamacitas is the Bay Area at its best — delicious food (donut kebabs HELLOOOO), ambition, and a desire to give back to the community.
I think we can all agree 2017 needs more of this.
…And more donut kebabs, let's be honest.
To support Mamacitas Cafe expansion, check out the kickstarter right here.