You know those people who seem to wake up with a double shot of Espresso already pumping through their veins? They get up and run marathons, or volunteer to help at elementary schools, or just…walk around looking energized and ready to take on the day. Well, good for them. You aren't one of them. In fact, you're tired just imagining them. Here are 17 struggles those of us constantly fighting the Sandman understand all too well.
1. Knowing you will be ready to leave the party way before the rest of your group wants to bid adieu. You relate to "Here" by Alessia Cara on a spiritual level.
2. Getting a full night of sleep and still somehow feeling exhausted.
3. The pure unadulterated fear that takes over your entire body when you find out the plans you agreed to take place before 10 am.
4. Judging every chair or comfortable looking piece of furniture you see by how easily you could take a nap on it.
5. Not being able to understand people who don't enjoy napping. Like, I'm sorry, how do you not enjoy the luxury of SLEEPING? Of slipping into magical Dreamlands and, for a little while, not having to worry about real life? Tell me more about how you hate HAPPINESS.
6. When people mistakenly think you can skip your morning coffee/tea.
7. Trying to explain to your energetic friends why you can't pull all-nighters. YOUR BODY JUST DOESN'T WORK LIKE THAT, OKAY???
8. Having to give Oscar winning performances to assure people you aren't getting sleepy at 7:45 pm.
9. Driving separately. Because A) you don't want to feel like a burden if you're ready to bounce early. And B) you need a quick getaway car.
10. Taking your pants off when you get home from a night out feeling almost (maybe even better) than sex.
11. Saying, "Netflix and Chill?" and 100% meaning you want to watch Netflix on your couch and move as little as possible.
12. Needing two naps a day or else running the risk of getting cranky. You're essentially a giant toddler who somehow ended up with the responsibility of adulthood.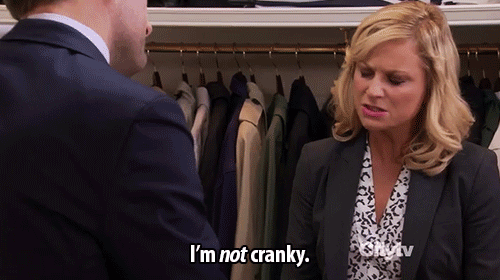 13. Getting emotional just thinking about how lonely your bed must be.
14. Loathing anything that requires a strict dress code. You're a creature of comfort, dammit! So what if you like wearing sweats and shoes that look suspiciously like slippers?! You're just trying to liiiiiveeeee.
15. Being exhausted all day and then when it's finally time to sleep, your body deciding to f*ck with you and and dive deep into insomnia.
16. Having no idea what sunrise looks like.
17. Getting tired halfway through this list and deciding, meh, forget this bullshit. It's time for my 2nd 3rd nap today anyways.