In our world, people fall into one of two camps when it comes to the holidays: Buddy the Elf, or the Grinch. So for those of us who want to punch ourselves in the face whenever "Santa Baby" starts screeching through the overcrowded mall's loudspeakers, just remember, this too shall pass. And in the meantime, commiserate with your fellow Scrooges.
1.
"Are there moments when I see unrequited crushes or ex-boyfriends slow dancing with their dates and kind of want to stab myself in the spleen with a salad fork? Yeah, sure."
— Sloane Crosley
2.
"I felt overstuffed and dull and disappointed, the way I always do the day after Christmas, as if whatever it was the pine boughs and the candles and the silver and gilt-ribboned presents and the birch-log fires and the Christmas turkey and the carols at the piano promised never came to pass."
— Sylvia Plath
3.
"On a busy day twenty-two thousand people come to visit Santa, and I was told that it is an elf's lot to remain merry in the face of torment and adversity. I promised to keep that in mind."
— David Sedaris
4.
"I like to call everyone that I find slightly annoying a sociopath."
— Bo Burnham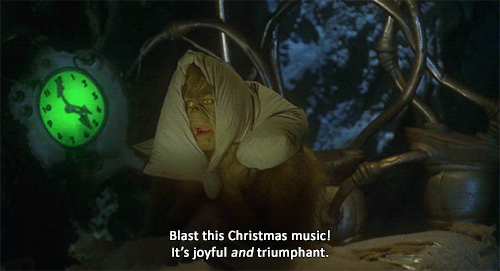 5.
"A crust eaten in peace is better than a banquet partaken in anxiety."
— Aesop
6.
"Don't underestimate the value of Doing Nothing, of just going along, listening to all the things you can't hear, and not bothering."
— A.A. Milne
7.
"I don't like holidays. And I don't like crowds of people. I don't like noise."
— Roz Chast
8.
"Santa Claus has the right idea – visit people only once a year."
— Victor Borge
9.
"Am I grumpy? I might be. But I think maybe sometimes it's misinterpreted."
— Harrison Ford
10.
"I hate people."
— Maurice Sendak
11.
"The main reason Santa is so jolly is because he knows where all the bad girls live."
— George Carlin
12.
"Bah, said Scrooge, Humbug."
— Charles Dickens
13.
"No."
— Grumpy Cat