My brain is still in zombie mode from attending Coachella weekend one with my dope coworker Crissy Milazzo. And we were sober the whole time. Honestly, realizing how pathetically my body is falling apart right now, I'm pretty sure I'm just unfit for the whole festival life. 2nd day of Coachella kicked off and I swear my entire body said, "DON'T DO THIS TO ME!!! I LOVE YOU, DO YOU LOVE ME?" But…believe it or not, we still had a lot of fun. There's something strange that happens at music festivals. You're sweaty, dehydrated, constantly being bumped and stepped on, but when that sun sets and everyone is just vibing together, it can be kind of magical. But Coachella is still weird as fuck.
1. A parrot observing his surroundings.
2. This very hyped up blonde girl pissing off the mysterious lady in black. The blonde was running around to everyone shouting, "DANCE, GET UP! GET STOKED!" And I can appreciate her enthusiasm, but MLIB (mysterious lady in black) was NOT having it. She gently (kinda?) grabbed the blonde's arm and said, "Stop this now!"
3. A lot of butts that really want you to know they are American butts.
4. This sad coconut. Like, WHERE IS THIS COCONUT'S FAMILY?!? DOESN'T ANYONE CARE THAT THIS COCONUT WAS LEFT ALONE TO DIE?!??!?!??!
5. This guy really loving Hozier. He took him to church so hardcore, he fell asleep.
6. Coachella's mascot: a very white, white girl wearing a bindi. Because nothing says, "I'm here to genuinely enjoy the music" quite like cultural appropriation.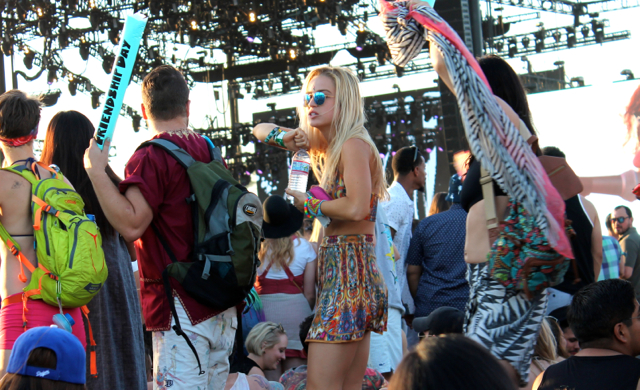 7. Flower crown.
8. Oh…okay, another flower crown. That's okay though. The more the merrier!
9. Hm…flower crown.
10. Is that a flower crown?
11. FLOWER CROWNS AS FAR AS THE EYE CAN SEE!!!!
12. Some great shirts that really promote positive body image!!!! (SDJKFHDJSKFHKJSD BRAIN WANTS TO EXPLODE RIGHT NOW)
13. Kanye and Beck enjoying the festival and newfound friendship.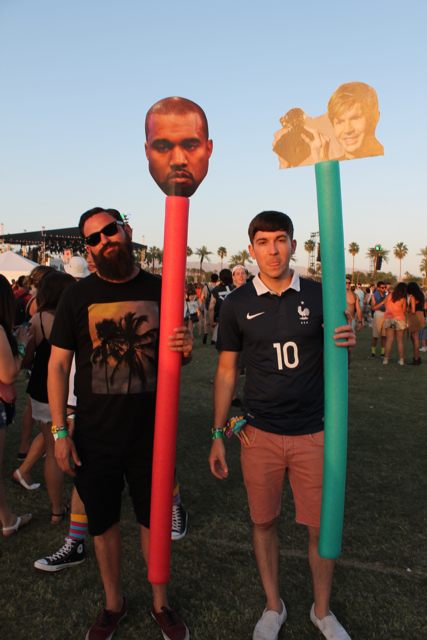 14. Checking Snapchat > the expensive show you paid to attend. (But to be fair, same girl, same)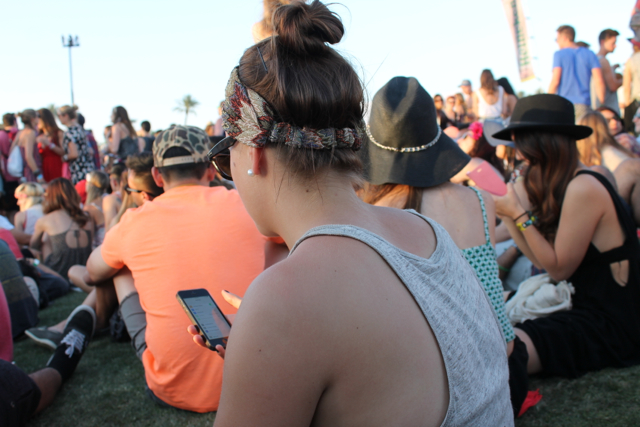 15. BEST FRAAANS, BEING BEST FRANSSSSS.
16. CUTE PEOPLE BEING IN LOVE (or on drugs?) AND SNUGGLING REMINDING OTHER PEOPLE (…not me…) THEY ARE FOREVER ALONE.
17. This stupid asshole. Who let her into Coachella?
18. PHONES!
19. AYYY WE GOT PHONES THOUGH!!!!!!

For more exclusive Coachella 2015 content, follow Ari on Facebook:
---