1. "Pussy Kills" – Rocky Rivera
"They can never handle what it takes to give birth.
Say my pussy's weak, try to claim it as they turf.
Can never quantify what my pussy's truly worth."
*snaps*
2. Feeling Myself – Nicki Minaj ft. Beyonce
YASSSSSSSSSSSSSSS. Sassy hand up emoji all day.
3. "Ex-Factor" – Lauryn Hill
The goddess that is Lauryn Hill. Bow down.
4. "Goddess" – Banks
"Finally surfaced above doubts.
Feeling above this, she came around.
Cause she's a goddess, finally saw this.
And now you're back, trying to claim her.
Cause she's gone and now without her,
You're all alone, cause she's a goddess.
You shoulda saw this."
5. "This Woman's Work" – Kate Bush
https://www.youtube.com/watch?v=7TupvVpxY_U
"I know you have a little life in you yet.
I know you have a lot of strength left."
6. "F*cked My Way Up To The Top" – Lana Del Rey
This is Lana Del Rey's major "fuck you and what you all think" and I love it.
7. "Reflection" – Fifth Harmony
https://www.youtube.com/watch?v=6rxZY1sV3_4
I'm so hardcore on the Fifth Harmony train and I don't know how to get off. If you ever see me dancing down the street with my headphones in, I'm probably listening to Fifth Harmony. I DON'T CARE WHAT YOU THINK!!! (Okay, maybe a little)
8. "Echelon (It's My Way)" – Angel Haze
"Talk behind my back
Cause they never in the front"
9. "Who's That Girl?" – Eve
Try to not get this dope throwback jam stuck in your head. Who's that giiiiirl? Lalalalalalaalalaaaaaaaa.
10. "Difficult" – Uffie
"Don't worry if I write rhymes, I write checks." Guuuuurl.
11. "None Of Your Business" – Salt-N-Pepa
"How many rules am I to break before you understand
That your double-standards don't mean shit to me?
I know exactly what you say when I turn and walk away.
But that's OK cause I don't let it get it to me."
12. "Party In My Pants" – Beatrice Eli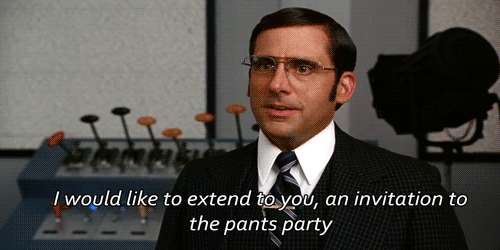 Nah, she's good all on her own, thanks though!
13. "Das Me" – Brooke Candy
https://www.youtube.com/watch?v=5i8HXo2CV-8
Okay, so I go back and forth with Brooke Candy. Just be warned, she's very vulgar, in your face, and sometimes, I totally love it. But I also have my reservations. I feel like calling herself "hoodrat Drew Barrymore" is a bit on the problematic side, so the jury is out for me on my Brooke Candy opinion. BUT this song has a few killer lines:
"You say that I'm a slut.
It ain't your business who I'm fucking with.
A dude could fuck 3 bitches and they'd say that he's the man.
But I get it in with twins, she's a whore
That's what they saying.
It's time to take the back 'slut' is now a compliment.
A sexy-ass female who running shit and confident,
Lady who on top of it, a female with a sex drive."
14. "Go On Girl" – Roxanne Shante
I have such mad love for Roxanne. She's the ultimate. This gem from '89 is still perfection.
15. "U.N.I.T.Y." – Queen Latifah
"Who you calling a bitch?
U.N.I.T.Y., U.N.I.T.Y. that's a unity
You gotta let him know."
YES. THIS IS WHY YOU ARE QUEEN.
16. "Free My Pussy" – Kate Nash
Yes, Kate, yes.
17. "Respect" – Aretha Franklin
R-E-S-P-E-C-T, ya dig?

For more from Ari, be sure to follow her on Facebook:
---