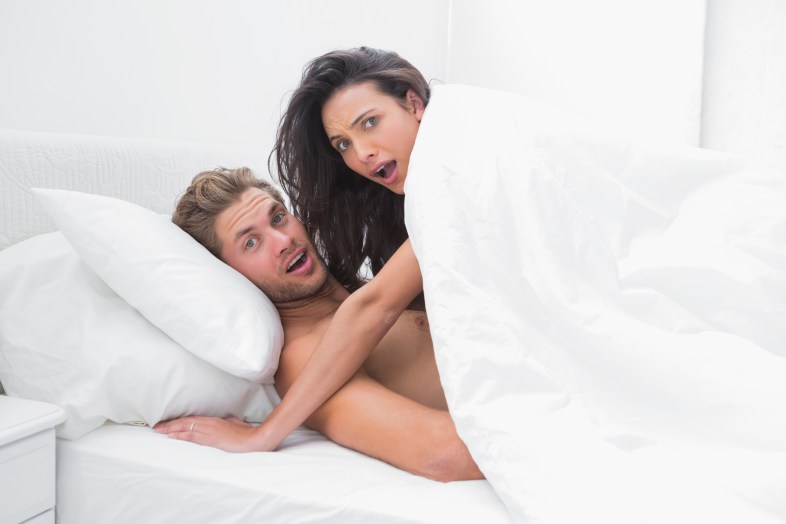 1.
"Shit, why won't your vagina cooperate?!"
– Sarah, 22
2.
"You're a super hottie. You just need to hit the gym a little more."
– Dennis, 22
3.
"Your vagina should teach an etiquette class."
– Alex, 22
4.
"I am like your little baby, and I just want to be swaddled."
– Elise, 21
5.
"But honestly, what do you think of Miley Cyrus?"
– Dylan, 18
6.
"This is like Disneyland."
– Brielle, 25
7.
This girl went down on me on her own accord, then stopped and got really upset and started shouting, "I fucking hate blow jobs. I FUCKING hate blow jobs, I can't even tell you how much I despise them."
– Ryan, 27
8.
Everything was great until he came, and then shouted, "I NEED TO CALL MY MOM!"
– Isabelle, 22
9.
"My dick was like WOOHOO, YEAAA when he saw your vagina."
– Allison, 22
10.
"Your friend Steph could totally get this D too if she wanted. I know she would."
– Mandy, 20
11.
I thought everything was great, but maybe I just wasn't loud enough for his liking because suddenly, the guy got very frustrated and just said, "What am I doing wrong right now? Can you please help?"
– Kai, 23
12.
"I'd love to put my laptop on your back, fuck you doggy-style, and go on reddit."
– Dana, 24
13.
"You look so much like a younger version of my Aunt."
– Kristina, 24
14.
I was with a guy who I guess just really liked pizza, and he just yelled, "PIIIIZZZAAAAA" as he climaxed.
– Katie, 23
15.
"This is probably a mistake."
– Ryan, 29
16.
He said, "I love you, Susie" and that's not my name.
– Charlie, 24
17.
I was pretty into this girl until she said, "I'm really into the Twilight books."
– George, 28
18.
"I'm just warning you I might need to go throw up."
– Clinton, 23
19.
"You weren't my first choice tonight, but I guess that's life, right?"
– Aidan, 20
20.
"I want to live inside you forever."
– Theresa, 25
21.
"Your dick makes me feel powerful. Like I'm Oz, or something and I control it all."
– Trevor, 24
22.
This chick and I just start hooking up and she blurts out, "I'm not going to spend the night, so don't even ask." Needless to say, we didn't have a very romantic night.
– Ben, 24
23.
"Velvet," is the only thing this guy said the entire time we hooked up.
– Liz, 19
24.
"Everything about you is fucking horrible," She still slept with me though.
– James, 28
25.
This guy was looking me straight in the eyes when he came and very quietly said, "Yas." Not yes. Yas.
– Jane, 19
26.
I dated this guy who was super into Dr. Who and one time when we were hooking up he said, "LET'S FUCK IN THE TARDIS!" I burst out laughing, but it kind of ruined the mood.
– Jennifer, 23
27.
I was about to finish when the dude said, in all seriousness, "I think I might be an alcoholic."
– Caitlin, 27
28.
This guy said, "What's your opinion on the whole butter no butter debate at movie theaters?" which I suppose is a quirky, kinda cute issue to discuss, but not when you're humping me.
– Trish, 24
29.
"I'm so sorry," I still have no idea what she was apologizing for.
– Dave, 31
30.
This girl asked that I call her a bad bitch in bed, which I was kind of into, until she starting getting aggressive with it and repeatedly saying, "CALL ME A BAD BITCH!" I just got scared.
– Adam, 24
31.
"I can't wait for sleepy time."
– Nicole, 23
32.
"I've tried meth one time, if I'm being honest." I didn't ask for him to be honest at that moment.
– Eleanor, 25
33.
"I want to make your pussy sing like the late, great Michael Jackson."
– Jessica, 22
34.
"Everything in my life sucks right now."
– Keith, 20