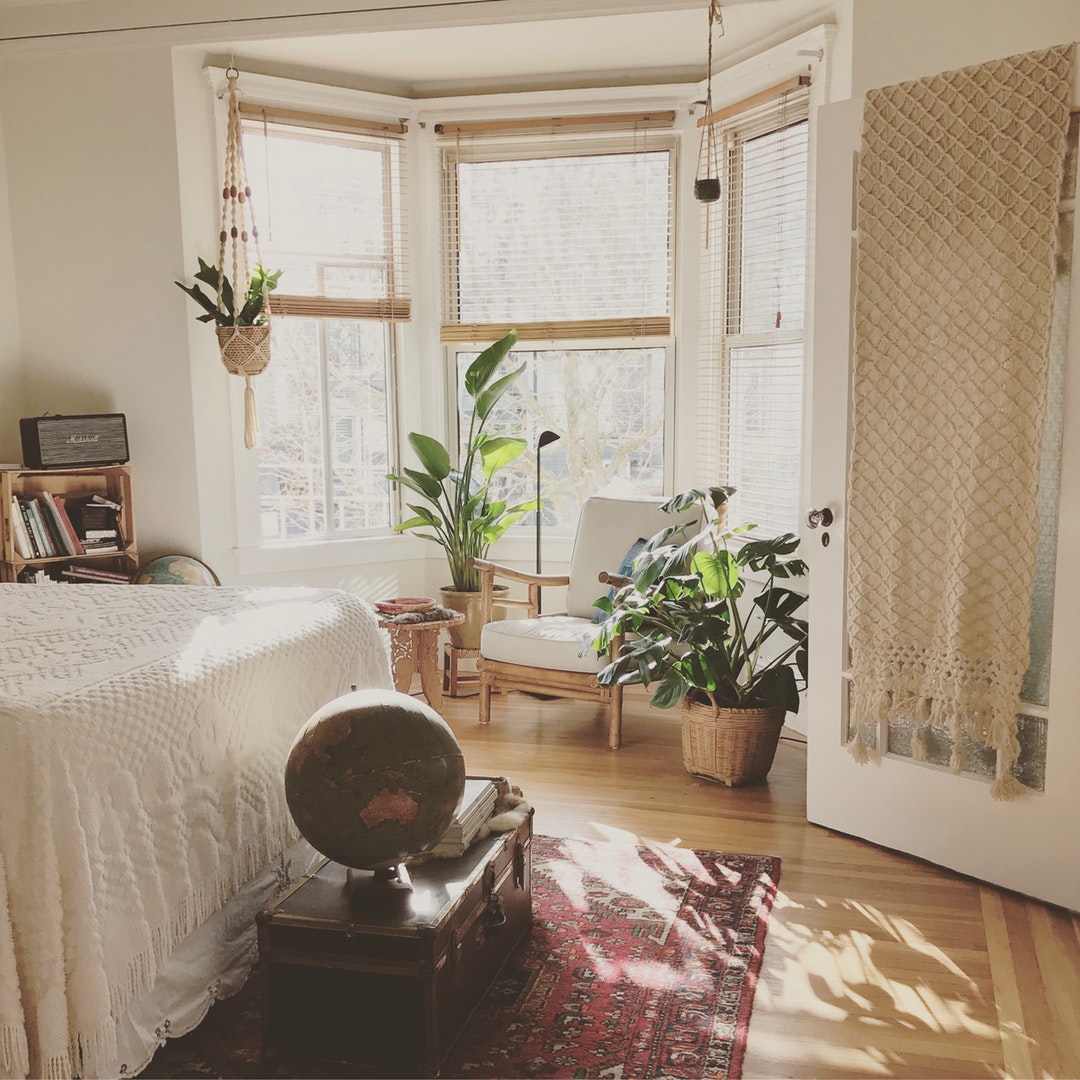 The time has come. You're moving out on your own. Your first apartment. The lease is signed, keys have been made, and the deposit and first month's rent are paid. It's time to put on your big girl panties and be an adult. Wait. Did you remember to pack panties?
Moving into your first apartment means making sure you have all the necessities from toiletries and furniture to bedding and food. And utensils and plates to eat said food on. Oh, and pots and pans to cook said food before putting it on said plates.
Okay, don't panic. Just read this list of 20 things every girl needs when moving into her very first apartment and there's a good chance you won't starve or freeze to death.
1. Welcome Mat
How will anyone know they've arrived at your fabulous apartment if you don't put out a welcome mat? Christen your new space by purchasing a doormat with a funny quote or saying on it. You can also opt for the monogrammed kind. Either way, it will let guests know you (and they) have arrived! It may even encourage them to remove their shoes before entering. Yes, please!
2. Microwave
Let's face it. Whether it's macaroni and cheese or a frozen pizza, a microwave can cook just about anything. Even things that aren't meant to be cooked in a microwave. They're also great for heating leftovers. If you're living on a budget or simply don't know how to cook, a microwave will guarantee that you have at least some edible food within 30 seconds or less.
3. Shower Curtain
It may sound silly, but a lot of people forget this somewhat necessary item. If you try showering without one, your bathroom floor with quickly be converted into that indoor pool you always wanted. Or not. Unless your apartment's shower comes equipped with sliding glass doors, do yourself a favor and grab a shower curtain and liner. This will keep the water where it belongs and keep you from slipping and falling on your ass.
4. Door Lock
If you're living alone, you may want to invest in an additional slide lock, padlock, or smart door lock for your apartment. Be sure to keep your door locked both while you're home and while you're out. This will keep unwanted intruders from seeing your awesome doormat as a sign to "Come on in." Use your peephole to check out who's knocking before opening your door. Take a lesson from Friends and accessorize by putting a frame around your peephole.
5. Wireless Speaker
You may or may not have a television (or cable) when you first move into your apartment but music is a great way to entertain, pass the time, and help you feel less alone in your new place. Invest in a quality wireless speaker that hooks up to your cell phone. You can jam out, listen to the news, or use it for soothing noise before you go to sleep at night.
6. Lamp
You will need light and no, you're cell phone's flashlight is not enough. Bring along at least one small table lamp for beside the bed or in the living room. You can use it to read at night or to brighten up your living room for guests. Just don't forget the light bulb.
7. Utensils
You see how I said "utensils" and not "silverware" or "flatware"? That's because you may not have actual, real-life utensils just yet. If this is the case, the plastic variety will do just fine. Let's be honest. Anything is an upgrade from your fingers. Be sure to grab a few packs of heavy duty plastic wear before move-in day. Nothing's worse than snapping your fork inside your Ramen noodles. If you're lucky enough to own flatware, be sure to bring along a drawer organizer to keep the forks, spoons, and knives separate and organized.
8. Plates/Bowls
Again, if you don't have the real deal, it's okay! Purchase a large pack of paper plates. If you plan to eat messy meals, you may want to invest in the thick plastic or heavy-duty variety. Same goes for bowls. Cereal is fine in the flimsy kind but you may want thicker ones for soup, chili, or other hot items.
9. Glasses
Red Solo cups are fine here. And they're versatile. You can use the same ones for your morning glass of OJ as you use for that night's beer pong game. If you're feeling fancy, grab some plastic wine glasses too!
10. Blanket/Pillow
Yes, you will need to keep warm and you'll want to be comfortable. Assuming you have a bed (or at least a mattress), you'll likely have a bedding set that comes with a comforter and pillowcases. If you're ahead of the game, you may even have sheets! But pillows are a must for a good night's sleep and it's always good to have an extra blanket on hand. Whether it's for you at night, a guest, or an afternoon nap on the couch.
11. Bottle Opener
Need we say more?
12. Coffee Maker
There's nothing quite like a fresh, hot cup of Joe in the morning. If you're living on your own, you're likely on a budget. Which means you can say goodbye to those $4.00 lattes from Starbucks. You're gonna need to start brewing your own coffee in the morning. Try a Keurig which is great for making single serve cups and offers a variety of different coffee flavors and types.
13. Garbage Can
You're gonna need somewhere to put all those paper plates and plastic utensils you're using. Find a nice kitchen garbage that doesn't take up too much space. You may also want to purchase some scented garbage bags which will help keep things smelling fresh(er) between now and garbage day.
14. Toothbrush
It seems so simple but yet so many people neglect to bring along a toothbrush to their new place. No one wants gnarly morning breath. You'll need your toothbrush and toothpaste, for sure, and maybe some mouthwash for good measure.
15. Hooks
Hooks are a cheap and versatile item that every new renter needs. You can place some by the front door for coats, hats, and bags. Some in the kitchen for utensils or keys. Hooks are great for behind the bathroom door and even in your wardrobe closet. Hooks for everyone!
16. Chargers
There's nothing worse than feeling completely disconnected from the outside world when sitting alone in your new place. To avoid this, make sure you bring along all the electronic charges you need. This means one for your phone, laptop, tablet, and any other device that needs charging. In fact, bring along some extra just in case.
17. Dish Soap
You only really need this item if you actually have dishes to wash. And if you do, you'll need a sponge too. Just say'n.
18. Towels
You'll need the big and small variety of these. Obviously, you'll need towels in the bathroom for both your body and hands. Beach towels can double for bath towels until you get settled and go shopping. Hand towels are great for washing your face at night and washing your hands in the kitchen. Oh, and don't forget the paper variety of these too. Paper towels are great for cleaning up messes, spills, and blowing your nose!
19. Fan
You'll need one of these so you don't melt. Especially if your apartment isn't equipped with air conditioning. Fans are also great for circulating stale apartment air and creating relaxing white noise while you sleep.
20. Smoke Detector
All will be for naught if your apartment burns to the ground. That's where this handy little item comes into play. Although apartment buildings are equipped with their own fire alarm systems, you'll still want to invest in your own smoke detector. These may be provided by your landlord but if you don't see one, ask.
Keep Calm and Move In
You can do this. I repeat. You can do this. Moving into your very first apartment is exciting, thrilling, and a real sense of true independence. All you need is a few staple items and you'll be a real-life adult in no time!