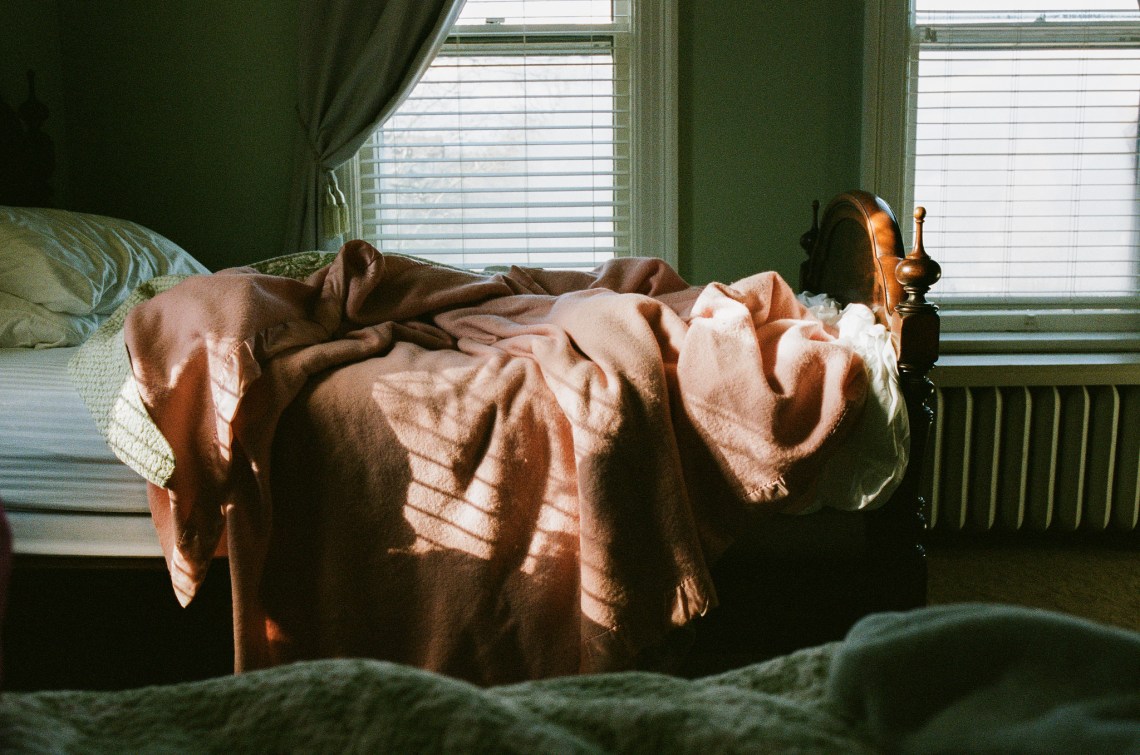 I knew I was in love with you and I knew you loved me back.
I knew we did our best to check all the boxes. Posted all the right pictures, made all the right gestures and said all the quintessential love words that people said and took and gave freely in a relationship. I remember long nights of half-wakefulness, tangled limbs, and sleepy kisses. I remember laughter and conversation over novels and grilled cheese. I remember how it felt to love and be loved by you.
I don't know why we bickered that afternoon. Did we ever really need a reason? In fact, I don't remember a single word we said to one another before suddenly we were kissing and just as suddenly your hands were tugging at the waist of my jeans and you were on top of me. I must have said "No" in half a dozen, perhaps a dozen different ways. I must have. I must have because afterward I sat looking at you from the other side of a twin mattress laid directly on the floor, holding a blanket your ex-girlfriend had made for you up to my exposed skin and feeling like a used whore. A whore who also had a dual responsibility to comfort you. To reassure you that what you had done was permissible because you were my boyfriend and you had wanted me and, most of the time, I wanted you back.
But not that day, and not in that moment. Not like that.
I still don't know if we used a condom. All I know is the ghost of the weight of your body. The silent, insistent thrusting of you into me, legs splayed open and bent at the knees like a frog, clothes still half on and my head turned to one side, not able to look at you as you did what you needed to do. My arms gripped your back, willing you with false excitement to finish. Or perhaps they were splayed too, prostrate, palms open. In meditation, they tell you palms down for calm, palms up to receive the energy of the universe. In this moment I couldn't tell you which way, up or down, my hands were facing but my mind was retreating in on itself and I felt numb and resigned. This is happening. I am patient and supplicant because despite my convictions, despite the film reel in my head of all the times I've told you I loved you and meant it, despite my own strength and my steadfast feminist politics, for some reason I am deaf, blind and mute and I would do anything, give anything for you to just fucking finish and be done heaving over and into my arrested, unresponsive body.
We had plans that evening plans that you had derailed and had now become my problem to rectify, even as you refused to look me. Now that more than ever I was in need of a drink and someone to buy them for me. To get fucked up and fuck this thing out of us until the balance of power was equal again, or preferably tipped in my favor. At the same time, I couldn't think of a worse alternative than your hands on me now that I was tainted and unapproachable.
I tried to reach you across that space. You sat with your back to me and told me, "No, this doesn't feel right," over and over again, as if you had reinvented, "No." Now "No" was valid and definitive. Unlike you, I was not allowed to disobey "No," and so even though I had no clue what I'd done to make you so cold, I didn't touch you. I didn't touch you.
For a long time, I considered myself lucky. Lucky that I didn't have a legal case to pursue because what I had experienced, without witness and without violence, would probably not hold up in court. Lucky I had humiliated myself with a man I loved and cared for instead of a stranger. Lucky I had been sober enough to remember it at all. Lucky I was sprawled on a bed instead of behind a building or in a public restroom. Lucky I wasn't a headline. Lucky my mind and body weren't brutalized beyond recognition or recovery.
Lucky, as if there's such a thing as luck in rape.
The Rape, Abuse & Incest National Network [RAINN] reports that one in every six women will be the victim of attempted rape in her life. Women who will live every day with the knowledge that their bodies and humanity have been violated. That statistic does not account for the hundreds of forums and blogs written by uncertain young women asking, "Is it rape if he's my boyfriend?" Casting desperate, confused questions into cyberspace, probably already knowing the answer, but seeking solidarity and empathy regardless. Afterward, they might not even break up with the significant other who, as one young woman plaintively put it, offered to show her his "pull out game" while she waited, detached as if she were "watching a film" of her own life.
Several months later I'm drinking wine with a friend on the back patio of my childhood home, miles and months away from you and from the girl who knew how to love you. I haven't thought of you in weeks, but the warm comfort of wine and old friends somehow leads us to dim remembrances of college boys and all the ways they can hurt a girl without ever understanding how they've done it. She admits to me that her ex used to crawl through her window at night, drunk and insistent. How she would lay there and wait for it to be over, because your body becomes less your own when you have a boyfriend who has needs and urges and who, in exchange, buys you dinner and introduces you to his parents. Who legitimizes you and your relationship with his attention. How we both didn't like to use the word "rape," because saying it out loud would unleash a reality we weren't equipped to face and perhaps because we still didn't feel equal to it. How we both found ourselves apologizing to them afterward, rubbing their backs and murmuring love words we were no longer sure we meant.