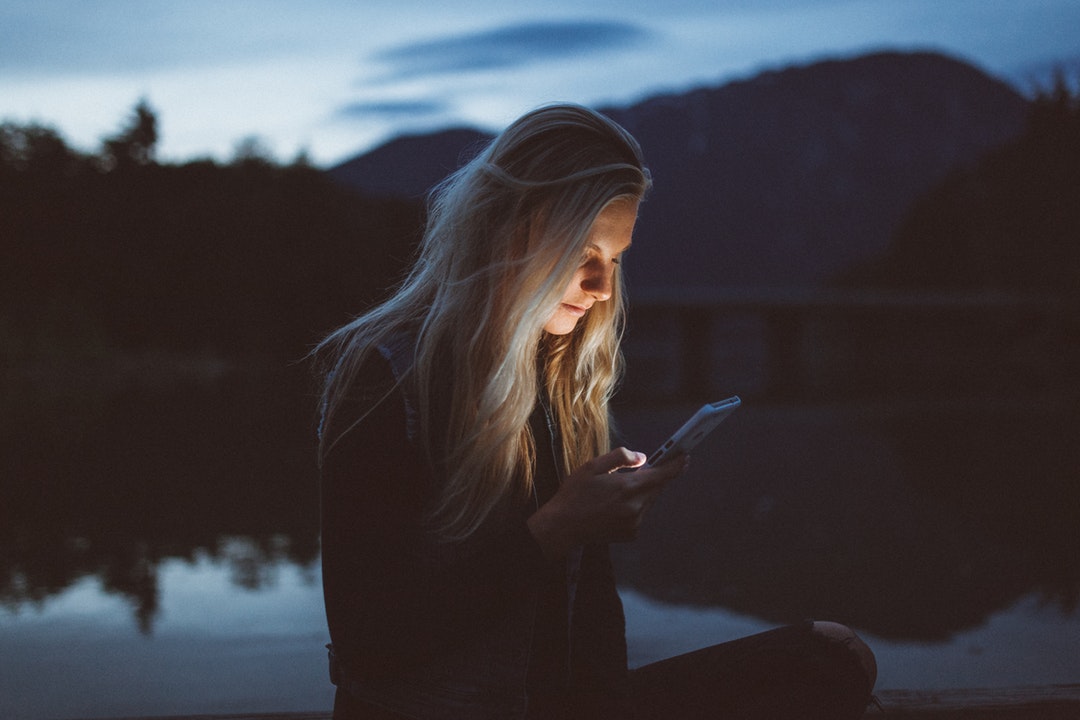 In 2018, it's not totally crazy to hear stories of two people connecting via technology before meeting in person. Although it's not unthinkable, I've always rolled my eyes at this "dating" reality. Why waste your time? How can you really get to know what someone is like? It just seems logical to only carry forward a conversation with someone who is immediately present in your life. And then it all happened. A friend of mine connected me to a guy who lived in Europe and wouldn't be returning for a good 8 to 10 months. After our first conversations, I just couldn't get him off my mind – no matter the circumstances. Little did I know I would be embarking upon a 10-month journey…..without ever actually leaving home.
In my teens and twenties, I loved, and I loved hard. I let relationships run their course, romances both short and long. As many would agree, they were all micro-lessons in self-discovery. Each time I came out a better version of me, knowing wholeheartedly I'd never settle when it came to forever. I'd wait for that once-in-a-lifetime, us-against-the-world type love. If not, I didn't want it and I'd be better off without it. Sounds great right? So why in the world would I continue a conversation with a man halfway across the world, someone so unattainable?
Maybe you're talking with someone you haven't met and you're questioning yourself. You're wondering if it's worth it, and in the back of your mind, you're also a little terrified to get hurt. The joke will be on you. I'm here to tell you it's all worth it. It is and then some. For almost a year, I took a shot at getting to know someone before getting to sit across from him, touch him, laugh with him.
Here's what it taught me about life and love, and why I'd do it all over again:
1. Take a chance on something that seems unreasonable.
Maybe it's love, a new job, a workout that scares you. Try it. What's the worst that happens? I thought a 7 hour time difference and 10,000 miles was unreasonable, too. But what it really taught me was to show up for life if there was even the slightest chance that something great was on the other side. Take the leap when the outcome is unknown. It could be the greatest opportunity of your life. Say hello. Say yes. Try. Text him back for God's sake. See what you discover along the way.
2. Really, really listen to your fears and insecurities.
I can't tell you how many times I sent a text or said something to this guy that didn't elicit the response I was hoping. Although trivial, I would feel shame, embarrassment, rejection. I wanted him to "approve," to like me in return. But what was this really telling me? I was at times afraid to be…me. Afraid my raw self wouldn't be loved, wanted. So every time I said something and didn't feel fully understood, I started not to fold when I felt rejection. I brushed it off, I knew that if it wasn't received in the right way – it wasn't really even about me. Every time I showed up as my honest, authentic self, I was falling more in love with the real me. You don't need permission for that. I'd do that all over again.
3. Live for you.
So many times I wanted to share all the fabulous things I was doing with my life. Share my trips, my nights out, my exciting strides at work, my look on the days I felt extra beautiful. This person wasn't here, and you can only be so obnoxious on social media, right? Why did I feel like I needed validation for living a full, beautiful life? I didn't. Some of life's best moments need not be shared. It's finding magic in them all by yourself. So maybe next time you're on a trip, overlooking the most incredible view you've ever seen, just stop. Put your phone away. Close your eyes and appreciate it just for you.
4. Be whole.
This guy I was talking to was living overseas away from his family, pursuing his passion, and truthfully not out there dating a bunch of women just to date. There was such reassurance that there are great, genuine men out there that are so damn busy living their own full life that love isn't the priority. That same guy wants to meet a woman who is whole all by herself, too. And then when you meet – it will absolutely be the greatest team the world has ever seen. So be single. Be independent. Be self-sufficient. Figure shit out even when it's frustrating. Find cool hobbies. Do something interesting. That person is looking for that in you, too.
5. Manifest the love you want.
More than anything, this entire adventure was a lesson in manifesting the love that I hope to find. A lesson in "living as if." Sure, in the back of my head, I thought maybe this could work out. That required cleaning my shit up literally and figuratively. What if he came home and I was going to date him? What beliefs did I need to get rid of? What clutter in my apartment did I need to throw away? What would I want to look like and feel like when if someone were to enter my life? Well, I started creating that as my reality. I tidied up more. Stopped talking so negatively to myself. I started living the way I think I'll feel when love hits me – with contentment, grace, beauty, and spontaneity. When I started doing this, my God did l start to attract all sorts of good in my life. You attract what you are, so start believing in something great.
6. Build an emotional connection, first.
Share energy, share vibes. Be an enthusiast about life. There's no way around it – there was zero physical anything when it came to me talking to this guy in Europe. The magic came from sharing values, sharing vibes, sharing energy. Having not even met this person, I could still feel it from miles away. He was calm, consistent, driven, witty, positive. We shared goals. Hope. Perspective. I grew in admiration and respect for him. I'll never want to start a relationship again without setting this foundation, first. There's something that feels safe and secure when you build from there. That will always come first.
So, believe it or not, I get to meet him in a month or so. I'm truly not sure if we will hit it off. We've shown 10% of our lives, digitally I suppose. Chemistry speaks volumes, and that's an unknown right now. I do know this person is a soulmate. I've had many of those come, go, and stay in my life. There's a piece of me that makes this whole experience feel less magical if that's "all" he is. Perhaps that's the learning? To be open. Let people in. Find resonance. Feel it. Bask in it, and let it beautifully transform you. The truth is, the love we seek can never be found outside of ourselves. I've searched and traveled miles (in my mind) to find it. However, the true fairy tale is the one that brings you back home to yourself.