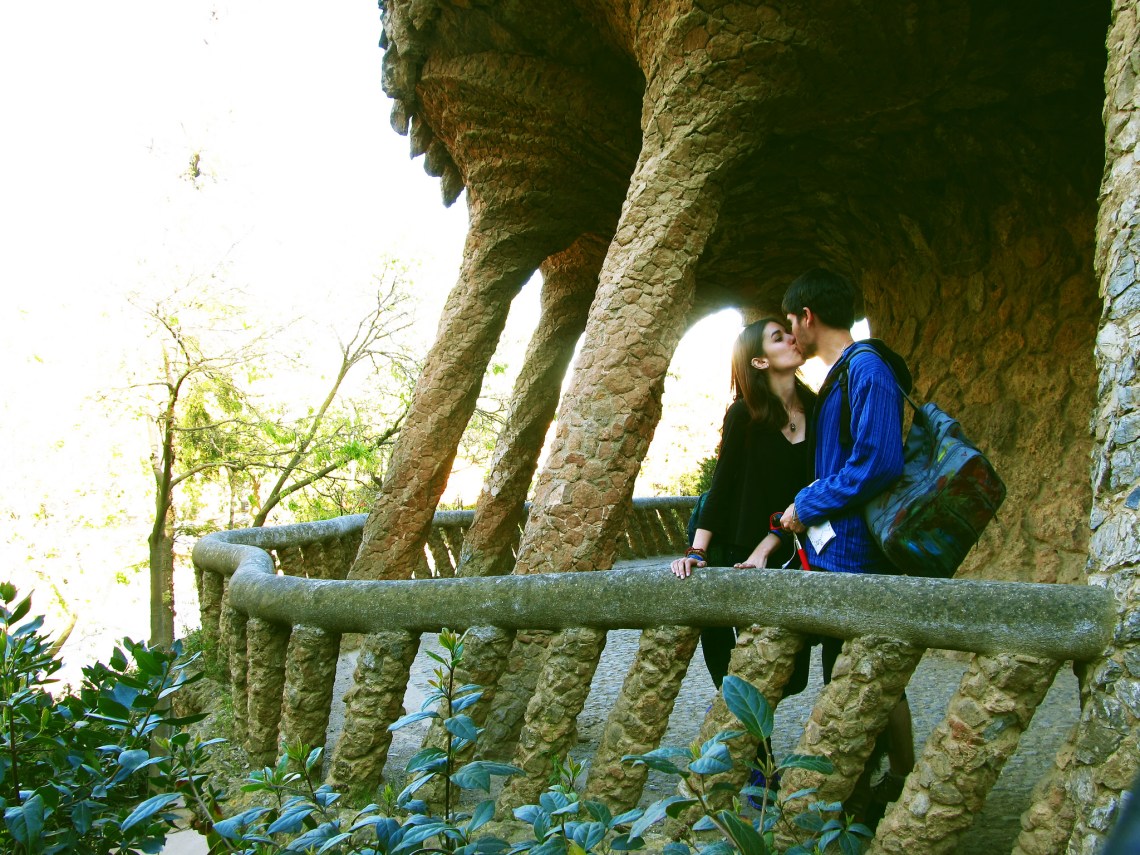 You always told me our brief summer together was the best holiday experience you had in your life. You said it was almost fairy-tale-like and could only have happened in the movies. I looked back in retrospect and perhaps you were right – the way we met seemed almost like a scene out of a movie screen.
I was browsing through our vacation photos from last December, watching those funny videos of Christmas in the outback… I couldn't remember where some of them were taken, but I knew you were right next to me when they happened. We were probably in your ute driving to some place.
Who would have thought that an innocent backpacker's summer break could lead to a crazy love story?
You would agree that we shared a chemistry like no other. And no, it wasn't just a physical thing. You were different beyond the shadow of doubt. I knew there was something special about you when one of our early string of text messages ended with a photo of your beautiful daughter. She had bright round eyes that looked just like yours.
I spent hours thinking about how you could be a single dad at your age. Then a couple more hours wondering what kind of a father you were. An inner debate clicked inside me and I pondered long about why you reached out online with a free couch offer.
Could it be loneliness? Were you looking for a plaything?
But alas, you proved how different you were from the moment you came to pick me up at the train station in your orange polo shirt and cool, white ute. I tried to rehearse my nervous lines before our first meeting and practiced my 'hello-stranger smile' as I adjusted my hair to make sure it was first-impression-worthy.
I must have looked silly in that long blue skirt with an oversized backpack on my shoulders. I tried to wipe out all the expected awkwardness in my head that came with meeting a new host. Then out of nowhere, you appeared right before me with arms wide open for a bear hug. Hours went by and we hit off incredibly well, like two old friends who hadn't seen each other in years.
I couldn't fathom how any human being could grow to like another person in such a short amount of time, but again I knew you were different when your lips met mine.
Before you, I didn't even realise how much of "The IT Crowd" and "Brooklyn NineNine" I was missing out on. I knew you were different when I watched how you interacted with your daughter over the Christmas holidays at your parents' farmhouse. I will always remember the genuine warmth in your smile and that innocent sparkle of love in her eyes. I won't forget that lazy afternoon splashing in all those tubs of water under the hot sun, bickering over your old dinosaur toys, and making out shapes of clouds in the sky. I remember how she would scream "Daddy!" when you tried to sneak into the room while our 'girls club meetings' were going on. Or how you pretended to be the sneaky bad guy when all three of us played hide and seek in the house one night.
I knew you were different when you rocked up back home one night unexpectedly with a bag of groceries (after an evening gym workout) and cooked us a lovely steak and wine dinner. I knew you were different from the others when you quietly stood and watched me in the kitchen for ten minutes because I insisted on scrubbing down your dirty dish rack.
Day by day, we blossomed as our adventures together increased with intensity.
You said over and over again that we shared so much together in two weeks that we were almost like a couple who had been dating for a year. I would laugh at all your lame jokes and tease about how my threshold for your puns and silly banter were wearing thin. Over the Boxing Day weekend, I got my first tattoo at the very same parlour you got yours. It was a spur-of-the-moment decision that I wouldn't have made without you. I remember how you would gently apply Bepanthen on my shoulders at any time of the day without questions asked. You said you wanted to get a similar design done on yourself, too.
It wasn't long before I knew how different you made me feel when you spontaneously swept me off my feet one afternoon and made love to me on your kitchen counter top. I knew you were different because for the first time in a long time, fireworks burst out from my fragile heart as we kissed under the stars on New Year's Eve while The Wombats played their live festival set on stage to thousands of festival goers like us.
Our serendipitous summer eventually came to a close and all I wanted was for time to stand still, so we could live through those moments together again.
I read and re-read the card you wrote to me as I waited to board the plane home. Life went on, but our days of endless calls and texts grew into weeks of longing.
It was clear we both didn't want that summer to end.
One morning, you asked me to consider giving us a try. I said with caution that we shouldn't rush into things. But the truth is, I had already fallen hard for you – more than you could possibly imagine.
I wanted to curl up right next to you in bed. I wanted to roll under your sheets as love unfolds and our hearts collide. I wanted to wake up feeling the stubble on your chin as you nuzzle into my neck. I wanted to be woken out of a deep sleep only to find you making love to me. I wanted to rest my head on your chest and trace the tattoos on your arms with my fingers again. I wanted to walk beside you and be awfully annoyed at how our skin contact constantly builds up static that charges us both all the time. I wanted to hear your ridiculous jokes, silly voice messages and outrageous stories. I wanted to see your name pop up on my iPhone screen after a long day and read about how you've been thinking of me.
I wanted you to be the one I could go home to on a good or bad day. I wanted to give you a back rub again. No, I wanted to give you as many back rubs as you wanted me to. I wanted to wake up in your bed every morning, opening my eyes to a familiar view that is you…
Two months after that summer holiday, we spent another short weekend together. It was then you changed your mind about us. In the blink of an eye, I was shelved into the friend zone with the excuse that our physical distance was too much for you to handle. You said long distance wouldn't work because we were nine hours apart by plane and you wanted someone you could see in nine minutes if you needed to.
I should be moving on but to be honest, I wondered how something so perfect could happen to two people who lived so very far away from each other. And I still want to go on many more road trips with you. I still want to feel the warmth of your hand on my thigh as you drive us through the inlands.
Even after all your disappearing acts, I'm still into you.
Even after hearing about all the other women you've been with after me, I still want to run into your arms and hold you like there's never going to be another tomorrow. I still want us to talk about our lives at work, our families and all our ups and downs. I still want to visit whiskey bars and speakeasies in new cities with you. I still want to see that smile, that grin on your face whenever you're up to some kind of mischief.
I still want to feel your hands on my waist and kiss you on a crowded dancefloor again. I want to put my arms around your neck and dance until the sun goes down again. I want you to tell me stories and revisit the time I got drunk on New Year's Eve, about how you didn't mind pulling my hair back as I barfed my insides out. I want to relive that moment – when I woke up the next morning, tired and hungover, feeling the absolute worst, only to be overwhelmed with bliss in your arms and hear you whisper good morning.
I miss your voice and all those times you would call me 'sweet', 'gorgeous', 'sexy' and 'smart'. I want you to hear you call me "hun" like you used to and sign off your text messages with an "x" like the old times. And even though it's only been 51 days since we last saw each other, I've missed you so much in between the pauses and the sounds of your silence that they could fill an ocean.
We text each other from time to time and yet until today, I cannot help but gush about you – how you made my heart flutter during your short stay with my family or how hard it was to keep my hands to myself around you. I want to amuse you with all the things my mother says about you every time you ask about the family. Perhaps you only wanted me to be around for physical reasons, but I would move to be wherever you are if you asked me to.
And if I could, I would go back to our sweet beginnings and choose a happier ending.
God knows how my heart broke when it dawned on me that you were the father of my child. I'm sorry I couldn't bear to tell you the truth. I could never bring myself to use your flesh and blood as a way to keep you close like how your ex-lover did. Magical things often happen when you least expect it. And at the end of the day, I choose to believe it's not that you didn't want me. You just didn't want me enough.
If we found a way to close the distance between us, would you have stayed? I still want to be your favourite voice, your favourite girl, and your only lover. I still want to have new adventures with you every single day of my life. I want to love you, only if you let me.
But for now, our summertime together will always have a special place in my heart – just as a rare, and as beautiful as you.