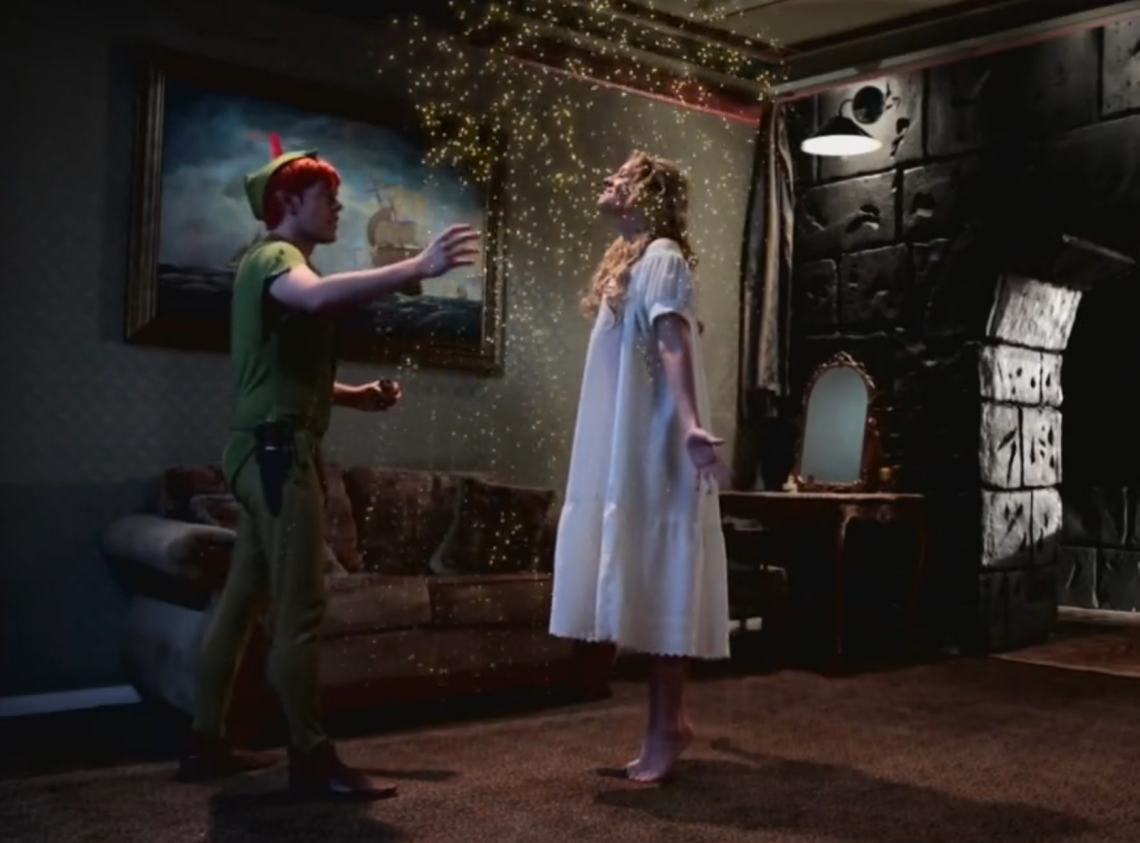 So I'm watching Peter Pan XXX An Axel Braun Parody. There are hilarious things happening here. When they're bangingm Wendy likes to say "Oh my!", "Oh Peter!" and my personal favorite: "You like my beautiful little pussy, don't you?" I'm actually surprised by how much I like it so far. But there are some things I can't take seriously. Like when Peter is giving it to her and he says, "I'm gonna take you all the way to Neverland." Something about that just totally ruins it for me. I may never be able to watch Peter Pan without getting aroused. Oh and also, everyone has an accent. And Wendy has a big bush. I'm just gonna do a stream of consciousness list right now because this is ridick.
1. OMG PETER JUST SAID, "YOU'RE GONNA HELP ME SAVE TINKERBELL LIKE A GOOD LITTLE GIRL, AREN'T YOU?" What have I done.
2. Peter has an Irish accent and really bright red hair.
3. I wish they would quit saying "pretty little pussy". I picture a kitten.
4. PETER JUST SAID "THINK HAPPY THOUGHTS" WHILE HE WAS JIZZING ON HER.
5. I'm loving the soundtrack. They legit use songs from the OG movie. It's actually a little disturbing.
6. First appearance of Hook and Smee. Hook has a terrible accent. And he's kidnapped Tinkerbell, that asshole.
7. Holy fuck Tinkerbell is hella fine. The elf ears help.
8. Tinkerbell just shrank Captain Hook to her size. I think they're gonna fuck.
9. No they're definitely gonna fuck.
10. Captain hook isn't sexy at all. I'm betting he has a huge cock.
11. Tinkerbell is a total slut.
12. She's sucking his dick and my childhood is dead.
13. "Suck away, darling" good fucking grief.
14. She took her top off and he said, "Ooh your two friends have come to play." What the actual fuck?
15. Holy fuck Tinkerbell can really deep throat.
16. CAPTAIN HOOK JUST SAID, "A LITTLE BIT MORE IN THE BALL DEPARTMENT"
17. His dick is fucking thick. And it curves upwards. And it's the color of leather. Maybe he tanned it too much. His dick looks like George Hamilton's arm.
18. "Go Tink, Go GO GO"
19. He's choking her with his dick. Like legitimately.
20. Her whines are so annoying. She sounds like a 12 year old from New Jersey that slammed her finger in a Ford Escort door.
21. "Oh yeah, you like that Tinkerbell pussy."
22. "I'm going to ring your bell."
23. This is not nearly as hot as the Wendy/Peter scenes.
24. Her knees are hella red. hahahha Get kneepads, you dumb whore.
25. Why do all the men in this film leave their clothes on so far? The girls get down to almost nothing and the men just whip their dicks out of this mysterious hole in the pants. That's fucking bullshit. But the chicks are way hotter. They usually are though. Men just bring the D.
26. He just made her hold on to his hook. HAHAHHA. If that was a real hook, it would make this a BDSM film.
27. I'm so glad that's over.
28. YES, SEXY MERMAIDS.
29. Wendy's accent is atrocious. Take an acting class, slag.
30. Peter just said the mermaids taught him how to do sex things. LOLOL
31. Peter is getting Wendy to kick rocks so he can three way with 2 mermaids. YAAAASSS
32. These mermaids are randy as fuck. "That cock tastes so good."
33. Well this is kinds lame. I was hoping for mermaid sex. Maybe a scaley vag. But he's just getting head. Fucking Bullshit.
34. "How does that pretty mermaid's mouth feel on your big fat cock?" Ummmmm. 'Kay.
35. What exactly are these mersluts getting out of this? Do they sustain themselves with baby batter?
36. Wow, I just noticed their accessories. On mutha' fuckin' point. They should open an Etsy shop.
37. Why do men in porns insist on hitting chicks in the face with the dick? Like, does that actually feel good? Should I be letting people whack me in the face with wang? Am I a prude?
38. Every time Pan cums he crows like a rooster. HAHAHHAHAH If a dude ever did that to me I would be very concerned.
39. Tigerlily is hot as balls.
40. Tigerlily and Tink are going to visit the Indian medicine man called "Bigol Dick". Very creative.
41. They're going to bring him out of his "trance" with sexual activities. Seems legit.
42. HE'S GETTING HIS DICK SUCKED WHILE HE'S ASLEEP. Why is this a thing?
43. His dick is actually pretty big. Guess its not a clever name.
44. His face is painted red and this alarms me.
45. Tigerlily is sitting on his face. WHILE HE'S IN A TRANCE. That's a hell of a trance. I hope that red makeup doesn't give her a yeast infection or some shit.
46. She just said, "Oh yeah, lick my ass!" Respect.
47. This guy is really quiet. Like eerily quiet.
48. "Feel that Bigol Dick"
49. This is actually a pretty good three way. Everyone is getting theirs and I respect that. You shouldn't be selfish.
50. Wow, they're getting really creative with positions. They've been all over the fucking tee pee. Legs in the air, standing, sitting, laying down, fuck I can't keep up. This is excellent cardio. No way could I do that shit. I'd be huffing and puffing and then I'd probably pass out. That's not sexy.
51. I respect that Tigerlily left her moccasins on the entire time. Keep them feet warm, B.
52. The medicine man came and now he's grunting and making gestures. Apparently that's how Native Americans converse. Tigerlily understands him though. This reminds me of Lassie, "What wrong Bigol Dick? Timmy is stuck in the well?"
53. Holy shit, Wendy did a Sandra Dee transformation into a sexy ass pirate. 10 out of 10 would bang.
54. MR. SMEE IS EATING HER FUCKING PUSSY. WHAT THE ACTUAL FUCK HAVE I DONE TO MYSELF?!
55. She's having a 4 way with Mr. Smee and 2 lost boys
56. Wow, Mr. Smee really gets it. Well done sir. But why? Just why.
57. I really appreciate the plot development in this film. NOT. But the bewbs are nice.
I gotta go. I need to wash my hands and rethink my life. And maybe masturbate.