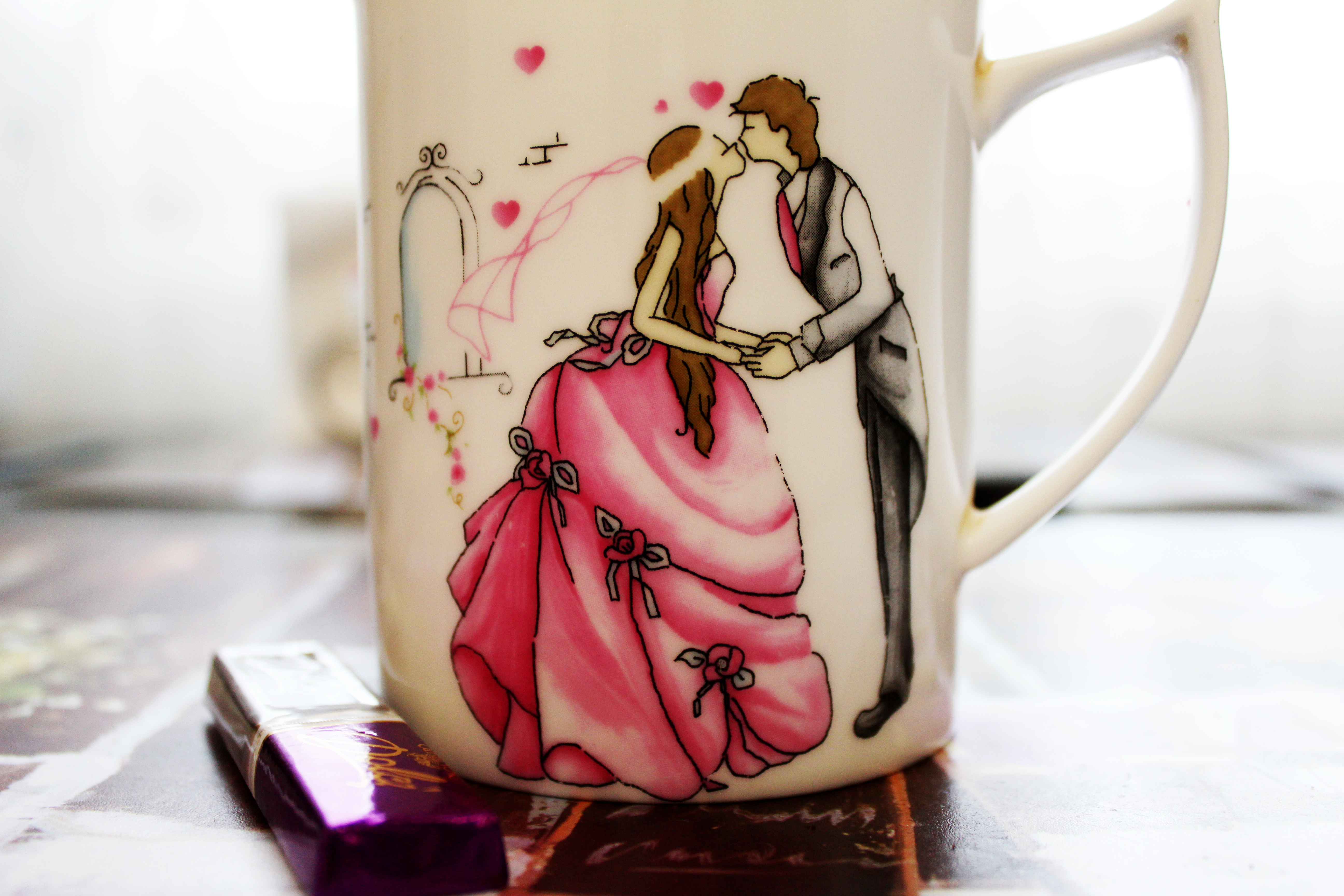 Before I met my husband, I was an independent workaholic who loved to journal. My plans for success down the road were mapped out, with the expectation that every goal on the list would be checked off. I had capital, a pure heart, and deadlines to meet until I met my husband.
He recognized my desire to be successful and my affinity for hard work. Despite my work ethic, he saw a unique beauty and felt a sense of pureness in my love towards him. He told me that my love made him feel whole, and that made the difference: our love wasn't like his past relationships – toxic.
He changed my life because he helped me recognize the importance of opening up. I could be vulnerable with someone; I could trust someone. My husband always had this young, hip sense of style to him that attracted him to me. But what stood out the most was his heart. Every day, I felt his gentleness and sincerity. Being with him made me feel like an entire new person: it made me feel beautiful and invincible before the world. What we didn't have didn't mattered; what mattered was him, I, and our love.

Following the shocking news of my pregnancy, we had a brief hiccup in our relationship: he was afraid and excited, and I was afraid and not as excited. I didn't want to be anyone's parent but he made me feel like I wasn't going to be alone in any of the process; we shared the pregnancy, just as we did our relationship and friendship. We became closer.
It soon sort of felt like I was living my life as if I were in my thirties, with kids to take care of – there was no time for the love and laughter of youthfulness. But with my husband, I was able to discover my new identity, selflessness, and true love.

Things started to change for us when we started to lose grasp of our reality. We began to face financial issues; he started drinking a lot, and I was crying almost everyday. One event led to another and before I knew it we were fighting every day. Our love was on the edge of being lost, and this was the worst feeling in the world.
I was devastated because I valued love more than anything being with him. This wasn't what I had planned for; things weren't going as planned.
The final straw for me happened when my husband and I were out to dinner one night. What seemed like the perfect night, quickly turned into an awkward outing of investigations and interrogation. After an evening of great sex, when it was all over, he had left his phone in the room with me to go to the restroom. There was a text from a girl.
This wasn't what I had planned for; things weren't going as planned.
It wouldn't leave my conscience alone because something didn't feel right from that point on. When I asked about the annoying girl who kept texting while we were out, he said she was just a friend. She had given him some "covers and pillows," after my father's wife had kicked him out of the house when he had stayed with them for a bit. (That's another story for another day.)
But the truth about the annoying girl came out.

He would tell me that he had told the girl – his mistress – that he didn't want this marriage. He told her that he felt like he was in prison being married to me. My husband made it clear that he didn't care about the damage he was doing to his family. One night I retrieved the plates from the car – they were mine after all – and I didn't want him to go anywhere until we resolved our issues. I thought it'd keep him from hurting me but it only made things worse.
He got a hold of me, and put his hands were on me. I was in shock. This was out of character for him. He had always respected me and loved me as a woman should be loved. Yes, we were already going through marital issues prior to the infidelity but not this.
The last thing I remember about that night is crying myself to sleep, and suffering a severe headache with minor neck pains. I didn't call the police right away because I was afraid of what had just happened. The guy who put his hands on me didn't look familiar at all. I didn't know this guy.
The next day I called the police and filed a report. Before I knew what was happening, I was petitioning an injunction against my own husband. After our court date, I left to Massachusetts for time away and some healing. It was the saddest thing I ever had to do. He didn't know that I was taking our daughter and leaving. He didn't know anything about my plans.
I didn't know how to feel about everything so I turned my attention to his mistress. I felt like she was trying so hard to be me: she cooked for him, slept with him, traveled with him, and tried to be something to him that she could never be – his wife. To me, the only reason she wanted my husband was because he was a married man. And she believed that my husband was going to leave behind his family for her.
I talked to her on the phone. I put her in her place, and made her understand that at the end of the day, my husband is not getting divorced – I just needed time to think. I don't tolerate home wreckers, and that, she definitely was.
It took about six months for my husband to figure out that he didn't want to be with her. Offering pussy to a man for six months does not mean he will throw away everything good in his life for you. And I would never allow an outsider to tear my family apart.
To me, the only reason she wanted my husband was because he was a married man. And she believed that my husband was going to leave behind his family for her.
But my disappointment in my husband was larger than life. He had let me down. Before all this, we were best friends and we knew everything about each other, and there were no secrets between us. What hurt me the most was that all the things we had asked of each other, we both fell through on them. When the storm hit us so bad, we let go of each other's hands, and held on for dear life to our individualism; we held on to ourselves rather than each other.

When I left to Massachusetts, I could barely compose myself, and the emotions that were swallowing me up. Leaving my husband behind without family in Florida was the hardest decision I ever had to make, but it was the only way he'd learn. I felt defeated. With my time away from my husband, I was offered a new job outside of retail. I wanted to get back on my feet for myself, and that's what I did.
I suppressed a lot of anger and had many random breakdowns. The hardest part about leaving to get myself together for my child, was re-communicating with my husband again. He finally started to understand that I was good for him. In hindsight, it wasn't that I didn't know my own worth when our relationship started to falter because I valued myself more than diamonds and rubies. But I also learned that I ran from pain, and running wasn't going to make anything better for our love.
I realized he still loved me and I still loved him. We realized we wanted to make a better marriage and home for each other. I decided to give my husband another chance, because no matter how much I was hurting, I still loved him. I didn't want to take revenge on him, instead I wanted to forgive and see the positives in our experiences. My heart of mercy and grace is what made me forgive him.
But it took five months for him and I to get back together, and in those months I took the time to grow. I did know then, just like I know now, that we won't ever love another person the way that we love each other.

We have agreed to go to counseling and to be vulnerable with each other – it's a new vow. Maybe this time, we'll focus on what matters most and move forward. I forgive him and I forgive myself for everything that lead up to our parting. We realized that in love, we all have choices, and those choices say a lot about who we are and who we want to become. Him and I chose to love and forgive each other seventy times seven times, as that biblical instruction goes.
What I've learned about being young and in love is that every relationship goes through stuff. But if you love someone, don't waste time being petty. One slip-up can cause damage for a lifetime. But it's true that you can learn from a slip-up, which should only allow young people to love harder.
We all have choices, but I think we make mistakes by not letting go of our own individualism when we love someone else, especially when things get bad. Instead of thinking selfishly about one's self, realize that you are a part of your significant other. When you can put each other first, you'll be taken care of by the other. It's about forgiving, renewing, and figuring it out together.
These days, we wish to love each other much harder than we did before; much harder than when we met. Everybody doesn't need to agree with our choices but we take our vows seriously. And we made those vows because we fell in love, and our hope is that nothing will ever change that.