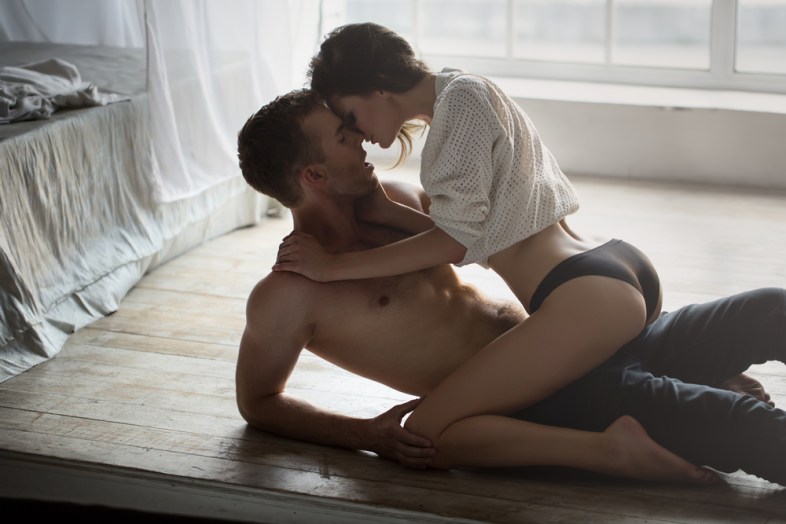 Originally submitted to R/Sexstories by mortgagechops. Republished with permission.
This is a true story from when I was living in student accommodations while at University in England. This is the true story of the best sex I've ever had.
Alex and I met at the university at a house party. Truth be told, the party sucked, but I didn't care, I had fallen for Alex BIG TIME. I'm a huge Arsenal fan and I've no shame in admitting it was a huge case of rose (red and white?) tinted glasses when I found out she was one too.
I spent as much time with her as possible and we never missed a game if it was on TV at one of the half dozen bars on campus. As far as I was concerned she was perfect.
I had found the one who was going to be mine. There was only one problem: she had a boyfriend.
Alex seemed to do a great job of hiding the fact she was in a relationship and this suited me fine. I had convinced myself that one day, that'd all fall apart and we'd just end up together, I just had to be patient and enjoy the ride.
Roughly six months after meeting Alex, she was still with her boyfriend. I was just unpacking after a University break when I heard a knock on the door. It was Alex, and she seemed pretty upset about something. My face said "I feel for you" my heart (cock) said "fuck yeah!"
"Do you wanna talk about it? Let's go get a drink, my treat!"
So after half a dozen drinks, we were both drunk and had opened up about our feelings quite heavily. Our hands are tracing each others hands, are fingers occasionally locking. We go to the bar to get one last drink, and while waiting in line, Alex moves closer to me. Her back is arched and she's gently pushing her beautiful denim wrapped ass against my cock. I'm about 6 and a half inches long when erect, but that night I felt 13 inches plus. She knows what she's doing. She subtly tries to grind against the length of my cock before spinning around and staring at me with eyes smitten with lust.
I take one hand from the bar, and without giving a single fuck about who's watching. I grab her by the hip and pull her backwards firmly towards me, my cock now buried between her ass cheeks.
She lets out a gasp, a gasp that has stuck so agonizingly vividly in my memory that it's as painful to hear as it is fucking hot. The thought of how close my cock is to her pussy almost sends me over the edge, I was longing to just tear her jeans apart and sink as deep inside her as possible.
"Let's go back to mi.." I start to say.
"Now!" Alex interrupts me before I could finish.
We push our way out of the bar and head towards my apartment. We hurriedly walked together, taking turns with being the person hurrying the other. Each time she got ahead of my and pulled me closer to home I thought to myself "She is pulling me faster, because she wants to fuck me, fucking shit, she wants to fuck me."
We burst through my door and rip each others clothes off. Alex peeled her bra away from her tits and they barely move. They were the most perfect tits I had ever seen. As I gingerly take my boxers off, my cock "pings" pre cum out towards her as it is at last able to face the direction it's being trying to for the past hour. Pre cum continues to run down my cock and just before it gets to my balls Alex reverse grabs my cock, her palm against the underside and her fingers wrapped above.
"Oh my god you're dribbling so much for me," she almost moans as she says it.
She attempts to squeeze my hardened cock, almost as a sign of dominance, but it's not budging. I've never EVER been any where near as hard as I was that night, I felt as hard as I did huge. I'll always remember the look in her eyes as she slowly spun her hand around my cock, spreading my precum all over. Her pupils were huge as if she had been smoking weed, or something stronger. She hadn't though, it was because of me, well, because of my cock in her hand.
She dragged her hand up towards the head of my cock, I groaned and felt like I was shaking, so full of adrenaline I was.
I lay down across my bed, my back up against the wall. Alex climbed on top of me, her tits right against my face as she moved in to position. I couldn't not look at her face. I firmly grabbed her breasts and sucked viscously on her nipples. She arched her back away from me and I kissed and sucked on her tummy, anything, just so I could taste her. I don't know if it was 3 seconds or 5 minutes but eventually, with back still arched, she reached behind her and grabbed my raging cock from between her own legs.
I remember it hurting slightly as she pulled my cock away from my stomach, it was so hard it did NOT want to be bending that way. She watched me as she pulled my cock in to position ready to sink on me. I couldn't see a thing. But I knew, I just knew. Her pussy was hot, wet and swollen for me. Alex, still struggling to hold me in place, slowly descended onto me.
As I felt her hot wet hole wrapped around me it made me twitch, it was like my cock was trying to escape by banging against her from the inside. As I twitched, Alex juddered and I instantly felt the gorgeous hot sticky velvet walls of her pussy latch around me. It was like a shot of light to my throbbing member.
I felt every inch, no, every millimeter of her body wrapped around me. I could feel her pussy fighting against my cock, I could feel waves of wetness secreting through and enveloping my cock.
The time to battle my attempts at cumming had passed. I started fucking her, no longer Alex, her, a sex toy, my sex toy as hard as I could. As I pumped my cock in her, I held her by the hips and pulled her down on to me. Pussy juice and my pre cum mixing together and dribbling down my balls. The noise as our bodies slapped together was amazing. I could feel my cock swelling, getting ready to burst deep inside of MY Alex.
Slap, slap, slap, slap, slap, our bodies still crashing against each other. I reached behind and pushed her ass down onto me, my middle finger resting across her tight little ass hole. I was ready to cum, I had been ready to cum for what seemed like forever. I was just holding back from the inevitable.
Alex started breathing heavier and heavier, before I had a chance to think she grabbed my hand and fumbled to push my fingers into her ass. I did NOT need asking twice, her puckered little hole was ready for me too, I buried two fingers inside of her, my arm resting on her hip, pulling her down and on to my cock. As her anus contracted against my fingers her pussy did the same against my cock, Alex began to murmur —
"I don't care, I don't care, I don't care… just…. oh god I don't care, just cum in me, I want your cum, CUM IN ME".
My head swelled and cum started to dribble from my cock. The slap, slap slap of our bodies crashing together had stopped. Her clit rubbing desperately against my groin to push her over the edge with me. Her ass tightened further, her pussy felt like it halved in size, and suddenly Alex let out the the most passion filled cry I had ever heard.
My cock erupts inside her as I feel her contractions against me. Pulse after pulse, jet after jet, throb after throb as I shoot cum deep against her womb. Each throb as if my cock's trying to pick Alex up by itself.
Alex collapses on top of me, my fingers spill from her ass and I just hold on to her while her pussy contractions gently subside in sync with my own twitching rhythm. While we have slumped are bodies are still locked together as if our lives depended on it. Alex very gingerly raises herself above me.
About a second after my still quite hard cock slaps victoriously against my body I feel a warm trickle of fluid against my shaft and balls as the most cum I've ever seen escapes Alex' body.
At this point I become very aware of how quiet it is and it all of a sudden feels awkward. Alex has a boyfriend, what the fuck have I done?
…
Alex is the same, I offer to turn the light on and walk her home but she says no and hurriedly puts on her clothes and leaves.
I lay back and feel guilt followed by sadness as I realize that was the last time I would have a special anything with Alex.
We still remained friends…but a barrier had been put up. I have gone on to date and bang many other people, but to this day, I have still not had sex the way I had sex with Alex.