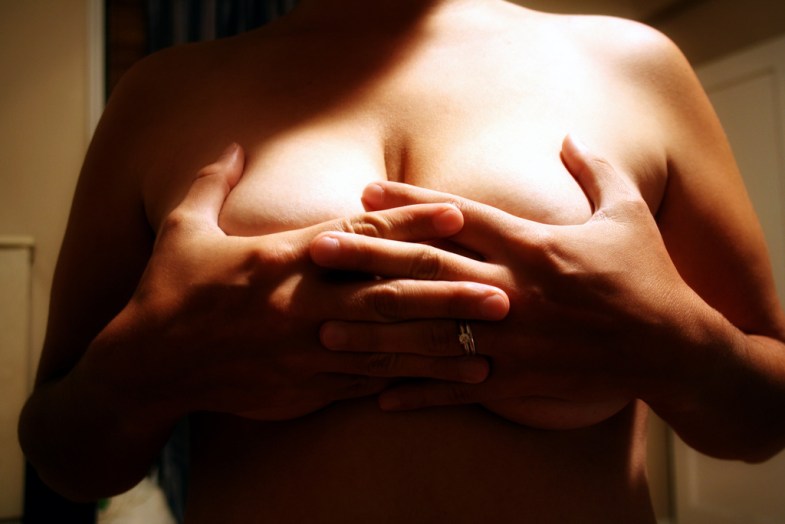 A year ago, almost to the day, I went to the doctor for a scheduled check-up. Autumn's cold had turned the sky grey and the sun barely peaked out from behind the clouds. It was also days before I was to hit the runway for Fashion Week and I was ecstatic with anticipation.
The swirling pain and confusion that came that morning nearly knocked me off my feet.
"Lift up your left arm like you're raising your hand," the doctor instructed.
Obediently, I did as I was told.
After a few seconds, he turned to look at the nurse standing next to him and then met my gaze again quickly.
"Miss, are you aware that you have a lump in your breast?"
Those words. Those words. No one wants to hear them.
I was not aware of the growing tumor in my body because I hadn't been checking for one. Why would I? I was 25 and healthy. Surely cancer wasn't possible. Was this really happening?!
Within a week I had met with three more doctors. Needles poked me. Cold metal machines squished me. X-rays looked through me. I began to feel like a science experiment and I hated my body. It was betraying me just days before I was supposed to feel the most beautiful, donning couture garments from designers around the world.
After seeing doctor after doctor and changing hospitals to see "better" specialists, I learned that the oddly-shaped lump in my breast was benign, but growing, and needed surgical removal soon.
That surgery eventually happened. I went with my mom to the hospital in Georgetown and friends came from all over just to "be there." Get-well cards and flowers piled up on my microscopic kitchen counter.
A few people told me that at some point, I would be happy for this, thankful even. Well, that didn't sit well with me. It felt cruel: not only was I not supposed to be sad, I was supposed to be thankful?
I sometimes look back through my journal entries from those days of confusion. The tear-stained pages feel harder than the ones that follow. I realize that now I am different. And not only different, but better, and not only better, but thankful.
"Give thanks to the Lord, for he is good; his love endures forever." Psalm 107:1
Unless you live under a rock, you know that October is Breast Cancer Awareness Month. Although I didn't have breast cancer, I understand how it feels to fear it.
Ladies, many of us forget to take the steps to detect the disease in its early stages. It is simply unacceptable that we are not getting checked or performing self-checks for lumps. No matter your age, please take my advice and even consider getting involved with a breast cancer awareness affiliate in your community.