Producer's Note: The author of this post wished to remain anonymous for safety reasons as an African foreigner living in South Africa. Submissions about this topic can be sent to
dialogue@thoughtcatalog.com
.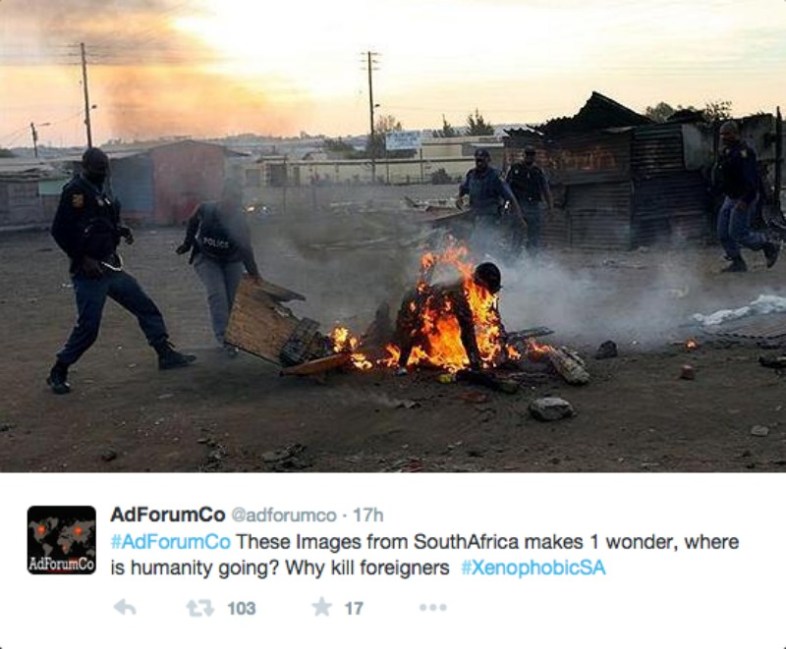 Today I received an open letter to all foreigners penned by a South African local. The message has been making the rounds on Whatsapp since Sunday but because it is not backed by any formal movement or party, it hasn't really achieved much traction. The text of the message is as follows:
"Happy Sunday all
Dear Neighbour from Africa & Other Parts of the World We have travelled the world and have not found one country that allows the floods of humans across its borders as South Africa is experiencing. Even in war torn part like Syria, Ukraine, Yemen and Somali.
We were 7 million people in Johannesburg City in 2011; today we have an estimated 13 million. Of course our infrastructure and services must collapse. If you were quite prepared to disrespect the first Law of the sovereignty of our country why should you respect the rest of our laws? We have just come out of an oppressive bloody Apartheid system while you north of the Limpopo had been enjoying freedom since 1960, 1975 and 1981 respectively.
We remember those proud milestones. But we are all still developing countries and our development must be impeded with so many strangers and illegals in our midst. In Johannesburg alone you have taken over entire suburbs: Yeoville, Berea, Bez Valley, and Turfontein amongst many. You have even moved into rural parts of our country that have 80% unemployment; and there are no visible signs that you have jobs either. But there are signs of drug-dealing, prostitution and other criminal acts that you conduct- sometimes in cahoots with desperate locals. Your presence at this moment in our history is most destructive and destabilising to our country and our citizens.
Yes, we want to be proudly part of the geographic construct called Africa but we are as different from one another as Kenyans are from Nigerians, Ivorians from Chadians etc. We recently received a story from the archives of teachers at a school in Cape Town. During the World Cup a group of primary school kids from different African countries north of the Limpopo were having a bloody fight in a suburb in Cape Town, South Africa/Azania, over a soccer match and one was stabbed to death and some others hospitalised. Those were kids between 9 and 11 years. They disliked one another's countries and at the same time felt that they did not really belong in SA.
We are pleading with you to return to your home countries- as our King Goodwill and many other great leaders have asked. Go and build up those countries so that we can all live in economic, social and political prosperity and peace -as neighbours. The genocide in this corner of Africa will be far worse than what happened in Rwanda in 1994. Then the entire continent will be condemned to ashes. Is that what you want? Our people built this country with their blood and tears, but built it we did. For you to come here and take jobs at cheaper rates, use and abuse our scarce resources (schools, hospitals, shelters, clinics, parks, streets- even our churches and shacks and open spaces to live in while shops are literally running out of food) and further add to already high crime rates, IS WRONG and IMMORAL. South Africans not fully employed or who were found guilty of crimes, were recently repatriated from Nigeria and rightly so.
Our people are preparing for war against all foreigners (from Bulgaria to Pakistan and Bangladesh to Africa north of the Limpopo) and we are all very scared. Please GO HOME and BUILD Africa. Millions will die if you don't. This we can guarantee.
Good luck with your return
Patriotic Movement
Pan Local Forum
Unemployed Workers Forum
Anti-Crime Movement and others."
---
It is chilling reality to think that people can wish other people harm in so blatant a way. This is the same South Africa that champions the philosophy of "Ubuntu" – which loosely translates to mean "we are one".
At the centre of the fracas is the 'fact' that foreigners are taking jobs and livelihoods from locals. The view of the locals is that by accepting a lower wage and less-than-legislated-standard working conditions, foreigners have created in employers' minds the idea that it is better to hire foreign as opposed to hiring citizens. It is known and widely accepted that employers in smaller businesses tend to prefer to hire foreigners and they cost less and are motivated to perform better.
The South African President himself has stated that South Africans are lazy. President Jacob Zuma made the following remarks at the Sefako Makgatho presidential guesthouse at the Black Wednesday commemorations in 2014, "The reality you can't find protests in other places is that there is no hope. When foreigners come to South Africa, because they are not used to government handing [out] things, they get here and see opportunities and thrive." "Our people are waiting for government. Our people are not used to standing up and doing things. These ones [foreigners] are not expecting any government to do anything so they get here, see opportunities and exploit them.""They have taken over your small businesses."
Allegedly, an April 2015 quote by Robert Mugabe, President of the Republic of Zimbabwe, states, "South Africans will kick down a statue of a dead white man but won't even attempt to slap a live one. Yet they can stone to death a black man simply because he is a foreigner." These are the first, and quite possibly only, words that we will officially hear from the head of state of the country whose citizens, at 18.5% of documented immigrants, most make up the number of immigrants in South Africa.
Traditionally, the African Union summit is a heads-of-state summit that is traditionally held in the country that holds chairmanship of the AU. From 30 January 2015, Robert Mugabe is the chairperson of the African Union (AU) and the Southern African Development Community. Due to infrastructure challenges (water, electricity, food shortages and obvious security challenges that this poses); this year's summit in June was not scheduled to be held in Zimbabwe but in Johannesburg, South Africa which borders Zimbabwe on its southern line.
This creates a diplomatic nightmare for Robert Mugabe hot on the heels of a state visit to South Africa that was held in the second week of April 2015. As chairperson of the African Union and President of Zimbabwe, if he comes out and condemns it – it undermines the diplomatic relations in place with South Africa so close to the summit. It also makes him a hypocrite of sorts because the Zimbabweans that are in the situation are only here because things are so untenable in where they are from (which is a situation that emanates from the governance of his party and leadership).
To ordinary people like me, the world at large had seemed past the point where articles on this subject matter have to include a definition of terms but the narrative around this story has shifted frequently in the last few days. The media have introduced a new word into our already colourful "hate" dictionaries – "Afrophobia" and the populous at large seems to have agreed that afrophobia is a better term for the atrocities that are being visited on foreigners in South Africa. This is how societies evolve. We replace words in our day to day communication that make terrible injustices sound less bad. Think "separate but equal" instead of 'institutionalised racism".  It is seemingly better simply because it sounds more politically correct but is one really better than the other?
---
"No-one leaves home unless home is the mouth of a shark." –  Warsan Shire
Migrating is not an easy thing. When a person leaves their home and everything (and everyone) that they know in the hope of a better life, it changes them. In a way it's not so much the displacement that hits the most; it's the fact that any place (even a bad place) is better than the home you are escaping. Foreigners in the townships of South Africa have long known that this day will come again because the whispers and the resentment has never abated – it was just less publicised for a few years. Knowing what is, but hoping that it will not turn out as expected, is a fundamental part of the human condition.
These people who knew that this would re-occur didn't go home – home was not a viable option. Home was Rwanda, Zimbabwe, Libya, Sudan and other countries. Death is death. One way, as we have witnessed in the last week, is to be dripped in petrol and set on fire until you are dead. Another is to stay in a place where there is no electricity, no water, no food, and no money for these things even if they were available. To watch your children and family waste to nothing. A slower death but death nonetheless. And yet there are still places worse than this – places that have genocide and war.
This is the new reality. Foreigners are afraid to use their languages in public transport and in some public places. We are afraid to speak too much English for fear of being caught out to not be local. I do not presume to know the EXACT struggles that ALL foreigners are facing on a daily basis but in our language and our accents we are the same. We are afraid to wear tops that show our left arm because of the tell-tale scar that many foreigners bear from childhood immunisations that so clearly illustrate that we are foreign.
The biggest tragedy doesn't lie only in the senseless murder of men, women and children – a large part of it is the fact that this is happening in a society of free thinking, seemingly open-minded individuals. There is a lesson that this society is refusing to learn – that everything happens in cycles and all actions have an equal reaction. It will be a humbling realisation when that day comes.