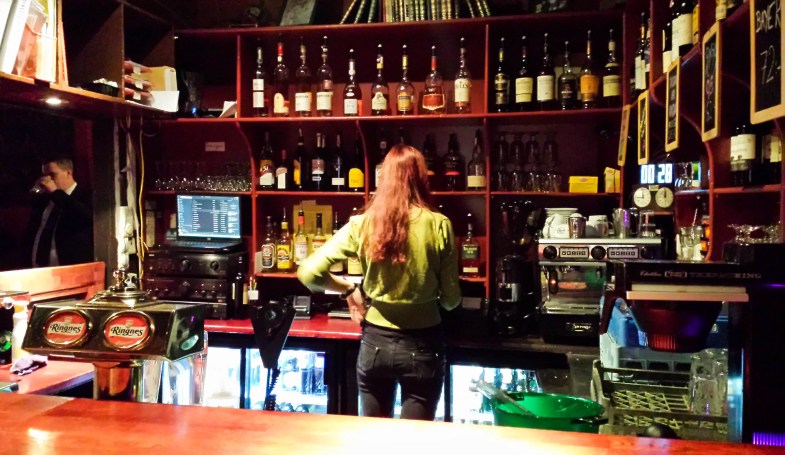 I was at a sports bar with my girlfriend stoked about the basketball game we had just watched that literally flipped in the last two seconds sending our team to the playoffs.
We'd been there all night, throwing back tequila sodas, yelling at the screens, grabbing each other when we scored, laughing loudly, booing impulsively, shouting sporadically, sticking out in this packed bar because we were rooting for the team everyone else loved to hate.
It was always a really gratifying experience to win there because we were always wildly outnumbered by the fans of the shitty teams that we didn't like. And when we beat them, well it was fucking great.
This night, after we won, we scooted up to sit and order more drinks at the bar, cheers in accomplishment, and fawn over the babely players and their amazing plays. But every few minutes another man or group of men would come close up behind our bar stools or slide in at the side of us expecting conversation and…
We politely declined each time. After about an hour of this, I could no longer ignore the interruptions or the uninvited limbs touching mine or the heavy gazes. I felt annoyed and disturbed. The high that I was on was being effectively dulled down each time some dude drunkenly wobbled over, intruded upon my space, and slurred some line about my pretty face.
I realized then maybe the reason we stuck out there wasn't because we were fans of the hated team, but because we were women. Could I really not be in the same space as these men and expect the same experience, even though we were all there for the same reason? (To watch sports on one of the thirty screens in the bar and drink a lot and shout about players we loved and shots that impressed and chill with our friends).
Apparently, my sheer presence was an open invitation to be courted. No one seemed to understand I just wanted to watch the game.

This post originally appeared at SheFolk