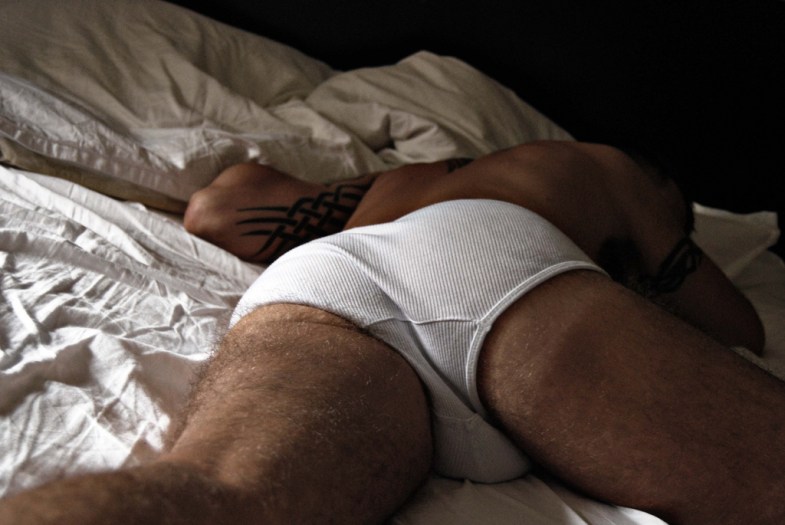 1.
I dumped you on January 18, 2014 after a year and a few months of dating. The sex was bad. No foreplay, and it ended quickly. And you had the second-smallest dick I've ever seen. That being said…I wish you the best…and yes, I do regret the few random occasions we ended up banging throughout the year.
2.
My rebound. You were an adorable 18-year-old I met at a hot tub on my annual friend-cation to a ski resort. Approximately two days after breaking up with said ex, I banged you on a pull out bed after too many tequila shots and rounds of Cards Against Humanity. I was still 21 (for another month), so I didn't feel that bad. You told me about your freshman frat brothers at URI and then your mom wouldn't stop calling. Oops.
3.
My first legitimate hookup buddy post-breakup. We met on the new world of Tinder—classic. Honestly, you were great in bed—soft and gentle, the sort of vanilla sex that I needed after being with someone so inattentive. And you were also really cool, but a little shy. The first time I invited you over—after exchanging some texts and Snapchats—I took about five tequila shots. After that, we became close but not too close, and you moved away in April. We still chat from time to time, and you are a real class act.
4.
The man-whore that I somehow sort of won over for like, a second. The first time we banged, I had pointed you out to my friend and said I wanted you for the night. It happened according to plan, and I left afterward at about 2AM. We banged about once a week for a few months, and we would laugh about our other sexcapades. You told me you had slept with over 50 girls. One time this freshman chick that weighed 90 pounds tried to have a standoff on your bed with me, and you were impressed that I did not give a fuck. Anyways, something about the sex was good, and we connected in a weird way. One time, we drank tequila and banged before I had to make a flight at 6AM. I ran back to my apartment at 4AM, figured I would make coffee and take a shower and be good. I ended up falling asleep in a towel and boarded my plane with your cum in my hair—which I proceeded to rip out for the next hour.
5.
The dependable-friend fuck. We slept together randomly a few times in the beginning of the year, and then again over the summer and basically whenever we hang out. It's random but we manage to stay good friends and I love it. You are gentle and a true sweetheart. We can make each other laugh, and honestly you would be perfect boyfriend material for anyone besides me, because I'm fucked-up. You have these sleepy green eyes and this messy brown curly hair that is absolutely adorable—plus you have a big dick. Overall, a ton of fun. I can never forget the time someone stole my purse at the bar and you stayed at my place and helped me find it in the morning.
6.
The classic one-night stand that turned into a weird friendship—and another one-night stand. We met at one of the "douchiest bars in DC" when I was on a weekend trip visiting my old college friends. You are gorgeous—big blue eyes, a Leonardo DiCaprio lookalike—and you won me over by telling me I was beautiful and making out with me in three different bars. Eventually we ended up going back to your place in a Uber—and I sort of passed out in your bed and woke up in horror—your place was all the way in Arlington. But in the morning we fucked a ton and you have the biggest dick I've seen. Plus you were really funny and sexy and drove me back a half-hour into the city to my friend's apartment. The next time we fucked, I totally used you as a ride to the airport—called you about two hours before my flight had to leave. All in all, I'll still call you the next time I'm in town, and you always ask when my next trip is anyways.
7.
The Tinder one-night stand with a weird twist: I also met you on a trip to DC—yes the same trip I banged #6 on. So, weird as fuck—pun intended—but you were actually the cousin of some dude I had a crush on from a distance in college. Same last name, same sexy gaze. Plus you look a lot like Johnny Depp. So anyways, we matched on Tinder and then I saw you at this random Pho restaurant near my friend's apartment. You ended up messaging me later and we fucked after splitting a bottle of red wine and attempting to watch World War Z. You had a really nice bedroom but the sex kinda sucked—at least you drove me home and we never talked again.
8.
There's a lot to say about you. We first met at a house party—at your house, I came to find out—and ended up chatting and making out after you serenaded me on the guitar in your room. You're a super hot dude with a man-bun and a killer bod, in an awesome reggae band, and you smoke mad weed. Anyways, we would bang once a week for a few months—sober—and we always had an awesome time chatting. The sex was dope and rough, but for some reason you stopped answering my booty-calls for a while. I actually deleted your number from my phone, but you contacted me over the summer and we hooked up in your parents' house a few times and then we started doing things like going to the beach and you bought me breakfast a couple of times. Now you hit me up a lot and it's pretty awesome.
9.
Met you at a house party—you were visiting for the weekend, and I was going through a phase where I liked long-haired dudes, so we exchanged numbers and ended up fucking one night later in the weekend. The sex was absolutely horrible and to my horror you proceeded to stay in my twin bed for the entire night. In the morning you would not wake up and I actually left my bed and began painting my nails in my living room—all while texting my friends about my predicament. Eventually, I woke you up and kicked you out—with my excuse being that I had plans to do some day-drinking.
10.
Also met you at a house party—you are super sexy with a legitimate body-builder resume and tons of tribal tattoos—plus you're European and have a sexy accent. I literally grabbed you and started grinding on your dick because I saw my ex staring at me from a corner. I ended up friending you on Facebook and then saw you at another house party a few weekends later—you walked me home that night, but we ended up talking for weeks and eventually fucked on your nice white sheets. The sex was amazing. We fucked a few more times, and we still talk occasionally. You are surprisingly smart and can hold a real conversation for such a meathead—I dig it.
11.
The other man-whore one-night stand: You've also slept with two of my roommates. But anyways, I would never sleep with you again and I'm surprised I did in the first place, but I guess that's why you have a reputation for fucking a shit ton of girls. I've known you for a while but the night we actually fucked was after a graduation party for a mutual friend. We had tons of tequila shots and I stupidly let you drive my car back to your house. We had pretty wild sex though, not gonna lie. You're a ginger. Enough said—I left pretty early in the morning. No shame whatsoever, you're a cool dude.
12.
The one who led me on and was also my boss. You're a huge dick. But, whatever, we had good sex. You actually led me on for, like, months. I allowed you to "wine and dine" me—whatever that means—before we banged. When we finally did, it was intense—the sexual chemistry and build-up was crazy. I went to work in the morning with a ton of hickeys and your back was completely scratched-up. The first time we kissed, I had butterflies. The twist: You were my boss at my summer internship. One time, you dropped me in the shower when we were having sex and I had a ratchet bruise for weeks. Another time, we made plans to eat at this Mexican place and ended up seeing people from our office and I ran out super flustered—you coaxed me back in and I even let you pull the car up because it was raining and you kissed me in the rain. Anyways, you ended up stopping talking to me for whatever reason. I'll admit it was kinda hot pretending we didn't know each other at work, and also all those times we met up in the hallway so I could give you your house key back after we had fucked the night before. If you're reading this, I still want my iron back.
13.
Super-random one-night stand after I was getting over #12. You were cute but kinda awkward. Hot body, though. You gave me your sweatshirt in the morning and I still have it. We randomly took a picture on Halloween and you posted it on Facebook and I thought it was weird because we never talk, but my boobs look good in it so I guess it's OK.
14.
The most consistent of the year—we have been fucking for four months now. Unfortunately, you have become a great friend of mine, and we spend about two to three nights a week together. I've become friends with your brother and your friends, and although we met from Tinder we have this really bizarre connection and I even got all the feels for you—which I'm trying to let go of. You're gorgeous and hilarious and I find myself loving all of your mannerisms and the way you talk—red flags, red flags—ugh. We cook food together and after we have sex, we spend the entire next day together talking. I don't know what to do with you anymore. It's too real but I don't want it to stop, either. You notoriously tell me sappy shit when you're drunk such as "I love you" but we don't even talk that much anymore on the regular. Regardless, I think you're amazing and the fun we had together made my last semester of college pretty awesome.
Cheers to a new year!