December 2007: Irresistible desire to become a hipster manifests itself during winter break of freshman year in high school. I force my mom to buy me The Hipster Handbook off Amazon.com.
March 2008: I Google the word "hipster" relentlessly and find Hipster Runoff. I read a post and vaguely remember "ice cream," baseball," and thinking "this isn't giving me enough information on how to be a hipster." I find Last Nights Party on the Blog BFFs sidebar and print out four pictures of hipsters holding red cups. I go to school the next day and feel confused. I walk by strangers in the hallway and vaguely think "what is this…" and "are there any hipsters in this school?"
April 2008: A friend in debate class hands me an iPod earbud and tells me to listen to a "great new song" she discovered on a blog. I ask what blog and she tells me Southside Discotech. I Google the blog when I get home and go to the website so I can download relevant mp3s independently. I see Hipster Runoff listed on its blog roll and think "I have read that blog before" and "I should add that blog to my RSS feed. I don't know what an RSS feed is." I add the blog to my RSS feed along with Gorilla Vs. Bear, Disco Dust and OhhCrapp.net.
May 2008: I still believe the information presented in The Hipster Handbook is both relevant and accurate. I use words like "deck" unironically and have a difficult time understanding HRO. I check the website daily but exercise a preference for party pic websites like Last Night's Party and The Cobrasnake. Eventually I stop checking Last Night's Party because there are too many sluts and mainstreamers.
June 2008: I finally understand Hipster Runoff. I see many "MySpacers Worth Blogging About" posts and think "hehe" and "I am a MySpacer worth blogging about." I log into MySpace and change my display name to "Bebe; Loves HR0," choosing a zero over the letter O because it seems more alt not to use vowels. I also add the Hipster Runoff MySpace page. "It" accepts and I make it number one on my top friends.
[div: quote full-stop]
I sit in front of American Apparel and cry a little bit when Carles says "I just want to be with you." I sincerely believe that he is talking about me.
[/div: quote full-stop]
Later that week I receive a message from the Hipster Runoff MySpace page. The subject of the message is "read on a blog" and the body reads "that I'm on your top friends [sic]." I think "hehe what is it talking about" and "is Hipster Runoff an 'it' or a 'he,' who owns the blog, is it a community?" I don't remember exactly what I reply, but it is probably along the lines of "you are my number one, on myspace and in life. I worship your musings. You are my sanctum sanctorum, beacon of alternative brilliance. Bless me with your glory, O Lord and Savior <3333333333." We message back and forth for a while.
Eventually Carles makes me number one on his top friends. My default photo is an over-exposed picture of me standing against a white door. I am making an animalistic facial expression which is subconsciously meant to represent my aggression towards the mainstream. A few days later I notice that someone has commented "your new top one is the top oney-est myspacer I've ever seen [sic]."
I feel validated and think "people are noticing me for the ~first time in my life."
July 2008: After several comment exchanges I feel comfortable with Hipster Runoff's singular identity – Carles. He comments on one of my pictures, asking me to create a fan sign with the slogan "I bleed neon; these colors don't run" printed on it. I immediately make the sign to prove my devotion to Carles and the extended Hipster Runoff brand. I am wearing a tri-color diagonal American Apparel t-shirt and a metallic blue headband. I upload the photograph to my MySpace.
On July 18th, 2008, my photograph appears on Hipster Runoff as the introduction to a post about Hipster Runoff fan art. Another over-edited photograph of me standing against a white door, wearing a red headband and too much mascara, is displayed elsewhere on the post, along with a caption reading "you make me want to be a better alt." I am overwhelmed with pride. I text around seven contacts on my cell phone telling them to check the blog for my face. They half-heartedly congratulate me. There are 30 comments on the post, most of which are negative remarks about me and my "entry-level persona." I do not understand that I am the butt of a joke.
At 5 p.m. I walk to American Apparel with my sister and buy a Kelly green deep V-neck for $22. An employee asks me why I am sad. I tell her "everyone on Hipster Runoff is making fun of me for a sign I made. I think it's because I am so young." She is the only nice American Apparel employee. She tells me, "cheer up" and "when you're my age, you'll be so happy to look a lot younger than you really are!" I walk to Vons and buy a container of sushi.
August 2008: Picture of me eating at Chili's shows up on a Hipster Runoff post about tattoos.
September 2008: Carles and I converse regularly using email. I have a computer based email account called "bebe5793@embarqmail- .com." Carles sends me something like "wish we could embarq together" and I never forget it. I feel loved. Another picture of me wearing high-waisted blue shorts, a Harvard shirt, and lensless child-predator glasses shows up on a post about alts in college.
October 2008: I dress up as a "girl who slept over at her boyfriend's house last night y'all!" for Halloween. My friend photographs me standing against a white door. I email the picture to Carles and he puts it on a massive Halloween gimmick costume post. I am proud and tell my friends that the costume was a success.
November 2008: Scanned picture of my mother's Hipster Runoff-themed birthday card appears on a post about HRO family integration.
January 2009: Carles releases his first podcast, instructing fans to listen to his voice while they walk around the city. I put on a blue dress, brown blazer, pair of fringe boots, and leather messenger bag. I walk around my suburb listening to the podcast on my iPod. My friend asks to hang out with me so I go home and change into a different outfit with more comfortable shoes. I sit in front of American Apparel and cry a little bit when Carles says "I just want to be with you." I sincerely believe that he is talking about me.
Later that month, I buy a plain Hanes t-shirt and draw a recreation of Hipster Runoff's "My Relationship with Girl Talk" post. In neon highliters, I write "MNSTRM AFTER YALL" in a massive font, mixing Carles' speaking brand with a reference to Daft Punk's "Human After All." I wear the t-shirt to a Girl Talk concert. My sister photographs me. I send the picture to Carles.
February 2009: Carles puts a picture of me in a post about what HRO fans will look like in 2k11. I think "I am Carles' sweet seraph" and "I wanna be microfamsies."
March 2009: Desire for "microfame" multiplies exponentially. I consider making a blog but decide to simply open up a Twitter account instead.
May 2009: I make my mom pre-order Tao Lin's Shoplifting from American Apparel for me off Amazon.com.
June 2009: Carles instant messages me for the first time over MySpace chat. I am extremely nervous. I think "it's hard to be witty this quickly, I have no time to prepare." We MySpace chat regularly for the next two weeks. Eventually Carles convinces me to open up a Gmail account so we can Gchat instead. I open up the Gmail account. Carles is my only contact. We Gchat daily. He tells me that he is creating t-shirts. I am excited and think "I can't wait to buy my own t-shirt and photograph myself wearing it in front of a white door and make it my MySpace default."
July 2009: Carles direct messages me on Twitter asking for my address. He also asks for my shirt size. I ask why. He says "take a bunch of pictures of yourself wearing the shirt I'm sending you." The shirt arrives in a priority mail package within a week. The return address is listed as Tao Lin in Brooklyn, NY. I spend the next two weeks photographing myself in miscellaneous suburban locations like Whole Foods, Barnes and Noble, American Apparel, a backyard desert landscape, and in front of a white door.
August 2009: Carles launches iamcarles.com and introduces me to his readership as "Bebe Zeva; alternative it-girl." I gain ~250 Twitter followers within 48 hours. I feel famous and think to myself "this is it." My mom notices that I gained an extreme amount of Twitter followers within a short period of time and asks me what's going on with the internet. I tell her it's because I modeled the I Am Carles t-shirts and it's not really a big deal. She believes me.
Later that month, I am Gchatting Carles and I accidentally leave the chat window open on my computer while I take a shower. My mom enters the room and reads through our entire conversation, which is peppered with heart shaped emoticons and affectionate Lolita-esque comments from my end. Without my knowledge, she initiates conversation with Carles using my Gmail account and demands information on his identity. He is extremely accommodating and assures her that he is not a pedophile. He tries to explain to her what Hipster Runoff is, but she doesn't understand. I vividly remember her telling Carles to "cool it with my daughter." My mom installs a keylogging program into my computer to monitor my interaction with Carles.
September 2009: My mom suspends my social networks so that I will "crack down" on school work. I enter a stage of seasonal depression and am administered Prozac by my psychiatrist. My copy of Shoplifting from American Apparel arrives in the mail. I read it. Then my mom reads it. Then my sister reads it. I wake up every morning at 8:50 AM so that I can listen to Carles' radio show on Sirius XMU. I write a romantic poem about Carles but never send it to him.
October 2009: My mom is extremely comfortable with Carles and the extended hipster brand/scene. She follows Hipster Runoff and Tao Lin on twitter. She wins me a Gchat session with Tao Lin. I create a Tumblr account for the sole purpose of posting the Gchat transcript. Tao and I are friends.
December 2009: Carles sends me the Genre Shirt and Thank Y'all shirt to model. I take all the photographs in one night; some in my suburban bedroom, some in the Forum Shops at Caesar's Palace. The new line is launched before Christmas and I gain more Twitter followers. Buttercup McGillicuddy interviews me for his blog Romantic Rhetoric. It is my first interview. I spend New Year's Eve in a gmail group chat with Tao Lin, David Fishkind, Jordan Castro and Zachary German. At midnight exactly, Jordan Castro and I "metakiss" each other by sending the emoticon ":x" at 11:59:59.
January 2010: My mom emails Carles asking for information on his identity due to "temporary suspicion" that he is an unsafe internet character. I contemplate suicide out of humiliation toward my mother's lack of respect for Carles' privacy.
// <![CDATA[
var ve_publisher = "ThoughtCatalog";
var ve_site = "THOUGHTCATALOG";
var ve_area = "THOUGHTCATALOG";
var ve_location = "THOUGHTCATALOG_ROS_TWIG";
var ve_placement = "twig";
var ve_width = 0;
var ve_height = 0;
var ve_alternate = "";
document.write("");
// ]]>
February 2010: Carles creates a doppelganger post on the Alt Report about me and a lookbooker named Pilleriin Leet. Commenters argue over who is more attractive; me or Lookbook girl. Carles sends my mom a personal letter in the mail along with a free I Am Carles t-shirt for my sister.
March 2010: I mostly work on school. Carles gives me his Google voice number and we text/call occasionally. He direct messages my mother on a daily/weekly basis. I vaguely have a crush on him.
April 2010: My family and I move to a condo on the Las Vegas Strip.
May 2010: I turn 17 years old.
June 2010: I take a screen shot of a Facebook wall-to-wall conversation my unsuspecting friends had about buzzband Phoenix. Carles posts the screen shot on the Alt Report, sparking a Facebook screen shot trend and recurring Alt Report gimmick.
August 2010:
[youtube=http://www.youtube.com/watch?v=8p1tiSJW9ZU&w=425&h=344]
Carles posts a video of me wildly swinging my ponytail around in a circular motion to the Alt Report. He dubs my dance move "the Alt Helicopter." I think "my shitty dance move is mildly embarrassing" and "all publicity is good publicity."
September 2010: I am sitting in the library on the UNLV college campus when a friend I met a day prior introduces me to another one of his friends who he thinks I might get along with. I name him "Indie Elitist Bro" after we share stories about reading Disco Dust when we were 15 years old. I show him my MySpace account from 2006. We laugh. At some point I run through my Twitter feed and click on an Alt Report link posted by Carles. Indie Elitist Bro mentions that he has already read the Alt Report post I clicked on. I am shocked to have met someone else who likes Hipster Runoff in Las Vegas. He says he recognized me as the fan girl but didn't want to say anything embarrassing. It is the first time I am ever recognized "IRL."
My sister tweets "@hipsterrunoff your tweets are almost as bad as the Alt Report." I screen shot the tweet and post it to my Tumblr.
Carles sees it and feigns anger by unfollowing both of us on Twitter. He calls my house phone, expecting to speak with my mother, but either I or my sister answers the phone instead. He repeatedly hangs up on us until we offer him an apology. I post a variety of photographs of myself crying on Tumblr along with the caption, "I won't stop posting photos of myself crying until Carles refollows me on Twitter.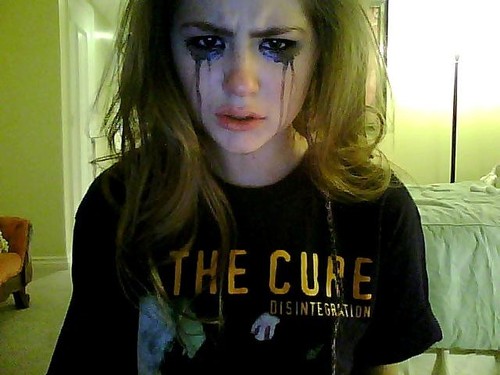 Eventually he refollows me. My mom lectures me and my sister on internet etiquette. My friendship with Carles is restored.