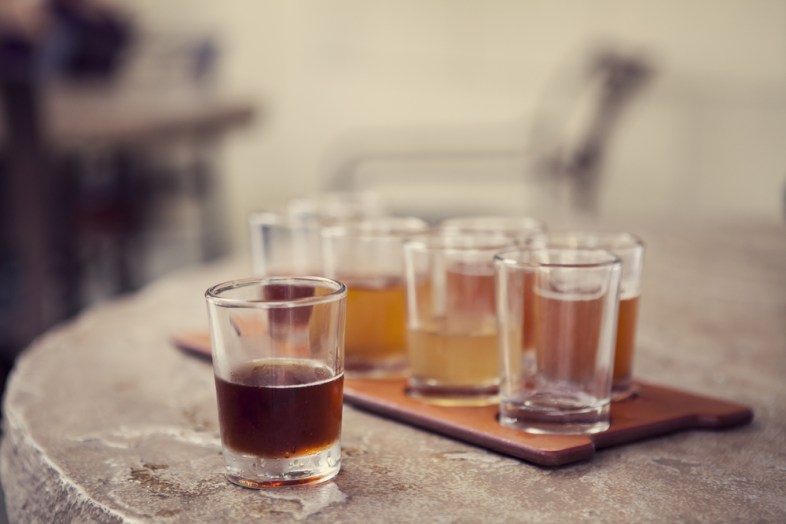 I started bartending six years ago at the age of 22 after recently having graduated college and moving from Westchester, New York to Lakewood, Colorado. Colorado, before the legal marijuana craze, was very well-known for it's large variety of unique, home-brewed, craft beers.
Small breweries were everywhere in Colorado at the time, much like they are across the majority of America today. Most bars carried mainly craft beers with some Coors products interspersed throughout the beverage menu. Budweiser was available, but Lakewood is approximately twelve minutes from Golden, Colorado, the home of Coors brewery.
Now for a recent college graduate, my extent of beer knowledge maxed out at the price of a thirty-rack from the local beer distributor; Coors Light bottles would be purchased on pay day, Busch Light cans every other day of the week. My first bartending gig, and every gig after that, was at a craft beer bar.
I fell in love with Stone IPA, my first-ever craft beer, and soon after became quite the hop-head. I spent three years managing a craft beer bar that is so craft it refuses to carry any Sam Adams product, let alone any beer that has sold itself out to Anheuser-Busch. A concept that I fully embrace.
I have loved every second of my bartending life and I have embraced being known as a major beer geek. I am a certified Cicerone Beer Server, I've traveled all over America just to try different beers, my honeymoon was centralized around touring the beer trail of Cooperstown, New York, and my entire apartment is decorated with craft beer swag.
I enjoy people coming up to the bar and saying that they have no idea what they want to drink because they usually drink the cheapest, lightest beer. I don't roll my eyes at them and ask them what the hell they are doing in a beer bistro, I just pour them a Reissdorf Kolsch, a crisp, refreshing, light beer from Germany. I also enjoy the biggest beer geeks in the county coming in and saying, "give me whatever you like best, I trust you."
My beer palate has developed over time. It's something I've worked at developing because drinking beer and trying new beers is something I like to do. It's become a hobby. My palate has gone from strictly preferring IPAs to embracing the complexities of a sour. Stouts are smooth, porters pair amazingly well with pancakes, and Belgian tripels are delectable. There is a beer for everyone, I truly believe that.
After the recent Super Bowl commercial put out by Anheuser-Busch mocking the craft beer drinkers – even though they continue to purchase craft breweries that actually brew pumpkin peach ales – I have to say that I've grown incredibly disappointed in the craft beer geeks and all that we stand for. Beer geeks, at least the hundreds I've encountered, are welcoming. They are always interested in new experiences and excited to meet new people and share common interests, until recently.
Yes, Anheuser-Busch put out a commercial that took multiple stabs at the craft beer industry, but that was after how many years of beer geeks calling their beer "piss in a can," "watered down," "drain water," etcetera? The small brewery's retaliation commercials were no better.
I mean, Ninkasi's idea to feature people pouring Budweiser on their heads, completely classless. It's about time AB made such a public stand. They are allowed to promote their product, you are allowed to purchase it if you'd like, and you are certainly allowed to dislike it.
Craft beer is expensive. Craft beer is fussed over. So what? When did the craft beer community, once so open and accepting of different people, places, and willing to try new things, become so closed off? When did craft become the only type of drinkable beer?
Our culture has been trained to stop discriminating against race, religion, gender, sexual preferences, but apparently we have not come far enough along to stop discriminating against what people like to drink. Give me a Knee Deep Simtra while I hang out with friends at a bar, pass me Hill Farmstead's Everett Porter while I read a book. Drinking at an afternoon BBQ in the summer? I'll take all the Coors Lights you have.