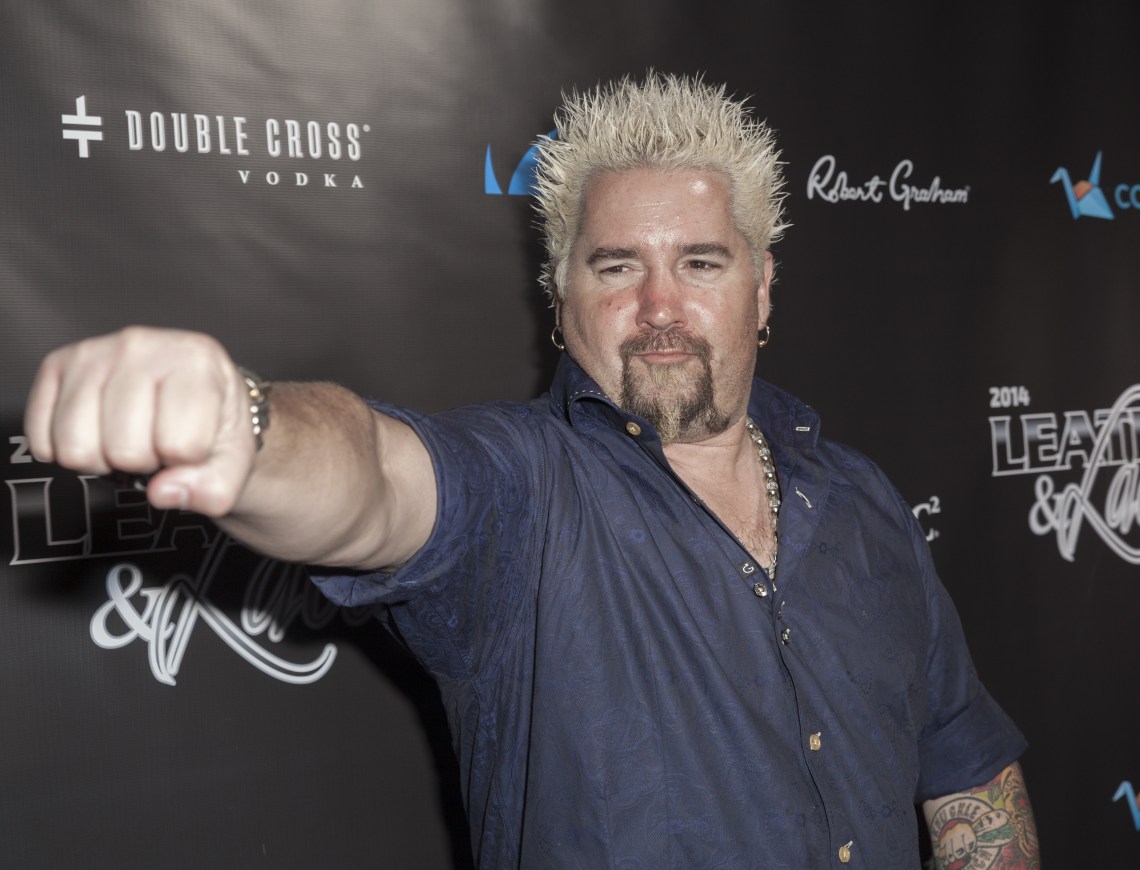 I recently had the pleasure of dining at the epicenter of Flavortown: Guy Fieri's signature bar and grill in the heart of Times Square.
It was a rainy afternoon as I trudged through the garbage in midtown on my journey to Guy's American Kitchen and Bar. I had just emerged from the subway station, my heart racing in anticipation of the experience I was about to have. I shoved pedestrians aside, finally laying eyes on the giant neon sign that signaled I had arrived.
I eagerly entered the double doors and was rewarded with enormous graphics of Guy's giant, bloated face. I clapped my hands together with glee, exclaiming "I am home, Father. I am home." I approached the host stand and said, "I am ready to be assaulted with flavor. Take me to the feeding chamber."
"Very good," the hostess said, as she slipped a Guy's American Bib® over my bowed head.
She pulled back a black velvet curtain to show me an oil portrait of Axl Rose, which, upon being swung from the wall, revealed a large secret passageway. The hostess led me into the darkness, and before I knew it we had emerged in an antechamber that was painted with flames and filled with hungry patrons. "This is the FlavorDungeon ®" she said as she strapped me into my Eating Chair.
Each patron at Guy's American is loaded into an Eating Chair to enjoy their horrible nightmare feast. This chair is an adult version of a baby's high chair, dipped in chrome and flanked by a crystal skull on each side. I was immediately pleased by the decor and small touches in the FlavorDungeon, although the Eating Chair could have been more comfortable. The bare chrome was visually pleasing but felt overly cold against my chained legs (more on this in the "Atmosphere" rating summary).
It came time for the first course – a hot garbage bag full of Velveeta cheese, dumped over my face while Boston's More Than a Feeling played in its entirety. The hot cheese had a delightful umami quality, its aftertaste lingering as it was power-washed off of me by one of Guy's Hose Boys.
It was time for the entrée.
A giant coffin was wheeled toward me, and as it got closer I could see that it was filled to the brim with gas station taquitos. One of the servers held out a gloved hand and began to drench them in ranch that spilled out from a bucket in enormous, squelching globs. "We are almost ready for the main course to be served!" he announced, before slicing open a bag of generic hot dogs and flinging them onto the mess with complete abandon.
I thoroughly enjoyed Guy's Signature Coffin Entrée, which I ate while viewing a curated video of stuff exploding on my Eating Chair's TV screen (as tradition dictates). The ranch was incredibly salty, though, and the taquitos – while plentiful – were lacking a bit of crisp. While it was not altogether spectacular in its flavor, the main course did rob me of all sadness, anger, joy, or any discernible human emotion. I felt freed as a wave of nihilism washed over my ranch-covered body, my unfeeling eyes marinating in the darkness of the abyss. It was in this vacuum that I experienced temporary ego death.
However, I was catapulted back into my ego when another Hose Boy arrived to spray me down in preparation for the dessert course. The signature Guy's American dessert was soon presented to me: a molten lava cake filled with hot bubbling tar, topped with Marlboro lights in lieu of candles. I was not disappointed.
Then, without warning, something truly amazing happened.
Guy himself emerged from two golden doors at the end of the dungeon, hoisted in a throne carried by his henchmen. Aerosmith's Sweet Emotion blasted from the loudspeakers as Guy was carried toward us. My fellow diners stared on in delight, clapping and hooting for our Flavor King. "Thank you for the grease, thank you for the sauce" we chanted in unison. He was lowered in the center of the chamber before he rose from his throne and he began to circle the room, kissing the tops of our heads with his wing-sauce covered lips.
He dipped down and kissed my head, chicken bones falling from his Hawaiian shirt pocket in the process. He whispered in my ear, "I hope you enjoyed your evening. Please give me five stars."
Half an hour later, I found myself back in Times Square, the bright lights snapping me back into the present. I felt blessed beyond belief to have experienced my meal, and my souvenir "Flavortown" toilet plunger and trash can would ensure I never forgot it.
TL;DR?
For those in search of a great pit stop in NYC that serves classic eats representing the great 50 states, look no further than Guy's American Kitchen! With snacks to satisfy any appetite, Guy's is surefire win for any family visiting the city, or a local looking to give their tastebuds a treat. And when you're in the mood to succumb to the blackness of the void that we're all rotting inside of, there's just no substitute for Guy's American Kitchen!
Overall score: 4/5 stars