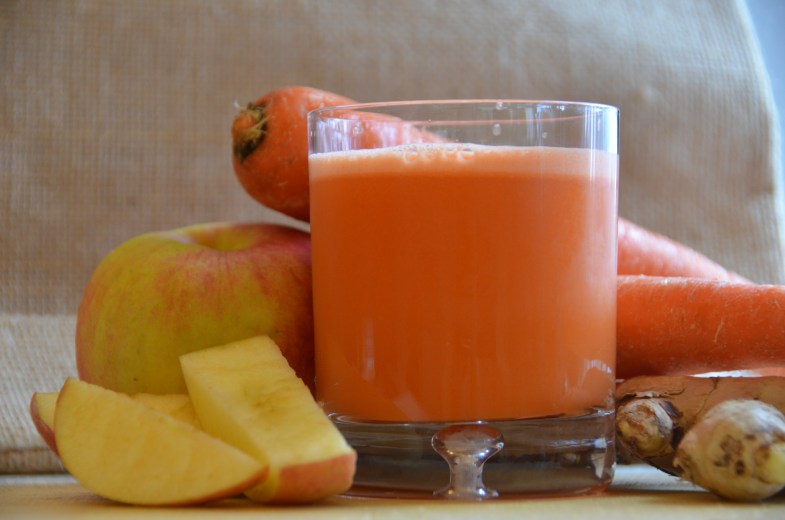 What could possibly be so bad about a juicing cleanse? You get to look like one of those hip, earthy moms who scan every label for GMOs and toxic dye, and c'mon…Gwyneth Paltrow does it, so it must work! Despite the fact that you'll likely begin convincing yourself that your desperate hunger doesn't exist and you have this infinite, boundless energy; you put on your big girl panties and give it a try. Eager to enter a world full of rainbows and pink ponies and a status stating how much you frickin' love this diet and "like, don't even want to eat whole food again," you confidently slurp your first juice (even the bland froth)..but the pink ponies don't exactly come prancing.
At home:
1. Pfffft; it's just juice. This will be a cinch.
2. I NEED 12 CUCUMBERS? AND GINGER??? WHAT DOES GINGER EVEN LOOK LIKE? WHAT STORE EVEN HAS GINGER? IS IT ONE OF THOSE EXOTIC, FOREIGN FOODS???
3. How do I assemble this juicer thing?
4. Phew. All of the juicing madness is bought. All of these will be so tasty and I'll want to keep drinking juice forever and ever and I'll lose 15 pounds and shrink two pant sizes and I'll have this crazy energy and BAM! My appetite will decrease and maybe I'll even grow an inch and be even slimmer and have a bigger thigh gap. Bring it on.
5. Mm! This doesn't taste half bad! Actually, I could totally drink a second one! Fantastic. Breakfast = DOWN.
6. What if I'm the first person to die doing this cleanse?
7. OH GOSH. I wonder if anyone has ever died from doing this cleanse. Maybe I should Google.
In the workforce:
8. It's been an hour and a half and my stomach won't shut up. Maybe I'll eat some of the mini cookies in the packet up there – wait. Crap. I can only have juice. I forgot.
9. Why am I peeing so much?!
10. I'm really hungry. Maybe I should go ahead and drink my second juice…but it's only 11:00 – I need to wait until at least 1:00 so that it will hold me over until about 3:30 – actually, let's round that to 4:00 -which is only 2 hours from 6:00 which is when I get off work and then can go home and fix another juice. Sounds like a fair enough plan.
11. Why am I still peeing so much?!
12. It smells like bread in here. Wait a second. Oh OF COURSE they would choose to make the homemade white bread on the day I start a 3 day juicing cleanse!
13. Huzzah! It's 1:00!
14. This tastes gross. There are people around though – I'll suck it down, make sure to have a relaxed facial expression, and hopefully that will make them think that I'm one of those cool, earthy people who could drink their own sweat if they wanted to.
15. My throat feels funny.
At home:
16. Dinner time! I wonder what is being cooked. Oh, yeah…juice. I'll just try to remember the positive effects this will have on me. Like the yogis say, "I am strong!"
17. I really, truly hope that celery juice tastes better than it smells.
18. Maybe more ginger will cover up the celery flavor…
19. This looks like bile.
20. Let's see how quickly I can suck this baby down!
21. That was a bad idea.
22. Wow, I feel so domestic and kind of cool peeling and chopping these cucumbers. It's like I've been doing this all my life!
23. Going to sleep will get my mind off food.
24. Why do I have to pee at this hour?! Meh; I'm going back to sleep.
25. Why am I awake at 6:00? Oh, I forgot that I was apparently in a plane crash. 3 times. And WOOOOW MOLY I HAVE TO PEE.
26. Ugggggh; I think I'm going to vomit. How is it possible that people vomit on a juicing cleanse?! Should I wait at the toilet?
…Nah. I forgot. Nothing would come up anyway.
27. Why am I making ginger lemon tea at 6:30? I hope this soothes my stomach…
28. Magic! Now, if I can survive waiting tables without giving into temptation.
In the workforce:
29. I feel really good!
30. I NEED A BATHROOM; AND FAST.
31. The food really isn't tempting me!
32. I'm so frickin' hungry. And I didn't bring a juice.
33. Stay strong!
34. I NEED some of those mashed potatoes. Or pie. Or cake. Ooooh, 2 slices of that caramel cake would be heavenly right now.
35. NO YOU DON'T.
36. I don't even eat meat. Why am I craving meat?!
37. Ooooh, he didn't finish his chicken pie. I should finish the breading of it. The plate looks clean enough! No one is looking!
38. Did I actually consider that? What is wrong with me?
39. This cleanse is literally driving my mental sanity to the pits of Hell.
40. Everyone seems so happy eating all of that food – I can just imagine the day I'm able to eat some of it.
41. I feel like Frodo when he says, "Sam, I can't recall the taste of strawberries."
42. "I can't recall the taste of anything…good."
…Yet I still want this food…
43. I keep forgetting I have to go home to drinking more juice on top of juice on top of juice.
44. I quit. I'm buying a sandwich.
45. STAY STRONG.
46. The Bruschetta Tang juice was pretty good the other day. I'll keep coming back to that when I crave all of that other food.
47. Screw this.
48. Why do I have to pee again?!
49. Screw all of this.
50. I miss normal food.
51. I still want some dessert – would anyone notice and would it count if I ate the crumbs off the dessert table?
52. Why the heck would I even consider doing that?
53. I HATE EVERYONE.
At home:
54. This Bruschetta Tang juice would be better if it were actually the whole form of Bruschetta.
55. How do people do this?!
56. I feel really angry.
57. Screw this juicing cleanse. I officially quit.
58. STAY STRONG.
59. NO.
60. It's just one more day of drinking juice…all day. Ok. I can do this.
At yoga:
61. Is it normal to suddenly taste garlic in the back of my throat?
Home Again, Home Again, Jiggedy Jig:
62. How do you even chop a beet?
63. I'm pretty sure a juicing cleanse is a fancy way of starving yourself for 3 days straight.
64. I'm so hungry – look a there! An apple! Wait. UGH.
65. But technically, chewing it up would create juice, so that would still count!!!
66. That would defeat the purpose.
*profanity*
67. Blueberries are so cute. I'll pop a few in my mouth real – UGGGGGGGGH.
*more profanities*
68. My tongue is white. WHY IS MY TONGUE WHITE. Does this mean I'm having kidney failure?
69. Maybe I'm just dehydrated. I'll drink some more water.
70. MY TONGUE IS STILL WHITE.
71. I'll Google the signs of kidney failure and why my tongue is white.
72. So I definitely need more water – BUT I THINK I MAY HAVE KIDNEY FAILURE BECAUSE I DON'T HAVE TO PEE. I'LL DRINK MORE WATER AND GINGER LEMON TEA TO CONCLUDE.
73. Am I seriously peeing again?
74. I really don't want to die.
75. I want real food SO. BAD.
76. I feel angry again.
77. Whatevs. Time to go to sleep.
78. The pie appeared in my dreams. This is sadistic.
79. Wow, doing a juicing cleanse makes me act really bitchy.
80. Hey, I know! I'll write a post called, "Thoughts You Have On Your Juicing Cleanse" to try and make my starving body forget the fact that it's starving!