This summer I decided to take a trip on my own and discover the world alone. Visiting a place on your own – without a friend as your comfort zone – makes you immediately interact with strangers more. I always plan everything, except when it comes to traveling. Traveling has always been the only thing that includes an impulsive decision filled with surprises. This year I booked a last-minute to Greece, to the island Kos. While the news on Greece hasn't been very positive, experiencing Greece and its people on a personal level rather than what can be seen on TV has been incredible. I arrived at 11pm at the hotel and decided to go for a walk through Kos Town; all the stores and restaurants were still open. I immediately felt welcome and at home. During my week there I got to know a few people's stories and thought to share them with you. I hope that this way you'll get to know Greece and its people more than what can be seen on the news. I've never felt so much at home in a country; strangers felt like friends. Friends that never lose their smile, their kind appearance, their generosity, and the welcoming feeling they give you.
Because I hadn't planned to write this and I can't contact all the people I've talked to, I will keep their identity anonymous. Instead, you'll get a peek in my photo album of Greece. I hope you'll love the people as well as the beauty of Greece itself as much as I do.
1. The island Kalymnos, Greece
On my second day in Kos I decided to take the 3-island tour. The island Kalymnos was one of them. I was walking around in Kalymnos and while I was heading back to the boat to take me to the next destination, I met a man that suddenly started a conversation with me. Cause Greeks are just not afraid of being social. I love it.
"You see that pink house up there? That's mine. My dad is not so bad, he lives with me and we make it work together. I was born here, moved to Australia in 1988, but eventually I came back. Australia was fun, but you have to love the country you were born in. I love my country. I love it no matter what. You know I can sing and perform? Let me sing for you." – Man, 30-something
2. Bodrum, Turkey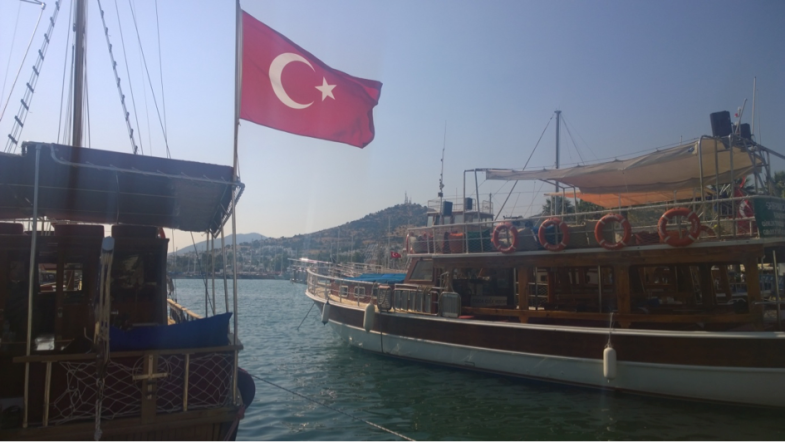 On my third day in Kos I took the boat to Turkey to discover the city Bodrum. The tour guide – a lovely Greek woman with the most infectious laugh – had her own story to tell.
"I was born in Kos, in Greece, but I married a Turkish man. We're not together anymore and he's now married to another woman. He never liked that I worked. I love talking to people and showing them these beautiful countries. Do you know that Bodrum used to be Greek and Kos used to be Turkish? Now it's the other way around. Oh I have two beautiful sons. The youngest doesn't like studying much, but he got a job in a travel agency. The oldest went to university and is a music teacher. I'll show you a video of him singing. His voice is beautiful, isn't it? He's singing about love, he's a romantic. Just like his mother." — Woman, 50-something
3. Kos Town, Greece
During a night walk I met a man with whom I connected immediately. In a matter of seconds we were talking about politics, religion, life. It was as if we've known each other since forever; the conversation required no effort to maintain.
"I've worked all my life. I started working when I was 8-years-old. When I was a teenager I frequently went to the gym and became much stronger. This meant I could do more work; I used to work every day almost all day and came back home just to get some sleep. I still work about 15 hours a day. If you'd ask me if I want to leave this place, I would immediately say no. Have you looked around here? It's paradise. Look at the water, look at its color. Isn't it beautiful? Just having this sight would make you want to never leave this place. I love my country. Greece has its troubles, but we are hardworking people. I watch the news and it's like my soul is slowly being killed. I love my country. Wouldn't you feel the same if it happened to your country?" – Man, 30-something
4. Zia, Greece
On one of my last days in Greece I got the opportunity to visit the village Zia in Kos for free thanks to the generosity of the Greeks. Little did I know I was going to meet a priest who had beautiful words to share with me.
"Are you an Orthodox Christian? It doesn't matter. What matters is being a good person. Not the religion. Not money. Not power. I don't understand some people. The Middle East is being destroyed. Our country is facing troubles. For what? Why? Money? Being able to smile every day should be enough to make you happy." – Man, 60-something