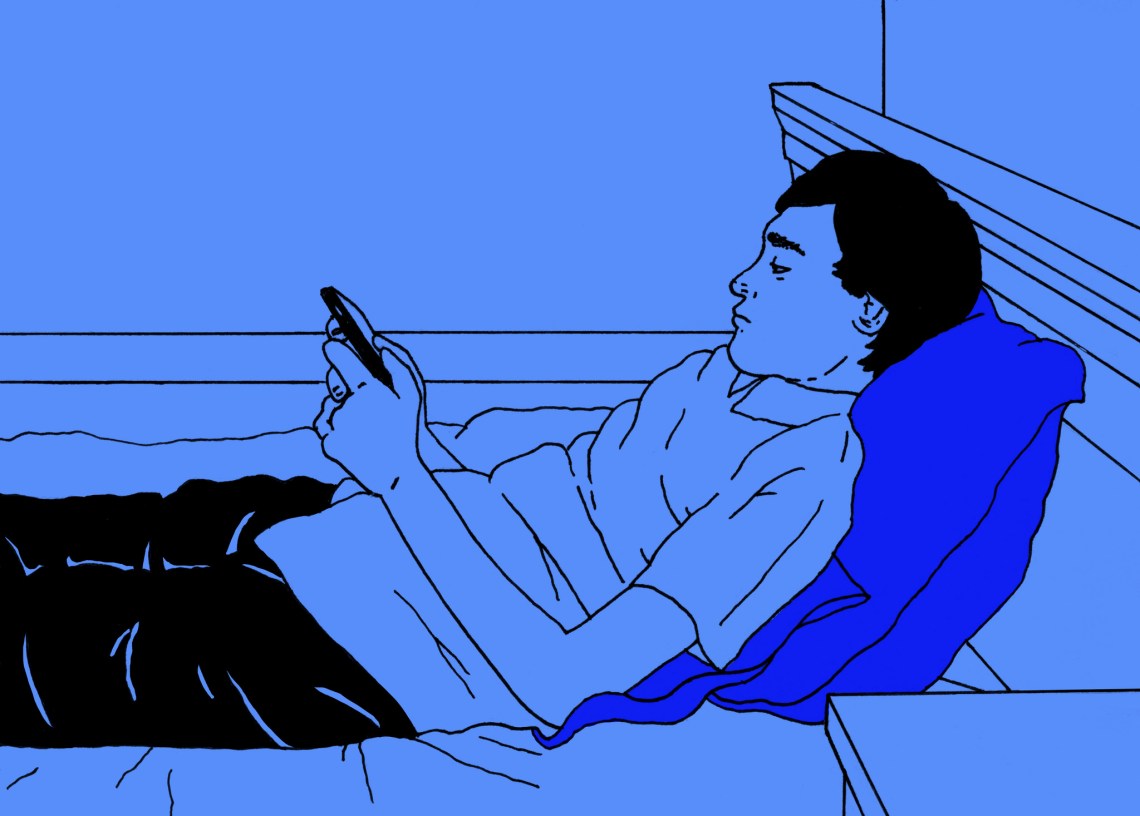 If you live in New York City, you know that dating can either be something you gush about to your friends over brunch or whine about to your friends over drinks at brunch. Although I've had many first dates in the three years since I moved to New York, they generally don't make the brunch cut since they tend to fall somewhere in the middle.
"You never let yourself have fun on dates," my friend told me after asking about my previous evening with a Columbia grad student. "You always say, 'It was fine.'" This was only half true. I do have a penchant for classifying my dates as "fine," but that doesn't mean I don't know how to have fun. It had just been a while since I'd had a great time on a date. They're rarely unbearable, but I imagine I feel the same way an actor feels on a talk show. You're charming and chatty; you chuckle at the other person's jokes and crack your own. You're not being fake, but you're still putting on a version of yourself that doesn't feel quite right. In fashion terms, it's like wearing a button-down shirt that looks great on you and suits your style, but it doesn't feel as good as your favorite sweater. 
That was my date with the grad student. We bonded over the fact that we're both from Los Angeles and talked about our favorite ramen joints in New York. At the end of the night, he walked me to my building and kissed me. It all went well, but once I got home and unbuttoned my shirt, I knew I wouldn't be seeing him again. There was certainly nothing wrong with my date, but there was nothing there either.
The last good date I went on was with someone I'll refer to as "Voldemort" because he shall not be named. Long story short: he and I are no longer speaking, and every date I've had in the year since I last saw him has been mediocre at best. I was coming to terms with the notion that all first dates are work and that finding that indescribable thing, which makes two people click, would take some digging and multiple dates. Then one day, while working in Chelsea, a very cute guy sent me a "woof" on Scruff. For those unfamiliar with dating apps, a "woof" on Scruff is the equivalent of a "poke" on Facebook. And if you're unfamiliar with Facebook and pokes, I cannot help you. We started chatting, and after we agreed that we're both cute, I asked him out for drinks after work. 
We met at a nearby bar where I lost track of time, and Happy Hour became happy three-and-a-half hours. Our conversation flowed so naturally, and we both seemed to be on the same page about everything we discussed from travel to our favorite Golden Girl (Dorothy). He never mentioned that he probably has a thing for Asians, and I never mentioned that pasty redheads are my jam (at least one of them). When a tipsy, forward man attempted to hit on him by commenting on his hair color, my date was polite but later told me he hates it when people bring up his hair. He noted that I must often find myself in the same type of situation (If I had an egg roll for every time a date or random bar patron told me how much they love Filipinos, I'd be obese). It was refreshing not to broach the subject of my ex or Voldemort, which happens often on my first dates. We talked about museums and restaurants we should check out together. And I knew I was in trouble when we discovered our mutual love for a certain British girl group from the 90s. "This is what a good date is supposed to be like," I thought to myself. Something just fit, and everything not only looked good, but it felt right, just like my favorite sweater. 
The next morning, I left his place in high spirits. It was the first time since Voldemort that I really wanted to see someone for a second date. I tried to keep my excitement in check because if there's anything I've learned from dating, it's that all good things come to an end. But it was no use. He had me at the Spice Girls. It's not that I was on the hunt for a boyfriend. In fact, I had been perfectly content, albeit a little bored, with the casual dates I could squeeze next to my plate full of friends, travel, hobbies, and work – like a dessert for which you don't really have room but take a bite of, anyway. Still, I liked the idea of having stumbled upon a potential Ginger to my Posh, and I was tempted by the thought of something not necessarily more serious, but more exciting. I wanted more.
A few days later, I asked him out again, and we agreed to meet the following Wednesday for dinner in K-town. I'd be working on a photo shoot in Brooklyn that day and wasn't sure when it would end, so I said I'd text him once I had a better gauge of the time. On the day of the shoot, I texted him to confirm our plans. No response. Around 6:30 PM, I texted again to make sure everything was okay, though I knew the date wasn't happening. At 9:09 PM, he texted, "Hi. I'm so sorry. I left my phone at my apartment all day." A likely story (insert eye-roll). . . 
I won't bore you with the lame exchanges we've had since then. We have yet to see each other again, but it's not off the table. At least I've possibly acquired a new friend with benefits, and it's comforting to know that not all dates are button-downs, just that the sweaters are far and few between. One of my more optimistic friends tried to keep a positive outlook on the situation. I told her we'll see how it goes, though we all know what happens to Ginger Spice in the end. Whatever the outcome, I know I'll be just fine.