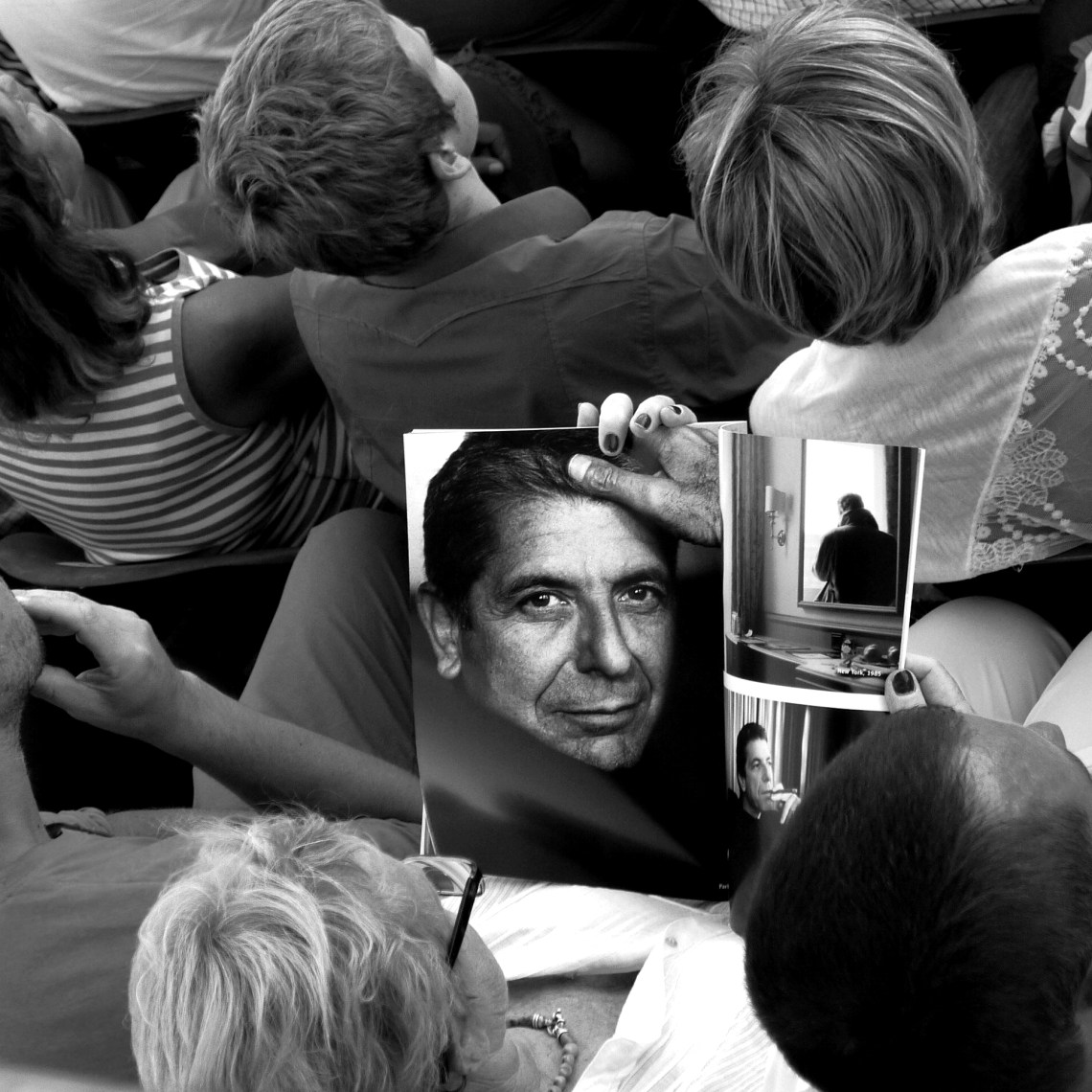 One of my many bad habits is that I stay up late and find excuses not to go to sleep, even when I know I really need it. Last night – or, rather, this morning – I stayed up playing some silly game on my phone. After growing tired of it, I opened my Facebook. The first thing in my news feed was the announcement of the death of Leonard Cohen. I'd been afraid of this since the beginning of this year, when people I admired very much started dying, but I'd put the thought behind me, in the wake of other things shaking up the world.
My first reaction was, of course, denial. I thought, "No, I refuse to believe this." Then, I began to cry. I felt as if I had lost a kindred spirit. Leonard Cohen's songs and poetry were – and are, and will remain – what I turn to in my times of sadness and disappointment. But the source is gone, and I couldn't help feeling that it was because we no longer deserved him. Actually, I don't think we ever did.
I remember the first time I heard Leonard Cohen singing. I was a fat high school kid with social anxiety, which means I basically had a target on my back, and school was hell. One day, getting into my dad's car, I noticed that the music coming from the cassette player (I'm old – cars still had cassette players back then) was different from the usual. I heard a deep, calm voice, accompanied by hypnotic, quietly menacing instrumentals, saying, "You loved me as a loser, but now you're worried that I just might win." Needless to say, this had a huge impact on a bullied teen. Did this person know what I was going through? He had to, otherwise how could he have come up with this? "Who's that?" I asked. "Leonard Cohen," my dad replied. "He sure has a way of saying things." Do keep in mind that I was a teenager and my reasoning was simpler than it is today. Of course I know now that "First We Take Manhattan" is much more complex than a simple retribution fantasy, but, all in all, it doesn't matter how Leonard Cohen had me hooked. What matters is that he did, and I'm glad I discovered him as a teenager, because, in a way, he was a mentor to me. The things he taught me now make up some of my deepest beliefs – the belief that a thirst for knowledge must be accompanied by the certainty that knowledge is, eventually, impossible, and even by self-deprecation, lest I fall into self-importance, and the belief that human love, including carnal love, is deeply entwined with spirituality.
Since then, I had the opportunity of seeing Leonard in concert three times, and I will always cherish the memories and hold on to that feeling of being incredibly humbled, and at the same time, uplifted. You can laugh at me, but I'm pretty sure angels were in the audience each time, and it was almost as if I could touch them. The first of these concerts was in 2008, on September 21st, Leonard's 74th birthday. The audience sang "Happy Birthday to you," and he took off his hat and stood listening with his head bowed. There were two encores, as everyone was reluctant to let him go, although the venue was in the open air and it had started to rain. Eventually, he said, "Friends, don't stay out here in the rain, you'll catch a cold."
In the light of recent goings-on, I would like to come back, once more, to the matter of Leonard Cohen's spirituality. I am an agnostic who has never been able to shake the thought that there is something out there, something beyond our understanding. Of course, I may be wrong – this is one of the things Leonard has taught me – that no one ever holds the truth. His own spiritual journey has taken him from the wisdom of his ancestors, to Buddhist monasteries, and back again. Today, I listened to the title track of his latest – and last – album, "You Want It Darker."
I can't help thinking that Leonard Cohen has left this world with a feeling of disappointment.
His song "Anthem" states that "There is a crack in everything/ That's how the light gets in." We know now that sometimes monsters, too, can get in through the cracks. In "Hallelujah" (of which I still prefer the original version, even though Jeff Buckley's is equally wonderful), Leonard says that "There's a blaze of light in every word." "If It Be Your Will," a song he wrote as a prayer, speaks of hope –
If it be your will
If there is a choice
Let the rivers fill
Let the hills rejoice
Let your mercy spill
On all these burning hearts in hell
If it be your will
To make us well
In contrast, "You Want It Darker" is addressed to a malevolent God. It speaks of "A million candles burning for the help that never came" and admits, "I didn't know I had permission to murder and to maim." The word "Hineni," repeated in the lines of the song, is Hebrew for "Here I am." It is the word of a man standing in honesty before a God that has betrayed and disappointed.
In the biblical story of Job, God says to the Devil that Job – a good man who has never harmed anyone, who loves his family and contributes to his community – would still worship Him even if He was to take away everything Job has. To prove this point, God takes away Job's family, health and possessions, leaving him an ill beggar. "The Lord has given, and the Lord has taken away," Job says to those who mock him for not renouncing his faith. If God is real, He sure enjoys making Jobs of us. What is the point of anything, then? I myself choose to believe Leonard Cohen's answer: "Though your promise count for nothing, you must keep it nonetheless." This is what makes the difference.