On a late Sunday afternoon, I had the sudden desire to make a very spontaneous trip to Hood River and stay at the Columbia Gorge Hotel. I heard rumors that it was haunted, although I did not know to what extent or exactly by whom. At any rate, I picked up the phone and decided to call and try and book a room.
The receptionist was very helpful when I posed the crazy question, "Which rooms, if any, are haunted?" She put me on hold as she contacted the maintenance man, who she believed would be the best one to answer that. When she came back on the line, she told me that his opinion (from his own experience) was that Room 340 would be the one to stay in. I booked the room even as she warned me that the wallpaper was overwhelming and the bed looked like a giant sled that might take off at any moment. (It turns out the wallpaper is actually the wallpaper I had in my own bedroom growing up. Imagine that!)
My boyfriend and I packed up the car and set out on the one-and-a-half-hour drive to Hood River.
We pulled into the hotel after dark and I couldn't wait to get in the door — mostly because it was absolutely freezing, but also to see if the rumors were true. Once we checked in, I decided to go down to the ballroom where the receptionist said a lot of the activity has taken place.
Here is a video of something I captured in the dark ballroom as I am asking the spirits if they could make a noise for me. They didn't make a noise, but they definitely made something.

It is a beautiful hotel. As I peeked my head into the dining area where the bar is located, there was a gentleman playing the piano. Over at a corner table sat an older couple, drinking their wine as their dog sat at the foot of the table. I could imagine how it used to be when the hotel first opened — it was a true destination hotel that many a famous face frequented.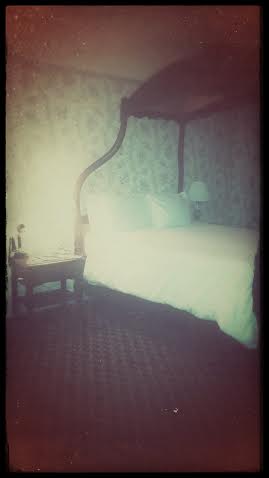 We headed up to our room, opting to take the staircase and yes, oh yes, I could sense energy all around me. Once inside the room, I introduced myself and told the spirits I would like to communicate and hear their stories, to know their lives and why they still choose to stay at the hotel instead of moving on to other planes of existence. I took some video by the bed, which was where I felt and saw a lot of activity.
Here is a video from that part of the evening. I ask the spirits if they can manifest and come towards the camera.
They were relatively quiet…shy in speaking…although, I felt them hanging close by. It was as if they were peering in on us to see if we were still there. They were just as curious about us as we were about them. When we went to bed, I placed the Zoom H1 on a table by the bathroom. I picked up a few things, which I will share the links to. It was frustrating though that there are EVPs that I can hear on the Zoom, but can't hear once I download them to software. Even so, I captured a woman humming. A strange sound that almost sounds as if someone is shredding paper (I assure it was not us…we were knocked out) and knocking noises.
Here is the link to the woman humming. It starts at the four-second mark:
Next, the strange sound that sounds like paper shredding. It starts at the 3 second mark:
Lastly, knocking and other movement:
The third floor is where the staff says most of the activity happens (besides the ballroom).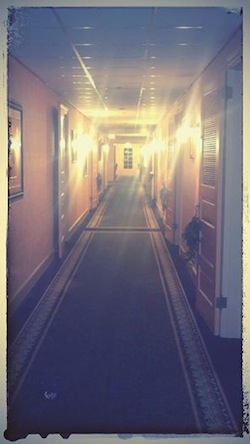 My personal experience came when I woke up in the middle of the night to a full-figured apparition of a man standing to the left foot of the bed. He was dressed in tails and white gloves. He had dark hair that was combed or slicked back and dark brown eyes. He looked Italian or Greek. He wasn't menacing and didn't scare me in the slightest. I was exhausted and just nodded my head at him and rolled over on my side — that was my way of saying, "Too tired to talk right now." I wish I would have though, as I tried the next day to get some answers from him as to who he was or his name…he did not come back through to me.
Is the Columbia Gorge Hotel haunted? In my personal experience, I say…yes. Yes, it is. The ones I was able to communicate with were kind and also happy that people come to the hotel. They like it that way.
It's a truly beautiful hotel with great history and spirits too!