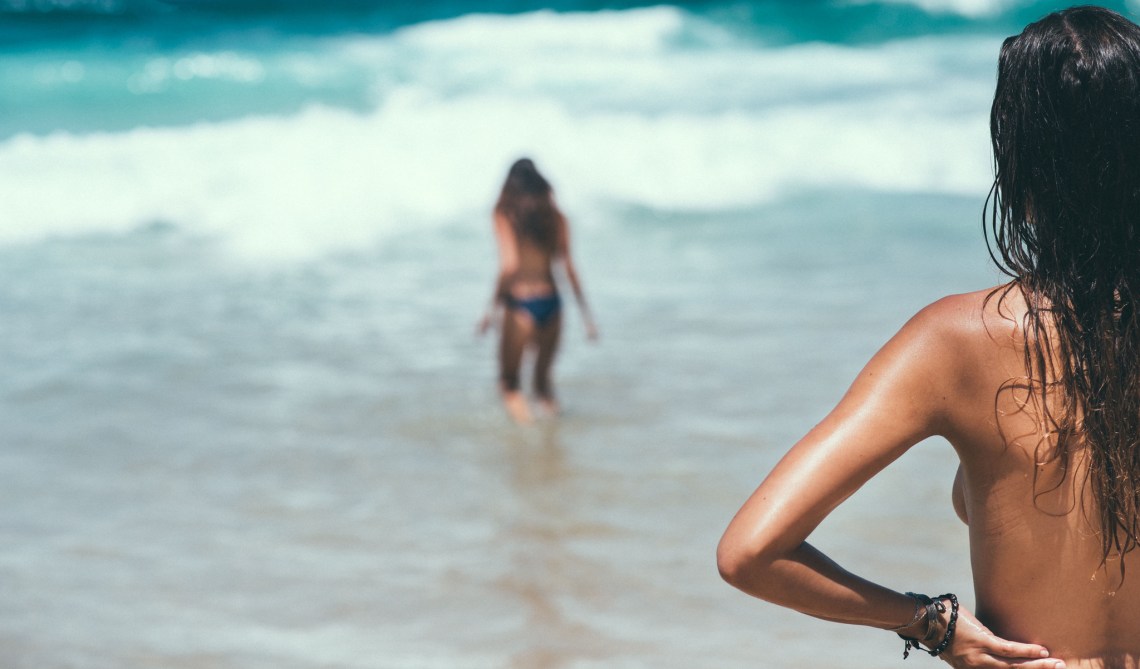 I'm anxious. Tonight I meet Jeremy for the first time since the summer.
My palms are as sweaty as that time when I drove all the way downtown for a job interview at some notorious art gallery and my biggest problem was how will I introduce myself to those people as sweaty Amanda. I was really nervous back then, as I am now.
I study myself in the mirror. Body of a woman corseted in the angst of a teen girl. I was never this nervous: not even when my mom told me she's splitting up with my dad, not even when I caught my step father fucking another woman in our kitchen, not even when I was chosen Prom Queen, not even when my granny decided to throw her money from the balcony because people in the streets have to eat too, ya know?
Jeremy's last text was clear and simple: I missed your face, A., I missed your full lips and I'm so curious what you're gonna wear on our first date, probably something erotic, aren't you?
I am, actually, wearing something very erotic. It's the one dress that put me in the spotlight one year after I started dating Adam and we went to this high brow dinner party in New York where everyone was turning heads at my open back and complimenting my sheer attire. I laughed a lot that night, I was the heart of the party. I realized I don't do that so much now. Women in their thirties are not allowed to have fun? Yes, we do, but, you know, keep it low key, you don't want to upset desperate housewives and middle aged women who keep their claws on their husbands when you reach to shake hands in a restaurant.
Adam and I used to have a lot of fun too. We used to have a very intense sexual relationship, in the beginning. The type I crave now to have with Jeremy. Adam got eventually too caught up in his work. We've never been jealous on one another. We just let that space happen, I guess, between us. With years, you discover a tad of jealousy might do good. If used in adequate dosage.
Jeremy has a great body. He works out a lot. I just started, and it's killing me. I'm a creature of comfort, so is Adam. We're like cats. But Jeremy seems to motivate me to become more arousing. Funny thing, how youth becomes a catch when we start to feel too comfortable with our aging bones.
I gaze at my plump lips and I study my breasts in the mirror. I look great for my age. But then I'm nervous. And I'm scared. Am I really good at it? Am I still as good in bed as I used to be? Am I becoming a mistress? Is there anything I missed out on? Am I actually going to cheat on Adam? But, what's worse above all these, will he actually mind?
I guess the most terrifying thought is that he won't.
Maybe Jeremy knows how to handle a woman better.
Or her body.
Or her age.
I feel stuck in a love triangle with an elusive butterfly with powerful wings and a jaded caterpillar who won't move their legs further because it's too cold outside. I feel my raw, animal side, clashing with my comfort seeking-solace yearning interior.
Jeremy is waiting for me at this restaurant I picked. In the cab, I breathe heavily like you do in cardio. My palms are still sweaty. I pout in the mirror. Do I look sad? I'm not. Just really, really anxious.
When I leave the car, he takes my hand like in old movies. Jeremy, the old fashioned prick. Is this the real him? No, he's just making a funny, you stupid. He looks at me with a smile that could melt the snow on Everest and I have to put on my shades to hide the nervousness. I smile, I light a cigarette and put it off after two heavy breaths. You look fantastic. I thank him. He puts his arm around my waist and as I see our reflection in the restaurant's window I cringe.
Am I a cheater?

No, I'm just exploring.
My head is gonna explode. But he can read my anxiety.
It's fine, there's no rush.
We order. We go through the whole classic set of questions, how you've been, is your work going well, and how do you feel about this wine or that wine, so where are you staying, I see you did something to your hair, are these edible, no really, I did not want to make you uncomfortable, A., but I have to tell you something.
I burst into laughter.
Then I get serious.
What?
He smiles, and pours more wine, I am finally calm and a bit dizzy, but I get to my senses.
What?
Now I feel almost uneasy.
He looks at my dress.
You're so beautiful, A. In fact, Christine thinks you're so beautiful too.. I..I showed her some pictures from your Facebook.
I cringe.
Then I blurt.
You, did what??
Christine. Your ex, from the summer, from, from Germany?
He smiles, visibly amused. And emotional.
M-hm.
But she's not his ex. He starts telling me about her. He dreams about me, and her. With her. My palms are sweaty, once again.
But this time, with rage.
Or am I finally getting what I asked for? [t-cmark]