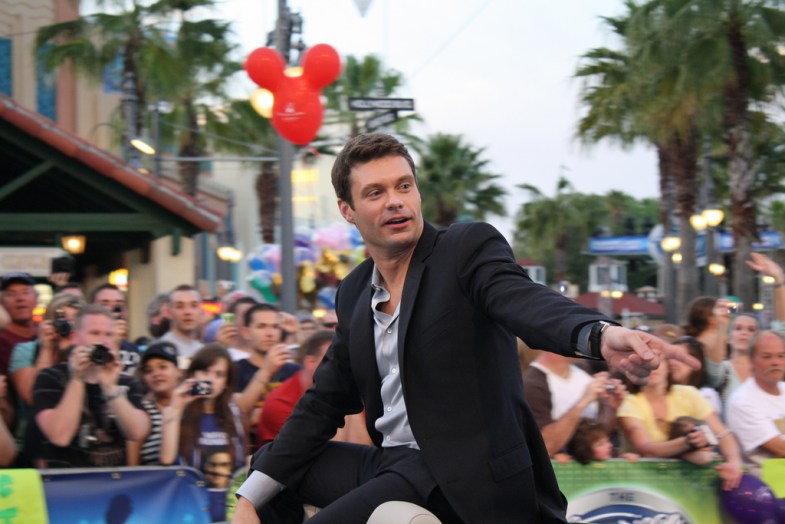 My love for Ryan Seacrest has no bounds and I am not ashamed. Each year I am tempted to audition for American Idol with one prize in mind: meeting Ryan. The golden ticket doesn't hold too much appeal, but a five-minute conversation with the man, the myth, the legend – well that sounds incredible. Most people my age idolize Harry Styles (myself included) but there are five reasons why the king of Hollywood (my self-proclaimed title) is the man of my dreams – career dreams, that is.
1. Zero to hero, bleached tips and all.
Thirteen years ago, Ryan Seacrest entered the homes of millions of Americans as the host of "American Idol." In hindsight, his bleached, spiky tips might not have been a good choice but his decision to stick with Idol following the exit of his has-been Brian Dunkelman was genius. Idol catapulted Ryan to stardom and in due time, he became the voice of America's most watched television program. Fortunately, his new hair stylist reminded him that bleached hair was so 1999.
2. Charitable heart, business mind.
His passion for entertainment and desire to give back resulted in the creation of The Ryan Seacrest Foundation, a non-profit to inspire youth. Ryan often organizes his gaggle of admiring celebrity friends to make appearances at the two foundation centers. Oh, and Ryan isn't only Mr. Nice Guy; he's also smart. He hired his mom, dad and sister to run the organization.
3. Follows trends and reaps the rewards.
He's the mastermind behind successful shows like ABC Family's "Becoming Us" and E!'s "Married to Jonas." These shows, like many others that he produces, touch on timely topics that grabbed the audience's attention. His latest effort "Becoming Us," is a docu-series that shows the obstacles that a family must overcome as the father becomes a woman. Talk about appropriate timing.
4. Shines the spotlight on others (& sometimes himself).
Ryan Seacrest is not a celebrity. Okay, well maybe that's not the case. But he has consistently worked to showcase the talent of others instead of himself. His radio show, television productions and appearances on red carpets are always about bringing attention to the incredible talent in the entertainment industry. Along the way, he may have become a celebrity himself but that's only because of his irresistible charm and impressive spray tan.
5. Kardashians.
The Kardashian empire is Ryan's biggest claim to fame. Can you imagine a world without footage of Kim Kardashian perfecting a selfie? Or Khloe wrestling her sisters? Sounds tragic. Well, thanks to Ryan, we are all privileged to live in a world where the Kardashian's take center stage. For that, he deserves a round of applause (with a simultaneous eye roll).