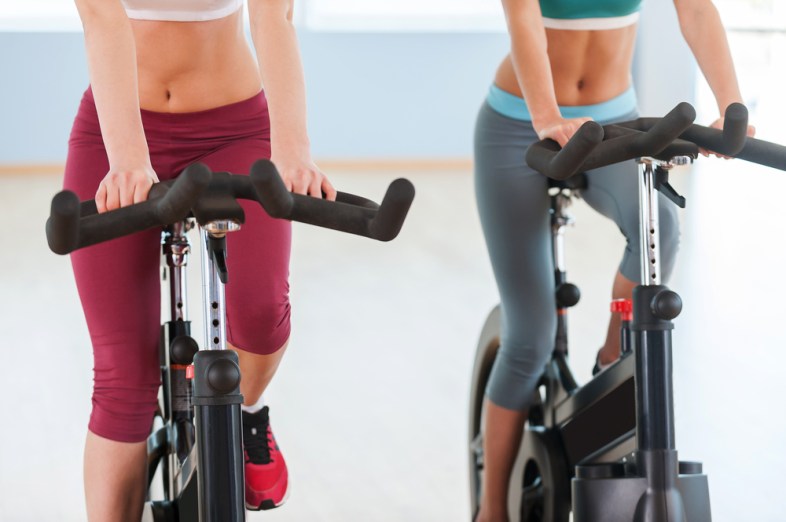 Need a reason to get your butt to the gym? Here's a good one.

If you ever needed a reason to go to the gym, the coregasm is it. Haven't heard of a coregasm? Oh, then you really need to step up your game, and get to the gym stat.
The coregasm is an "exercise-induced orgasm." While it might seem strange to some of us, yours truly is scoffing at it while being bizarrely jealous at the same time, it is real, and according to a new study, more and more women are experiencing it.
Research by the University of Indiana found that gym activities most likely to give women a coregasm are climbing poles or ropes, which makes sense, as well as biking, spinning, and lifting weights—or pretty much anything that requires you to really engage your abs. There's even roughly 9.6 percent of women who can "coregasm" from just walking briskly.
Walking to and from work never seemed so appealing before!
Because we want everyone to experience the joy that comes with having an orgasm mid-workout, here are the dos and don'ts you need to know to make it happen, and still keep it under wraps. No sense in being braggy about it with moans of pleasure during your next spin class, right?
1. DON'T freak out.
So, there you are having a great workout, and voila! You're having an orgasm! Don't get all weird about it! It's totally normal and natural, and most especially awesome!
A fifth of women reported feeling self-conscious about it, which is understandable. But once you stop fighting it, and just go with it, it will make your workout even more exciting than usual.
2. DO learn what the "captain's chair" is.
The study has found that the most effective way to work your abs and enjoy a coregasm at the same time is by using the "captain's chair" at your gym. Here's how to do it: While standing, rest your forearms on the chair's padded armrests, then "squeeze your abdominal muscles (which support the trunk of the body) to help you lift your knees to your chest before lowering the feet to the floor again."
You'll feel the burn in your core, and hopefully, the pleasure below the belt, too. If 45 percent of ladies have ab exercises to thank for their coregasm, why shouldn't you be in that group, too?
3. DON'T be noisy about it.
If you're at home working out and you feel an orgasm coming on, then why shouldn't you embrace it with the same vocal enthusiasm as you usually do? I mean, by all means, go for it! But if you're at the gym, mid-weigh lifting (because 26.5% of coregasm experiencers have done so from lifting), and it's about to happen, then breathe deep and keep your moans to a minimum.
While there was no doubt in When Harry Met Sally of what Sally was doing in that iconic fake orgasm scene, if you've got 100 pounds of weight over your head and you start gasping and saying, "Oh god! Oh god!" people might think you're in pain and will come to your rescue… which might kill the mood.
4. DO opt for equipment you'll hug with your crotch.
Ab exercises might be the number one way to have a coregasm, but climbing a rope or pole (because you always wanted to take a pole-dancing class anyway), is the best way to enjoy your coregasm and have control, too. The study found that those who experience orgasms while working out really had no control over it, nor were they even thinking about anything sexual at the time.
So, if you're one of those people who like to be able to manipulate your experience, there's no better way than wrapping your legs around a rope and hugging tightly – and it's awesome for you upper body strength, too!
5. DON'T brag.
Seriously. No one likes that woman with the perfect abs who also climaxes while getting those perfect abs. My god, woman, have pity on the rest of us, please! According to co-author of the study, Debby Herbenick, "Exercise revs up the sympathetic nervous system and, for women who are already quite sensitive, an increased heart rate, constricted blood vessels, and elevated blood pressure might just be enough to tip them over the edge."
If you're one of those women, then great! I'm so happy for you. But don't get all cocky about it. I can eat three slices of pizza in five minutes all while not moving from my couch, and you don't see me flaunting my skills, do you?
6. DO help your friends.
If you have the gift, you owe it to your friends to share it with them. Give them the necessary tips so they can have a coregasm, too. That's what a real friend would do, so be a real friend, you guys.
7. Bonus round: DO be careful.
This is the most important of all. There's nothing worse (or more embarassing) than pulling a muscle down there. Your workout is already intense enough without adding injuries into the mix. So before you let your adventurous and flexible side take over, stay calm. Knowing what your limits are can go a long way between a workout that feels really good…and one that hurts like hell.

This post originally appeared at YourTango.