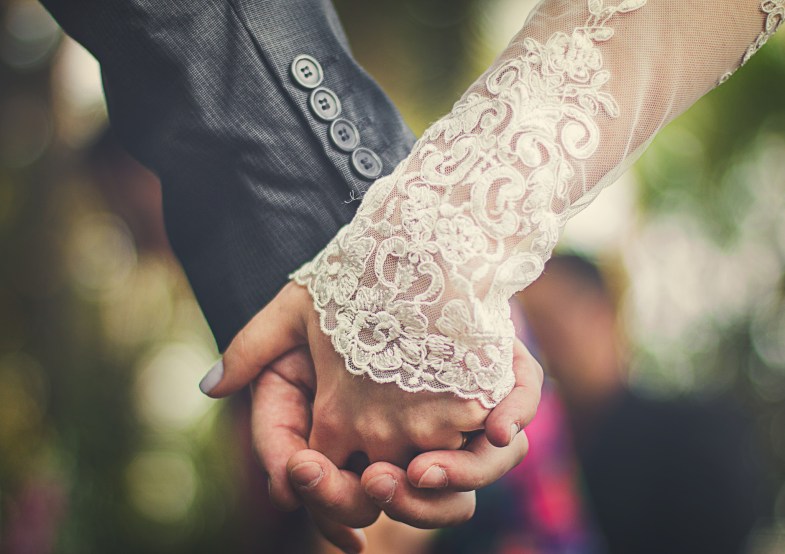 As someone who just got married recently, I can assure that while falling in love and getting hitched are easy, planning a wedding can be a nightmare. It not only consumes months of your life, but consumes it in such a way that some days you find yourself on the brink of insanity wondering, "Is this the day I will finally lose it?!"
We talked to a few engaged and recently married women about some of the lessons they learned from planning their own wedding, and these are the lessons we'd like to impart unto you.
1. Think Twice About Destination Weddings.

This tidbit comes from me. I had my wedding in Paris. A Paris wedding is great in theory, but when it comes down to getting everyone there, dealing with those who can't afford to come and how awful they feel about that, as well as making sure everyone feels comfortable in a foreign city that they may have never been to before, it's just extra stress. Sure, those who were able to make it will love that you gave them yet another reason to go Paris, but the week of people flying in and out and getting situated can do a number on your nerves, as if you don't already have a long list of concerns.
2. Don't Get Married On Anyone's Birthday.

My friend Kelsey, 32, made the very, very horrible mistake of getting married on her now-husband's mother's birthday. As someone who was at the wedding and witnessed the sulking that went on by this grown woman, it was, well, tragic. "She still holds it over my head and accuses me of stealing her not just her son, but her birthday," says Kelsey.
3. Give Your Mom Her Way.

"It doesn't matter what she demands," says Lyndsay, 34, "Moms are crazy and have really wacky ideas … but let them have it — some will turn out great. My mom cut up her wedding dress and tuned it into a card box, the ring pillow and the wedding scrap book!" I have to second this. My mom pushed for the Paris wedding, and she was paying and being crazy, as Lyndsay mentioned, so I just went with it.
4. Get A Wedding Planner!

This seemed to be the consensus of all the ladies. As Molly, 35, explains, "Weddings are too expensive, and then we try and do everything ourselves — spend a little extra and get someone to carry that stress so you don't have too." As my sister Jennie, 32, adds, "And the importance of a wedding planner is so you don't have to jump in the shower 37 minutes before you walk down the aisle." Lauren Metz, YourTango Entertainment Director, suggests getting a wedding planner with similar taste as yours. "She'll 'get' your style and vision."
5. Don't Sweat The Details.

"You should know, from the very beginning, that no matter what details you put into everything, no one will notice but you," says Jennie. "If anything isn't perfect, it will only be on your conciseness, so just let it go and don't torture yourself." Diana, YourTango Experts Editor, adds to have fun. "The bride sets the mood of the events. If she isn't having fun, her guests will feel it and they won't have fun either."
6. Have Someone Save You A Plate Of Food.

"You spend months planning the perfect meal, but when the day comes, you never actually eat it, because you're too busy socializing and thanking everyone for coming," says Meredith. "To this day people talk about the food a my wedding…. I don't think there was any? I certainly didn't eat it!"
7. Spend Less Time Planning The Reception And More On The Ceremony.

Although I beg to differ on this one because I wanted my guests to walk away talking about the how fun the reception was for the rest of their lives, Erin, 30, does make a valid point: "It's a ritual — and you can say you're modern all you want — but you are still getting married, so make the ritual all about the two of you and make it count."
8. Enjoy Dress Shopping; It's The Easiest Part Of The Whole Thing.

Says Liza, 30, "After I got my dress I realized it was time to get to work with the rest of it. So do yourself a favor and really enjoy those dress shopping moments. It's the highlight of the whole planning thing." That being said …
9. Avoid Extra Dress Charges.

Lauren suggests getting every dress alteration price in writing from the start. "Ask for ONE person to be your contact throughout the entire process," she explains. And, speaking of dresses, different states charge different taxes. "Depending on where you live, do your research for the best deal." Also, when dealing with other vendors, keep in mind that service charge may be different than gratuity. "Always clarify."
10. Don't Make Your Wedding A Part-Time Job For Your Friends.

"The more work you put upon your bridesmaids, the more you're likely to argue. Just don't," says Lauren. "Do as much as possible just you and your future spouse." But remember to show your maids appreciation and gratitude for their hard work celebrating you. "Send flowers or do something special for them after your bachelorette party and shower."
Have anything to add to the list? Tell us in the comments below.

This post originally appeared at YourTango.