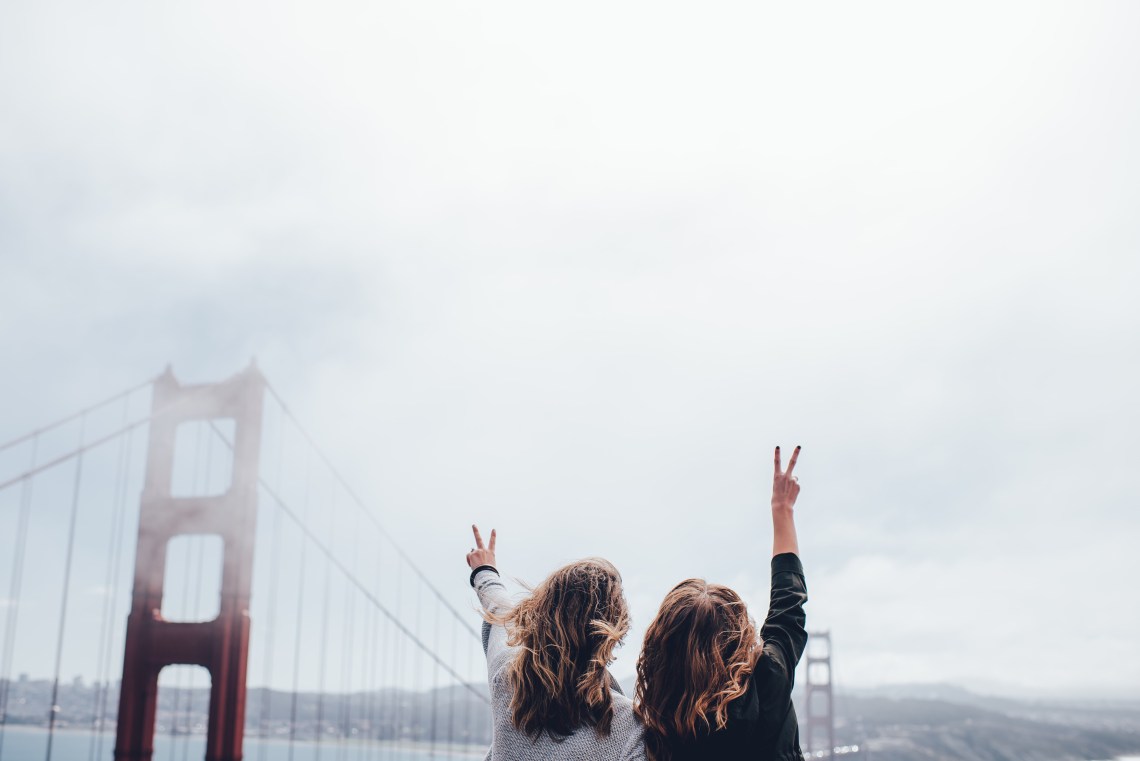 Legs tucked up to her chest, tears pouring down her cheeks onto her white Hanes v-neck, hidden in the dark closet of her sorority house, she talked in hushed tones to her parents over the phone. Unused winter coats draped down from their hangers onto her shoulders. What a silly girl. A silly, stupid girl.
I feel sad for the girl I was before I traveled. Not because of the travel in itself, per say, but I wish I could tell that girl that there's a bigger world out there. I wish I could tell her that there's a world outside of her little sorority house closet, a world kinder and more merciful than the first boy who broke her heart, a world larger and grander than her college town, but a world more magnificent and beautiful than she her heart could even dream of.
Because now, three years later, that girl is someone I no longer know. She is scared and she is small. She just lost her friend to suicide, and she is drowning in her guilt. She wants to tell herself that sorrow will pass, but she can't see past lunch tomorrow let alone five years ahead. She spends her days trying to help her sad friends out of their own sadness, because she can't handle her own and she defines herself based on their happiness. She tells her friends that "love isn't real" and she laughs. She laughs because she's creating a cushion for the next time a boy crushes her heart.
She doesn't know that somewhere, 4,221 miles away, her Love is sitting at a desk in his office, peeking out a window, wondering if his Love is out there. And she doesn't know that one day, he won't crush her. She doesn't know that someday, he'll love her fiercely.
She doesn't know that in a few years, she'll be on a double decker bus in the heart of London, driving past Big Ben on her way to work, listening to George Ezra. She doesn't know that one day, she'll stand at the top of the highest peak in Wales, wind kissing her skin, thighs and calves burning. She has no idea that one day she'll windsurf in Hawaii, celebrate Australia Day in Prague, hike through the countryside in Haiti, eat bull testicles in Portugal, and scan the markets in Istanbul. She doesn't know that one day, she'll lay under the stars in the middle of the Sahara Desert, grasping the sand beneath her fingertips, wondering if she's just as insignificant as the sky above her head and the grains between her toes. She doesn't know that one day, she'll stand on a hilltop and overlook all of Barcelona. And she'll cry. But for the first time she'll cry not out of desperation or hopelessness, but because she's finally free.
That naive girl is no longer me. The girl I know has seen that this world is big and beautiful. Sometimes, when I'm laying on the sofa with my Love, he'll run his fingers through my hair and we'll ask each other about our pasts. He spent his childhood loving soccer and tennis and playing outdoors. I spent my teenage years hating everything. Now, I love cooking and Ellen Degeneres and spending money frivolously and asking questions and texting screenshots of weird people from high school to my friends and writing and Turkey Toms with no tomatoes from Jimmy John's and Harry Styles' stupid little smoulder and new passport stamps and feminism. But most of all, I love myself. Finally.
Maybe I don't feel sad for the girl I was before I traveled. Maybe I feel excited for her. Or maybe it's a little of both.
I feel sad because I want to shake her and kiss her and yell, "You are WORTH IT. There is a whole world out there that you have NO idea even exists and it is SO much bigger than the little closet where you sit and cry each week!"
But when I'm excited for her, I think I'll just sit and watch her and laugh at what she has yet to learn. She's a silly girl. A silly, stupid girl.