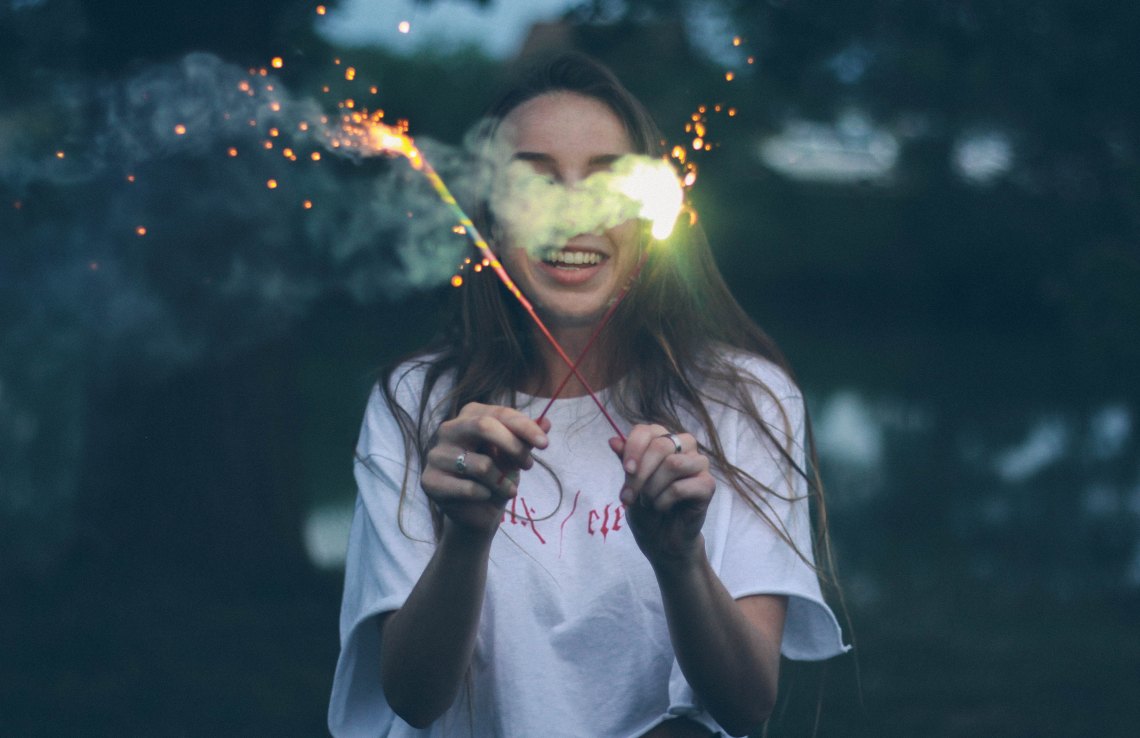 "Shoot for the moon. Even if you miss, you'll land among the stars."
The new year is a time for reflection on the past and planning for the future. And, at risk of sounding cliché, it provides the perfect opportunity to decide how you want to improve in the new year. Do you want to be healthier? Save more money? Be more present?
While many take to the gym to put their new healthy habits to the test, there are many other out-of-the-box, out-of-this-world resolutions we can aim for that just might stick a little longer. Let's explore eight resolutions that are a little more specific, a little more maintainable, and possibly a little more extreme than we're used to:
1. Put down the phone
For most of us, we're attached to our smartphones – taking them everywhere so that we never miss an update. In 2018, take a moment to put the phone down. Leave it at home, or at least in the other room, and enjoy time both with yourself and with your family and friends. Take in the beauty of the world around you. (Oh, and leave the phone out of your bed, too.)
2. Save money for the down payment on a home
It's common to have goals related to money, not spending as much or saving more, but making this goal more specific makes it so much more enticing. This year, specify what you're saving for – and shoot big. Looking to buy a new home, or maybe travel to a few more extravagant places? Make the goal to save for your down payment or to pay for those vacations up front.
3. Practice yoga and/or meditation three times a week
We live busy, stressful lives of constant movement. Constant "go, go, go." Take a moment a few days a week to quietly reconnect with yourself. Take a deep breath and practice some yoga or meditate. Though simple, these short periods of time will leave you feeling rejuvenated and ready to take on anything.
4. Find love
Tinder. Bumble. Coffee Meets Bagel. Match. EHarmony. Plenty of Fish. Gosh, with the number of apps available, it seems like it should be easy to find "the one." But that's not the case. With so many options, we always think we can find something better, someone better. Here's some advice – and, again, this might be cliché – make 2018 all about falling in love with yourself. It's been said time and again that, once you focus on yourself and forget finding a significant other, there he/she will be. Either way, you'll be happier.
5. Walk to work
If you live close to the place you work, save gas, take in some fresh air, and get those feet moving. If you don't have a short enough commute, either bike or simply park somewhere farther from work, but close enough to walk. Taking the time to be outdoors (and get a little bit of exercise) will have a seriously positive impact on your mental (and physical) health.
6. Read two books a month
And by books, I mean physical books. No screens, no swiping. Just you and the turning of the pages. Books allow you to be absorbed into a world unlike your own. They allow you to forget about your anxieties, your worries, your own problems – if only for a few hours. Plus, books are linked to stronger brain health later in life. Win, win!
7. Run a marathon
Yes, 26.2 is a long way to run. No, it'll never be an easy feat. But that's the point of an "over the moon" goal. Setting your long-term goal high allows you to break it into a few short-term goals, such as completing your first 5k, 10k or half marathon. While a marathon might seem absurd right now, you'd be shocked how much can change after a year of dedication and hard work.
8. Keep a journal
It can be as simple as one to five sentences a day. It might seem silly, or like a waste of time, but we dare you to give it a try. Putting your thoughts and feelings down has proven to lead to less stress and more peace in your daily life.
There you have it! Hopefully, something on this list has inspired you to shoot for the moon. Go forth and resolve to evolve your own resolutions – and make 2018 a year to remember.