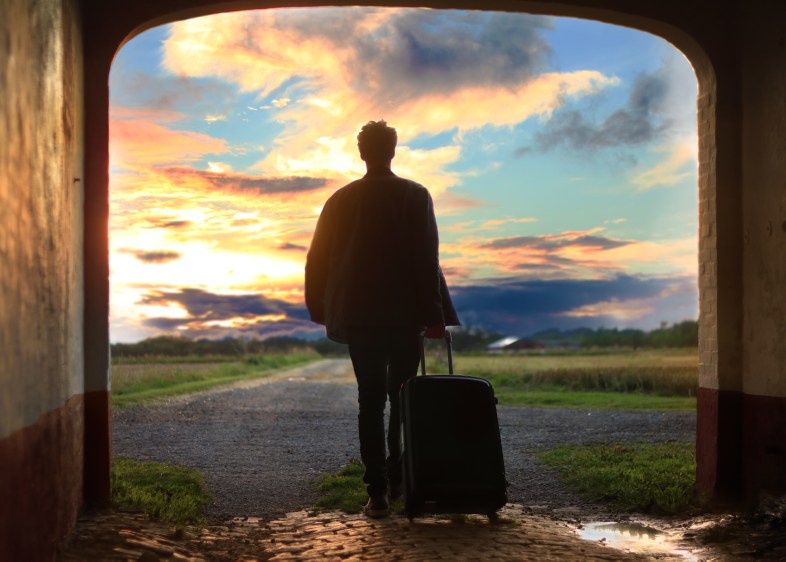 Ibn Battuta once said: "Traveling – it leaves you speechless, then turns you into a storyteller."
This quote sums up the countless conversations I've had with friends, random strangers and colleagues about my experiences. I've been fortunate enough to have parents who took me on trips when I was young and that indelibly shaped the wanderlust within. And perhaps gave me a huge case of Peter Pan syndrome.
The first big international trip I took, besides that whole immigration stint, was at 15; my parents and I flew to Paris with a Russian tour group (as horrible as it sounds) to ring in the New Year. We had stayed out late watching the Eiffel Tower light up blue as midnight struck; much to annoyance of our tour group, we had overslept the alarm and made 30 angry Russians wait while we packed. Luckily they brought a sufficient supply of kielbasa and chicken cutlets to stifle their cursing.
Our next stop was a small city in Germany called Baden-Baden. My mother's father lived there and we had not seen him since I was born. Although that would be the last time we ever met, I can still remember the buttered toast and tea I ate as my parents reminisced about their childhood. It was bittersweet yet almost comforting to see my mother's features in my late grandfathers wrinkles.
Flash forward about five years into my sophomore year of college; it had taken too much coaxing and pleading for my parents to let me participate in a study abroad program in Florence. This was my first forte into the real world, a journey all on my own and I was shit scared. A winter semester of "studying" about Italian history, art and culture could not come soon enough and as my parents hugged me goodbye at the airport I was saying ciao New York City and bongiourno Italia.
Shacked up with 40 other students in a raggedy hotel, I was excited to immerse myself in the pizza, pasta and people. Over the next three weeks, we roamed the streets of Florence, eating prosciutto and mozzarella sandwiches every day for breakfast and taking pictures (with actual cameras!) of the sites. I promised myself that traveling to different places, as life permitted, would be a not so distant dream.
Over the next decade, my hunger for these experiences grew.
A trip to Israel proved that if I ate one more helping of hummus (said with a very heavy Israeli accent) I might just quit altogether. The Dead Sea where I applied mud gave me glowing skin. Onward to Paris where the smoke suffocated me but seeing Jared Leto sipping a cup of coffee at the famed Café de Fiore quickly turned that frown upside down.
In Amsterdam, a large portion of hash brownies scared me into sleeping for 14 hours; London's bridges were massive and no I did not get to see the Her Majesty the Queen. Oktoberfest in Germany was one part drinking large, very large, steins of beer and sadly visiting Dachau, a former concentration camp where the site of a gas chamber will never leave your memory.
Venturing into Asia, I climbed the Great Wall and ate what I think were chicken feet. Celebrating the New Year with 60,000 of your closest "friends" on a beach in Thailand can get messy, but luckily those buckets full of imitation red bull will not sober you up.
The potato vareniki in Odessa, are the bomb diggity especially when paired with a shot of Vodka. Greek beaches will tan your skin and tzatizki sauce will be a breakfast, lunch and dinner staple.The list, thankfully, goes on.
To stay closed off in one's bubble is the loss of time; our lives become so repetitive that escaping into someone else's backyard if only for a week is enough enlightenment. The challenge is to stop saying "one day" and instead, find the your trip is booked email in your inbox.