Japan is an amazing, maniacal alien world of awesome.  Everything you think you know is wrong, and you will be so so glad you went!  
Going to Japan with a love is SUPER magical: temples, tasty treats, tantalizing lights and whirlwinds of people that aren't your life partner swirling around you at a high paced speed.  
Japan is a place for discovery, adventure and LOVE!! 
Here are THE Top 7 romantic experiences in Japan for couples:
1.  Rickshaw Ride
We've all seen those super cheesy carriage rides, pedicabs and rickshaws – and if you are me – you always secretly yearn to go. GO!!  Get on!  Have a person pull you in a cart!   Let them zip you and your beloved around whilst explaining nightlife highlights, secret samurai towns, and which building is the tallest in town!  Laugh and clutch to the sides as the town and world turn into a blur!  
Hold hands and don't forget to tip your driver!  
[youtube https://www.youtube.com/watch?v=1m6G7oBXHHg?list=UUKVGJm0Wfq0LP7u4BpkAveg&w=560&h=315%5D
That's me – LOVING our rickshaw ride!  
2.  Candle Lighting at a Temple
Not only is this a beautiful aesthetic experiences, but it is a tremendous spiritual one as well.  As you appreciate the beauty of the past- together you and your special someone can hope, wish and pray for the future together in this uplifting present!  
3. Street Food Fiesta!  
Adventure to the max is eating objects that you have NO IDEA what they are and if you did- you wouldn't be able to pronounce them!  Buy two cheap items on the street and share!  Laugh if you love it and laugh more if you don't!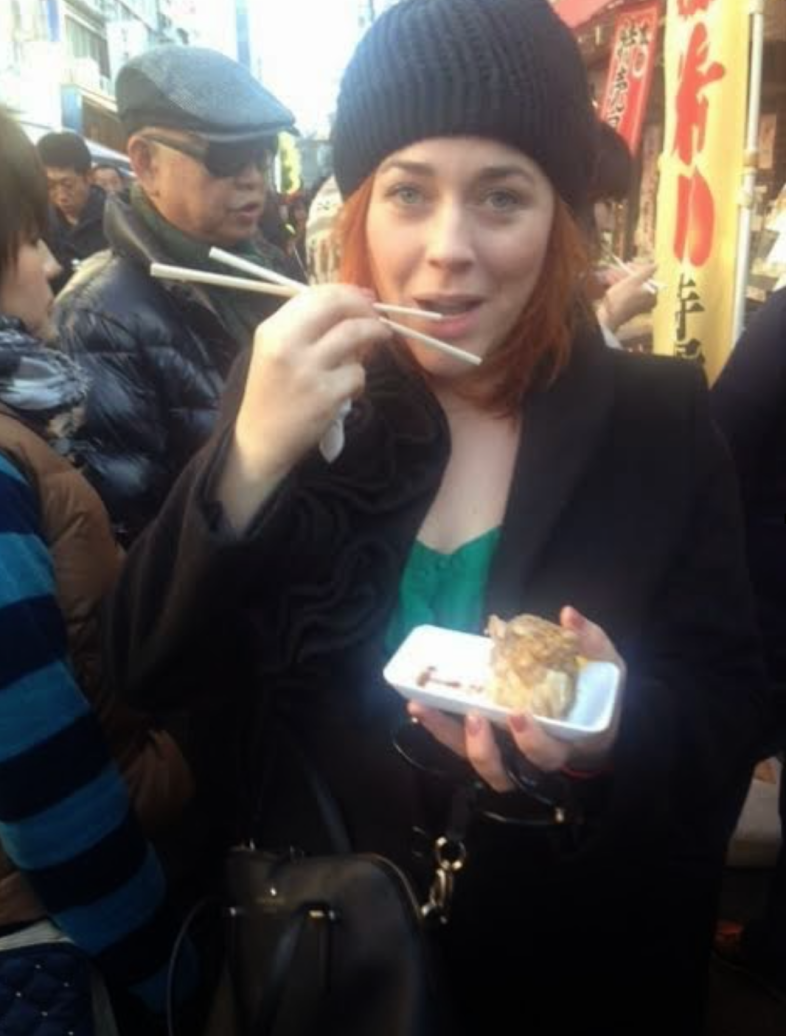 I am eating a ball of fish at 5am at Tsukiji Market.  I am tired and delighted.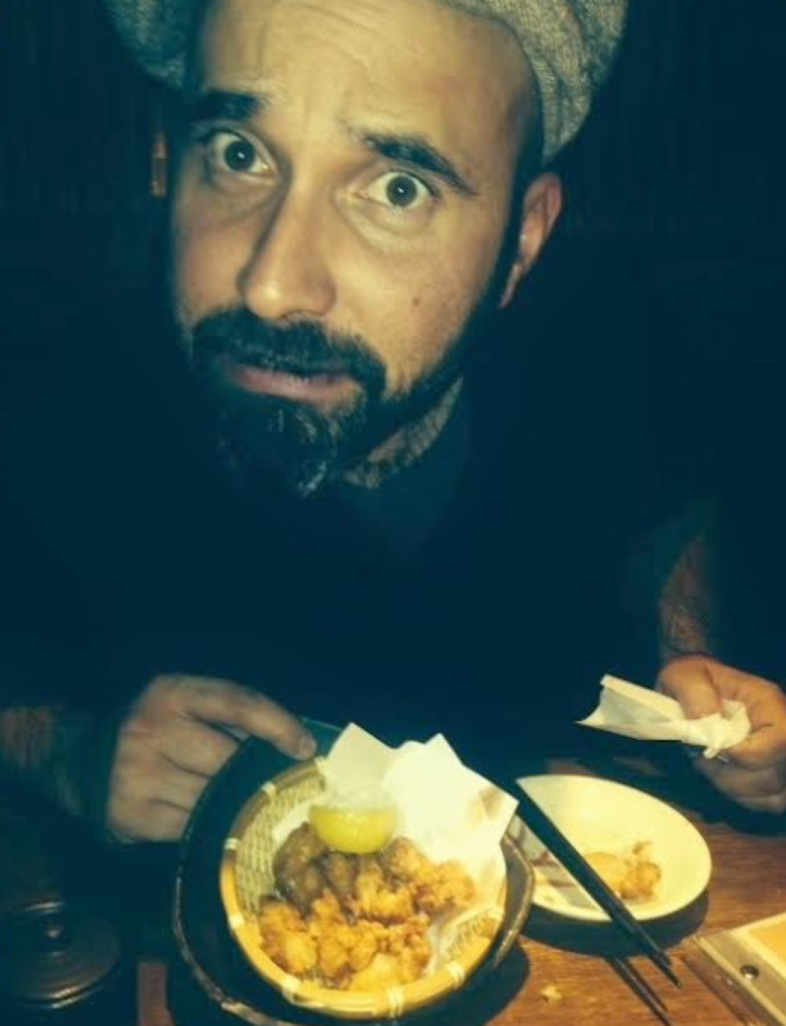 Lucky is eating something he called "chicken knees." We still have no idea what it was….
4.  Robot Restaurant
Get your weird on together.  Trust me.  This is WEIRD.  Like Blue Man Group on crack.  I now know where Katy Perry and Lady Gaga came to get inspired.  You will gasp, be in awe, and be slightly afraid.  Then you can recap it together!  
This is just the waiting room. 
My husband is not quite sure about this…
It is madness from the very beginning! 
 

Our new, life sized robot friend (not really)- he was quite weird and scary.  But at least he was killed off in the epic robot battle.  WEIRD.  
5.  Ryokans and Kimonos
Stay in a traditional ryokan.  Sleep on a bamboo mat on the floor.  Wear kimonos and have a private tea ceremony.  Take in the quiet.  Stay stashed away from the bustle of Shibuya Crossing and city lights.  
Be in love.
6.  Fall Foliage
I can't speak to the Cherry Blossoms-  OBVIOUSLY they are a big deal in Japan.  But the Fall Foliage?!?!  WOW!!  The colors.  It's not called a Japanese Maple for Nothing.   Hold hands, wander the gorgeous gardens you encounter.  Take time to take it all in.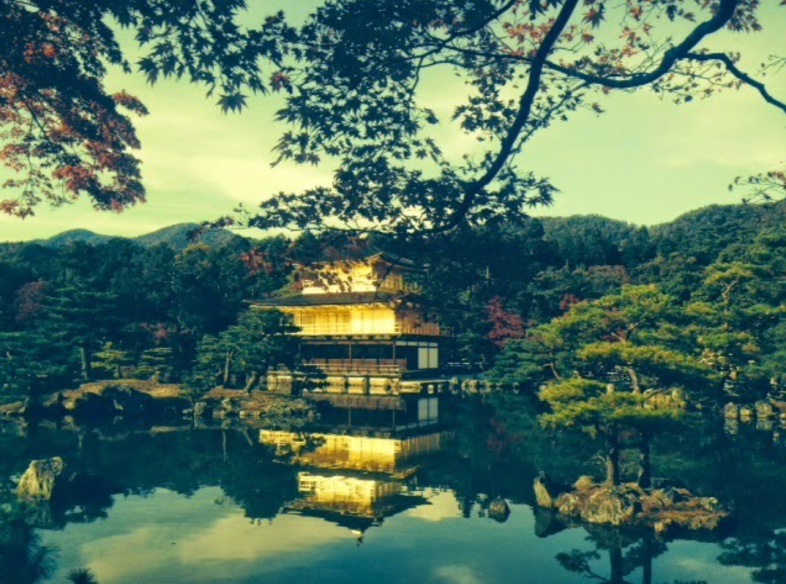 Kinkaku-ji:  The stunning golden temple of Kyoto.  Check out those leaves! 
7.  Create Your Own Adventure
Don't plan every moment.  Stumble across a maid cafe, a cosplay convention, an old bookstore with vintage Japanese movie posters!  Sing karaoke to each other in a small smoky room!  Decide to try that ramen place because you saw the sweet little grandma making the noodles. Buy a cheesy souvenir, invest in art.  Take time to talk and listen.  Ride the train, the bus, hail a cab- get off when it looks interesting!  Go see jazz, delight and devour haute cuisine, take a side trip.  
Fall in love with Japan and each other all over again!