I have always wanted curly hair since I was a kid. My preschool best friend Anna had ringlet curls and I had pin-straight hair, and I distinctly remember suggesting that we switch heads because we each wanted the other girl's hair type. Through the years my hair has gotten wavier and was even curly for a year or two, but I've never gotten the big curly hair of my dreams.
The barrel curling irons and wands were just not cutting it. I wanted big boingy bouncy hair. Instead of going big, I decided to go as small as I could. I had seen videos on Tik Tok of girls using a chopstick-sized curling iron to create big retro hair. I HAD to have it. So I got a 3/10 inch curling iron and I got to work.
This is what I was working with, to begin with.
I showered the night before, brushed it out straight, and let it air dry. My natural hair texture is a mystery. Sometimes it's like this, other times it catches a few curls. It's unpredictable. Air drying is a gamble, but luckily, as I've gotten older, my hair holds a curl really well. But if I straighten it and then tuck it behind my ear and then untuck it, it stays in a weird swoop in the front. You can't have everything, you know?
I decided that to achieve the craziest curliest look, I needed to use small sections of my hair. I sectioned my hair off in layers and used ~½ inch sections. I turned on How To Get Away With Murder to pass the time and got to curling.
After 35-40 minutes of curling, this is what I ended up with:
My girlfriend was literally speechless. Her face said, "what have you done to yourself?". And I agreed. It was not at all what I was going for. It was very Rick-James-Meets-An-Irish-Dancer. Very me-in-first-grade-when-my-mom-let-me-sleep-in-curlers-for-my-birthday. It was very bad. I had to trust the process, so I kept going.
To attempt to achieve the look I was going for, I first separated with all of the curls with my fingers. I made sure that they still had shape, but weren't so clumped together. Then, I used a teasing brush and texture spray to try to bump up my roots. And this is what I came up with: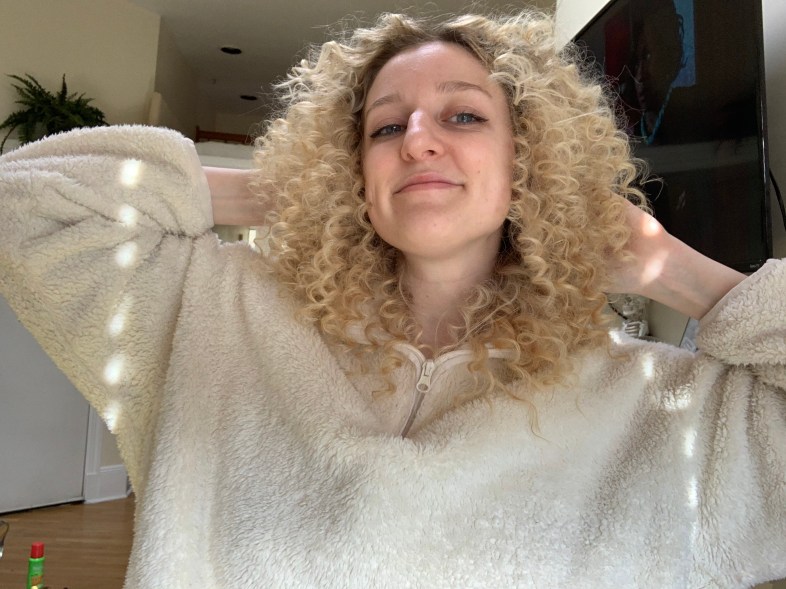 Not bad! From the front, I was starting to really feel myself. But, then I looked at the back:
Oof. So turns out, I wasn't reaching the curls as well as I should have. It just wasn't filling out in the back enough. Very Charlie-Brown-Christmas-tree. Kind of a bummer.
I couldn't get my hair to lay nicely in a side part to see if that helped my root situation. However, I did save the look by styling it in a couple of updos.
I liked this one, but it was hard to get the bun just right.
This was fun, but I felt too much like I was getting ready for a reboot of Big Comfy Couch.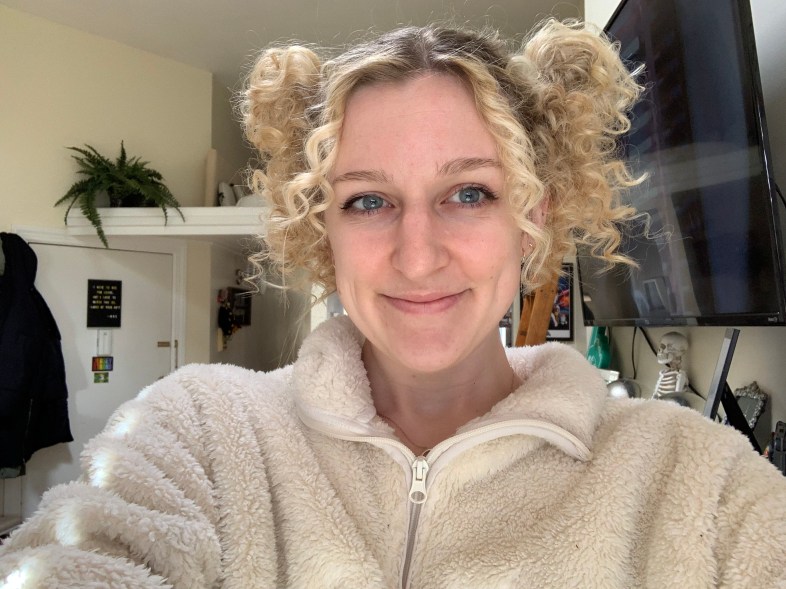 This style was definitely my favorite of all of them.
I left the two buns in, got ready, and headed to Target to live life with curly hair. I actually got a few compliments from strangers!
Would I do this again? For sure. But there are few things I would do differently. First of all, I would probably wash and blowdry my hair before I curled it because my roots were waaay too flat to pull it off. Also, I would have someone else help me out with that back of my hair so that the curls went to my root all the way around, not just in the front. Lastly, I would see if I could part my hair to the side instead of the middle. Overall, I'm pumped that big curly hair might be in the cards for me. Until then, I'll be dreaming of my Merida moment.