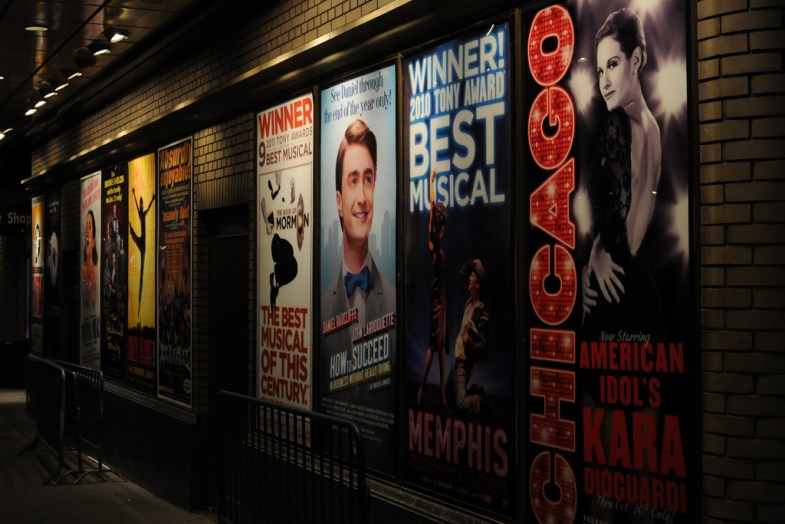 According to social media, a bold attendee interrupted Broadway's Hand to God mid-joke a few weeks ago when he decided to charge his dying cellphone at an onstage outlet. Perhaps Perez Hilton is aghast, but I'm not so surprised. I too braved the July 4th crowds that evening to adventure to the Imperial Theatre, and the venue proved more of a circus stadium than a performance space.
My show in question was Les Misérables. I'm an arts critic and rarely go a week without seeing something on Broadway or at BAM, City Center, or the Joyce, but there are few productions that capture my heart like Les Misérables. Whenever I've had a bad couple of days, I find my way to the Imperial, not as a critic, but as a person in need of wonder and catharsis. Every time Ramin Karimloo belts "Bring Him Home," I melt, soothed by his voice. However, a few days ago, I was surprised that while I gave into the music and flew away on a mini-vacation to 19th-century France, so many around me seemed eager for the curtain to close.
Lights shone bright when viewers watched their notifications instead of "I Dreamed a Dream." As Jean Valjean delivered his soliloquy, whispers disturbed the awe it should inspire. At intermission, ushers scolded the audience for loudly singing along like they were at a karaoke party in Koreatown. I was offended at first. I had paid the price of several meals for my ticket, and as a New Yorker who doesn't have much extra spending money for luxuries, that meant something. But then I pitied those who were too distracted to enjoy their Broadway experience. They didn't know what they were missing.
I grew up in the theater — not like the Phantom, but like Christine Daaé. I was a dancer, and ballet was my passion until I quit after several injuries. There is still nothing more precious to me than live performance. If we're privileged enough to afford a red, cushy seat, we should appreciate what it can offer.
When I see a show, I expect an escape into uncharted territory, where I can again find the beauty in our world. But it's not this transcendence that I most love about live art; on the contrary, it's the realness of it. Society has become too superficial; we live in screens and boxes, and we rely on shallowness to drive our communication. In my opinion, the performing arts are one of the only mediums where we can find depth in our emotionally crippled community.
As I think of the memorable programs from my time as a critic thus far, what stands out is how they made me feel. When Kana Kimura danced Jessica Lang's The Calling, she evoked the innocence that I coveted in myself as a child and the pain that made me lose it. When Benjamin Scheuer recounted his autobiography about love and loss, he was so vulnerable and honest that his story reminded me of my own familial issues and antagonistic relationship with cancer. When Manhattan Theatre Club staged Dennis Kelly's Taking Care of Baby, his poignant dialogue interpreted by some of the best actors in the industry made me reconsider the reality I accept.
These artists live and breathe to provide their audiences with moments — moments to reflect, to think, to feel. Moments we don't get every day with our faces buried in laptops or our eyes glued to television sets. They give us moments that remind us of our humanity.
But we can't appreciate them if we're checking our notifications, whispering indiscreetly, or singing along. We lose the opportunity to be a part of something special that exists beyond our confines of the mundane.
I understand that tourists flock to Times Square or Lincoln Center so they can say they saw Kinky Boots or the New York City Ballet while in Manhattan. That's fine. But whatever the reason for attending, live performance can proffer a lot more than a story for friends back home. So please, let's give it a chance to sweep us into a universe where sentimentality isn't taboo. After all, performers gift a part of themselves to us so that after a long day of holding out selfie sticks for the perfect profile pic, we can feel something real.